Liminal Landscape
By Marek Ranis
Giant Mountains (Karkonosze) are dividing Bohemia and Lower Silesia right in the middle of Europe. They are old mountains, gently sloping to the flat valleys, not very imposing, friendly. They have not changed that much during the last few hundred thousand years. Certainly, they have not changed since Goethe was there doing his geological exploration in 18th century, they appear the same as they were during my aimless childish roaming in the last century. Over the ages​,​ the forest on the slopes was cut and replanted again, borders shifted, people moved, local languages changed​;​ yet​,​ the massive mountain range has remained seemingly untouched by the time, unmoved by the human turmoil.  
​​The memory of the Giant Mountains allows me to construct my own romantic images of the landscape I am coming from. The nature of those memories is similar to Caspar David Friedrich's paintings of the place,​ best described in German​,​ Riesengebirge: not depicting a particular view but conjuring a composite image, one that is not photographic but still realistic even if somewhat generic. Friedrich​,​ in his paintings of Giant Mountains​,​ was searching for a world's soul, Weltseele. ​He was rendering the secret forces animating the universe, ​​anima mundi​​ hiding in each element of nature. I see​​​ the mountains of the​​​ Karkonosze as monumental and unchangeable landmarks of my identity that I can always travel back to, places of childhood memories to be cherished.​​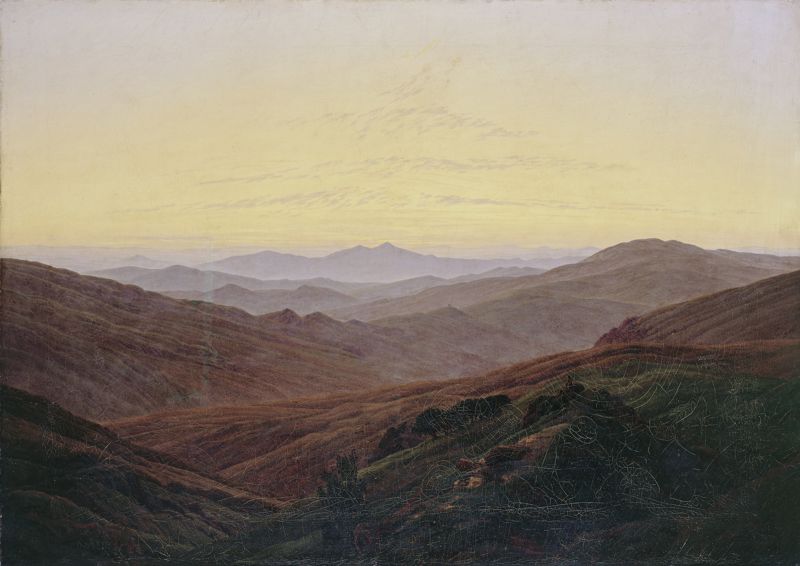 Resengebirge. Caspar David Friedrich Morning on the Riesengebirge (German -Morgen im Riesengebirge) is an1810-1811 painting by Caspar David FriedrichStaatliche. Collection of the Museen zu Berlin.
Perhaps the natural, not man-made environment is meant to give us such assurances, eternal orientation, a context, and mountains are best at it. We imagine them as primordial topographical maps of our memories. After all​,​ we may be intuitively but falsely trusting that those are enormous rocks that we cannot move or erase. 
Thus, mountains could serve as landmarks of identity. Our perception of our short human life or our human presence on the planet could be measured against their immortality. Could it be that the connection to the past and the imagined future​ is​ built on the foundation of their permanence?  
They were here before us and th​e​y will remain after we are gone. In the most surreal way, ​they ​provid​e​​ ​almost the same vistas to all human generations, creating this dazzling connection of exactly the same experience. In literature and old prints or paintings​,​ they always look the same. Initially​,​ we recognize them with some surprise but it lasts only a moment. We depend on them like ​we depend ​on the stars when navigating in space and in our memories and dreams. Mountains feed our imagining of the past. When we look at the painting of Alexander Von Humboldt standing in front of Mount Chimborazo as we know it, we have a sense of the continuity of our world.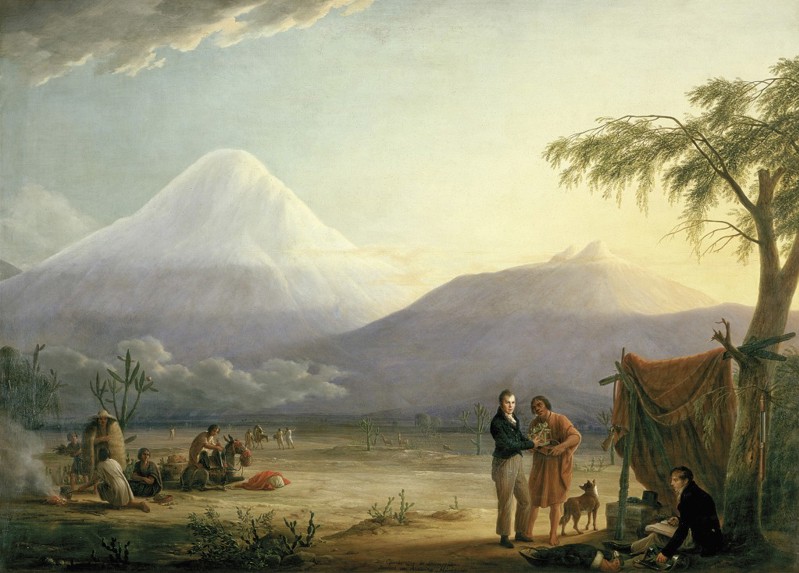 ​Friedrich Georg Weitsch. Alexander Alexander von Humboldt and Aimée Bonpland at Mount Chimborazo, Ecuador, 1806. Oil on canvas.​
The ​Sierra Nevada is nothing like Giant Mountains, a much younger, dramatic and spectacular alpine range with white caps. This massive formation is sublime, thrilling in its beauty and its terror. This natural phenomenon arrests the traveler and requires undivided attention, like an ingenious stage design. The theatrical layers, curtains of scenery superimposing one another, the sun, the moon and the weather animating never ending spectacles. At these​ ​altitudes the drama can unfold at any moment.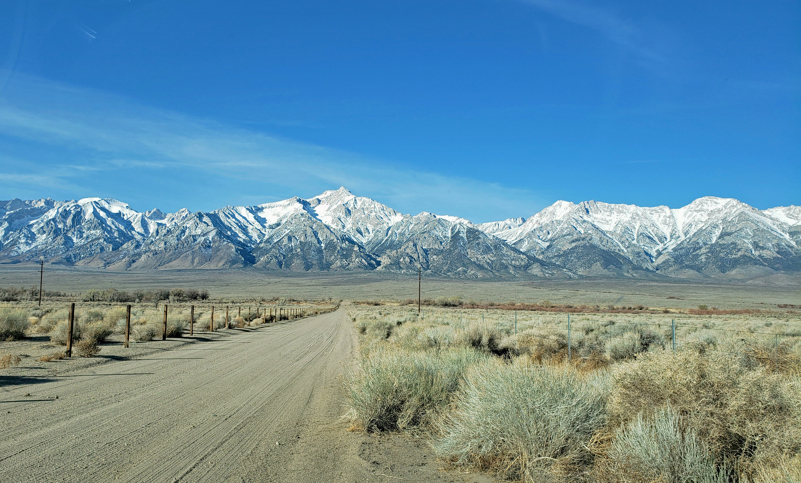 Sierra Nevada. Photograph by Marek Ranis  
In March ​of ​2020​,​ I traveled with professor Missy Eppes and a group of her graduate students to Ovens Valley in California. I joined Missy as an artist-in-residence during her National Science Foundation supported research "Quantifying climate-dependent subcritical cracking and mechanical weathering over geologic time." This was our first field research conducted together​, the beginning of a creative collaboration and of a friendship. 
Ovens Valley, Ca. Photograph by Marek Ranis  
Traveling along ​the ​Sierra Nevada and working in its majestic shadow with a group of geologists changed my impressions ​of this mountain ​​range​​​. Suddenly, these grand granite rocks appeared less opaque. It was due to Missy's ability to decode the landscape as a vast transparency, with all visible layers of geological processes and past events. In this context, the Sierra with its long narrative of transformation becomes unstable, more vulnerable, somehow closer to human experience. The mountains are not eternal, we know their beginnings and we can imagine their end. Observed in the context of deep time​,​ the peaks are suddenly just smaller ​descendants of much​​ ​more powerful formations. It is an enlightened, scientific examination of a mind equipped with knowledge and tools​, which​​     ​ compliments​ an​ initial romantic perspective. 
The Sierra Nevada​'s perceived​ constancy suddenly becomes a perpetual liminality. For a geologist​,​ there is nothing permanent or fixed.  Everything is in process, in a state of flux. When human-time scale disappears, the geological time negates sublime immortality of the 14,000 feet peaks.  
​​At​​ ​the same time, we recognize that Anthropocene and climate change are ​affecting ​​​the environment ​in ways that are ​​​visible and can be measured by the human clock. 
Since 2002, my creative work and research have been centered on climate change. Maurice Blanchot, in his book Writing of Disaster, defines "disaster as something that is an event which cannot be transformed into an object of knowledge; it disrupts the foundations from which we capture or perceive the ​​reality." What initially propelled me to focus on the phenomenon of climate change, besides the acuteness and extent of related events, is the fact that we seemed not to fully comprehend this impending catastrophe. Perhaps this is due to its enormous scale, often geographical remoteness, a lack of longer-term historical perspective, or wrongly understood economic interests.  Historically, huge events have been often fully fathomed only retrospectively. Many representations in my projects could be considered "visualizations of an Anthropocene experience." The subject of degradation, an on-going ecological catastrophe, inspired and continues to inspire me to create​ a​ record o​f​​ ​artistic interpretation of the environment under stress, the disappearing world. Some might call it the  art of imperial nostalgia​.​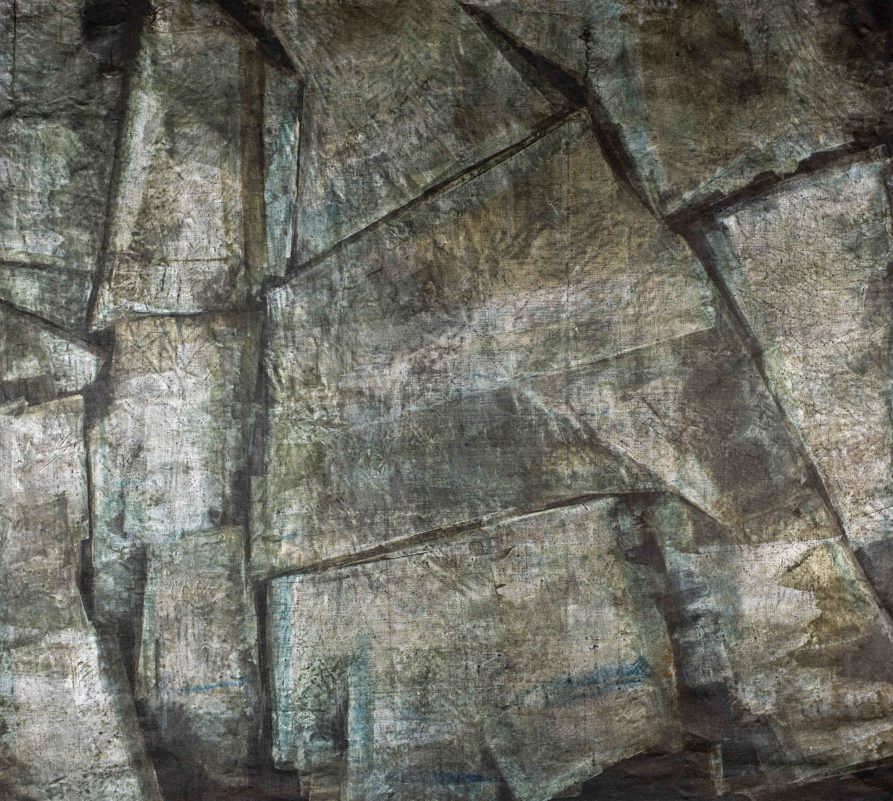 Marek Ranis. Liminal Landscape, 2020. Mixed media on linen, 52"x 61."
It felt very natural to work with​ ​Missy. The geologist's perception of deep time exposes the vanity of our quotidian sense of time,​ "human time". Nothing is stable or permanent anymore, including our species, which​ is, ​ at best​,​ ​an ​accidental ephemeral glitch of nature. The environment is suspended in a liminal space, like an alluvial fan in a frozen animation, transitioning from one state to another and another… 
​The subject of Missy's research​ -​​ ​tiny spaces of cracks observed and measured through slow, meticulous, tedious process​ -​ ​produces ​​a sense of ​an ​unstable, volatile environment. Those hardly visible tiny cracks could be a potent symbol of our generation's romantic  ​Weltschmerz​ (World Grief). 
 The early ​studies in ​geology cannot be separated from Romanticism.​ R​ocks were collected, studied​,​ painted​,​ and written about​ simultaneously;​​ yet​,​ after Goethe​,​ the divergence of arts and science led to modern specialization, arts and geology have been separated. Was the loss of an aesthetic judgment diminishing our ability to gain access to one more dimension of understanding the reality? ​​What became of a cyanometer, a simple device invented in late 18th century to measure the blueness of the sky, the most mysterious and elusive of the colors?  
​​Thousands of crack measurements collected in the field by Missy and her team are slowly building patterns, like a pointillistic painting, resulting in a clear image only when seen from the distance. A geologist decodes the landscape in a similar manner to Friedrich translating the patterns of colors, textures, forms into the meaningful picture of understanding what secret forces are animating our universe, the Anima Mundi. ​​​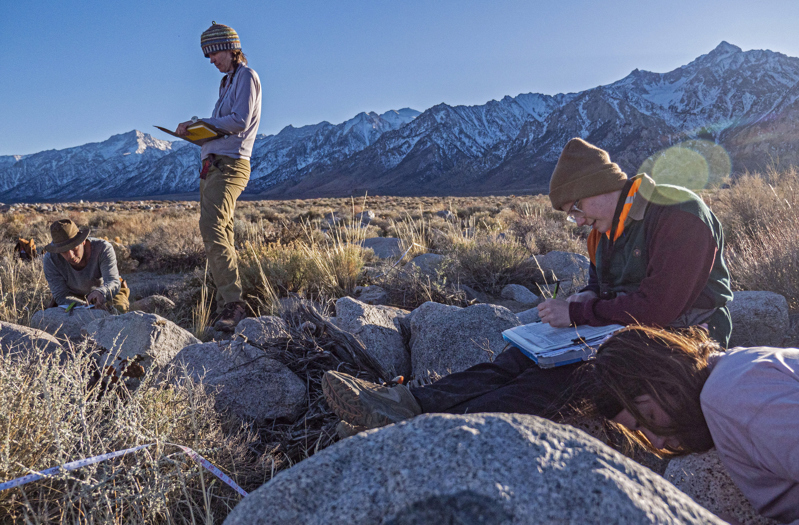 Dr. Martha Mary (Missy) Eppes, Professor of Earth Sciences, University of North Carolina, Charlotte, conducting fieldwork with students in Owens Valley, CA.
This slow, methodological process of observation and search for the truth in representation is close to the experience of an artist, even though artists aim for the picture tinted by subjectivity and freedom of interpretation, often controlled by emotions. 
In my imagination​,​ the climate​-related subcritical cracking of the rock, is coincidental with cracking ice of calving glacier, the poster child of Anthropocene. It also inspired me to think about the beginning of the life on Earth, the erosion of the Supermountains and the seeding the world with critical nutrients. Is the erosion of Supermountains hundreds of millions of years ago and the nucleation of the world through sedimentary fans a beginning of life evolution on Earth? Is rock cracking the beginning of life? From the tiny, microscopic cracks of individual rocks to mountains range slowly eroding, the discrepancy of the scale and the divergence of processes exude a sense of ephemerality of the world. 
The research project with Missy was impacted by ​the ​global pandemic in its infancy, right after our trip to Owens Valley. Unable to travel, I settled in the studio for a few months. 
​​The first series of works, paintings titled Liminal Landscape​,​ are portraits of tiny cracks in granite rocks, or maybe they are aerial views of the tectonic plates. Looking like grey ice floats, they are polar landscapes in negative. Large grainy paintings with distressed surfaces, with hundreds of lines are the excavated monochromatic maps, from undetermined location or geological era. They emulate magnified views, are an observation of micro to understand the macro. This body of paintings was produced in the pandemic isolation​;​​ ​they are dark and sober, minimalistic, geometric abstractions. ​​​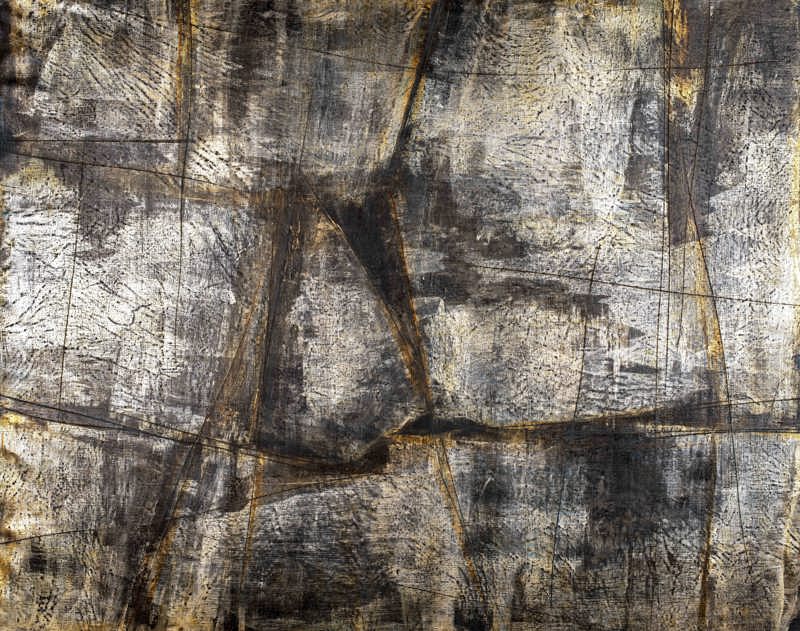 Marek Ranis. Liminal Landscape, 2020. Mixed media on linen, 52"x 61."
To create the work, I stretched large linen canvases on ​walls, applied layers of paint one of top of the other only to wash some away, sand​,​ and reveal ​- ​and paint over again. Paintings are done but they are unfinished, their weathering processes just interrupted, in analogy of the rocks picked up in the field and moved to the lab in a maneuver that arrests the exposure and disintegration.  
Metaphorically, Liminal Landscapes imitate the geologist's experience in the field, the perseverance of laying down in the dirt, face close to the ​magnifying glass, gaze focused on a specimen. When the scientists were observing and documenting their subjects, clutched to the rocky surfaces, I was observing and documenting them from the drone, a group of almost completely motionless bodies spread over a predefined perimeter, a macro view of their micro investigations.  
The Canary Islands are close to Africa and far from California and the arid Owens Valley. The cracks of the outcrops of volcanic rocks of La Gomera Island are not discrete. A dense, complex web of fractures looks like a three-dimensional complex puzzle ready to be tackled. The orange rock pieces are loose, they can be easily removed from the wall of an outcrop like a small bricks without mortar. The volcanic mountains wait for the gravity to be disassembled. Roads are cleared daily from the rocky debris and are often impassable. This experience inspired me to create The Dam, a short film about taking apart the mountain with bare hands. Gomera's fragile cliffs are in fact crumbling when touched, their erosion feeds lavish cloud forests of Laurisilva, a perpetual entropy starts a new life.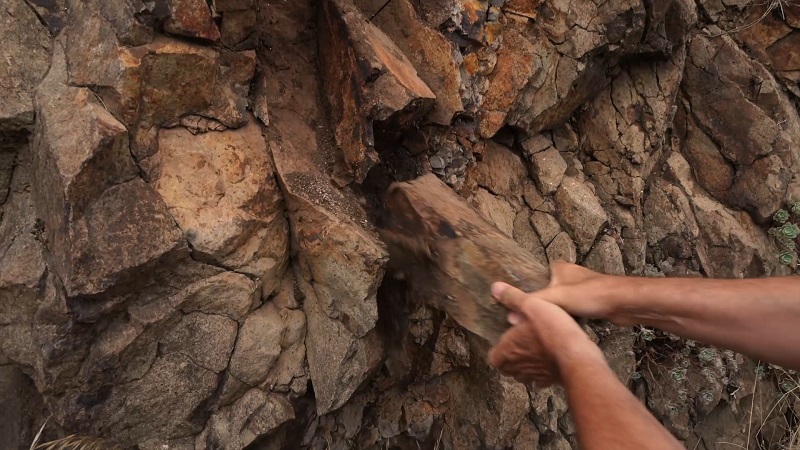 Marek Ranis. Film still. Damm, 2021. HDV 5 min.
​​During the art residency in La Gomera​,​ I also started large photographic collages, a series titled Subcritical.​ ​​​​What do we see staring inside the fissures in the rocks? Geologists staring inside tiny gaps can see the past and predict the future. In Subricitcal collages​,​ I digitally moved photographed rock puzzles around, the negative spaces replaced by the images of the outer space. This is the ultimate sublime, both the secret and the revelation of life, here in the cracks we see the stars and galaxies.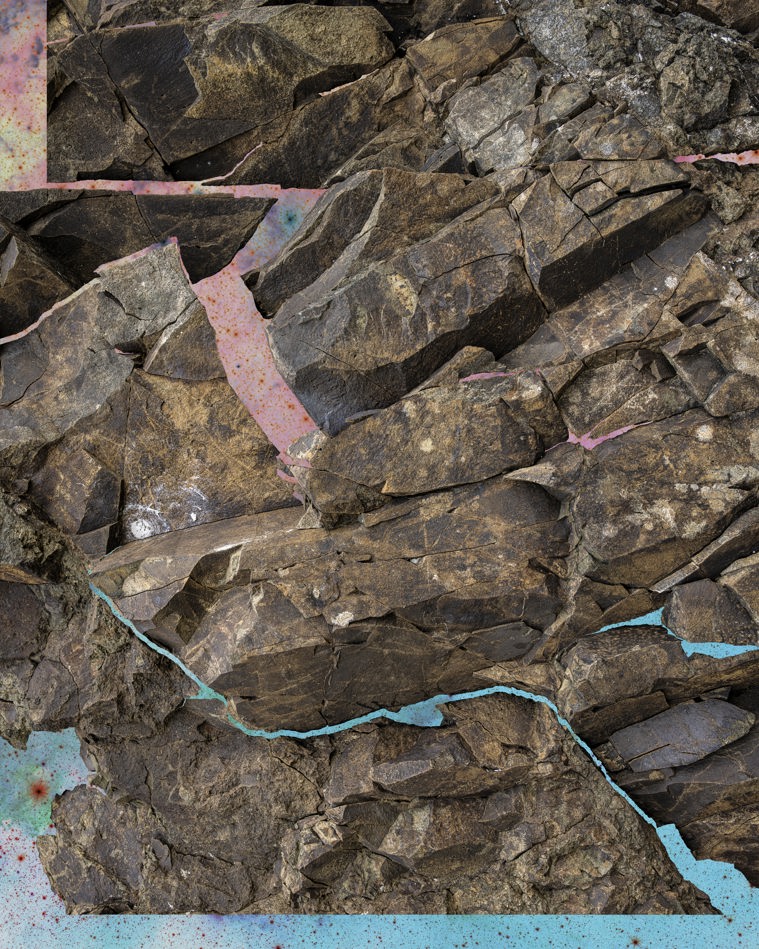 Marek Ranis. Subcritical, 2021. Digital photography on aluminum, 48"x 62." 
Faroe Islands are 50-million-year-old enormous slabs of basalt, with spectacular cliffs carpeted by thick green meadows, shrouded in clouds. With their outer space ambience those suspended in time​,​ islands feel isolated in the northern Atlantic. This is where I found a protagonist for the Subcritical film, a basalt wall along the road to Tjørnuvík on the island of Streymoy. The wall is marked by singular vertical drilling line, a rare human mark on the islands inhabited by more sheep than people.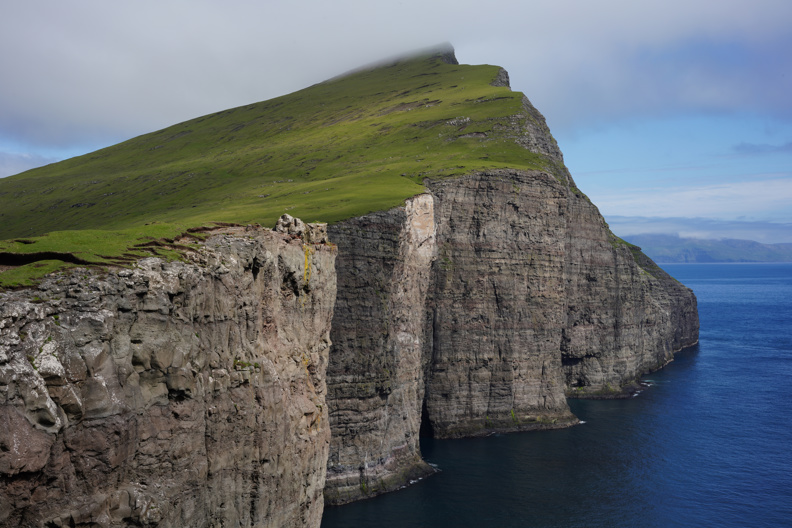 Image of the Faroe islands. Photograph by Marek Ranis. 
Subcritical is a short film about Planet B, the planetary geology and a colonization of universe, it is about Elon and Jeff in space​-cowboy uniforms and about landing on the moon.  
What inspired me to make this film w​ere research presentations of planetary geologists, subcritical cracking of our planet as a symbol of our anxieties over its future, and dreams about the escape to the new earth with the soundtrack of Apollo 11 landing on the Moon. 
Subcritical the film is a 15 minute loop of destruction and creation, a cycle with us, or without us. The lights of the stars seen in the crevasses are immune to our concerns.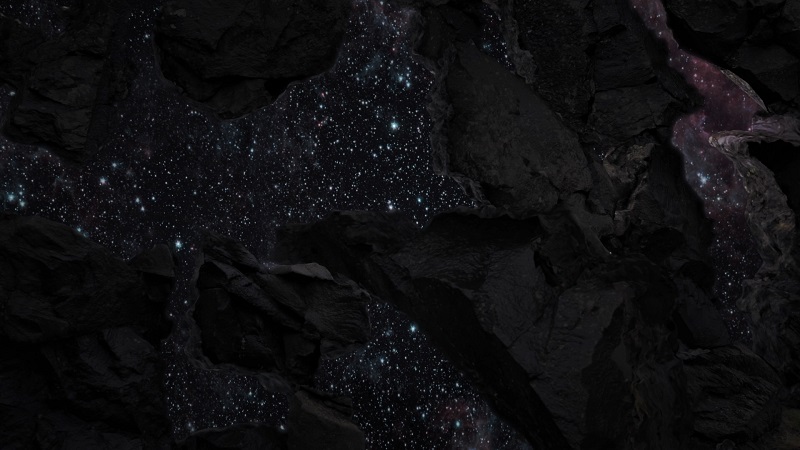 Marek Ranis. Video Still from Subcritical, 2022, CGI video 14:23 
From ​initial research to project development, most creatives follow a personal pattern of artistic processes, relying on familiar concepts, often limited by well-established perceptions and craft. It is difficult to escape ​such processes ​once guidelines and ways of working​ have been established​. New critical thinking requires opening silos, maybe returning to Goethe's freedom, a pre-modern synergy of arts and science. We need to wander through the mountains as a poets, playwright, scientists, artists, novelists, all at once, creating new paths of understanding and relating to our planet. 
In reconnecting maybe​ the disciplines​, we creatives and scientists can be more effective in combating the societal challenges ​and ​to justify our interests and our work. ​In many ways,​​ we all are seeking universal meaning​s​ and significance hoping that the vanity of self-fulfillment is overshadowed by a larger purpose. I believe that for the society at large, any progress of humanity is measured by the growing understanding of the world and ​our ​ability to relate to it emotionally or emphatically.  
In my dreams​,​ I still see my Karkonosze frozen in time, forever unchangeable. 
Marek Ranis