Free general admission is just the beginning for Anchorage Museum members. Be sure to carry your membership card with you to take advantage of your museum member discounts every time you visit.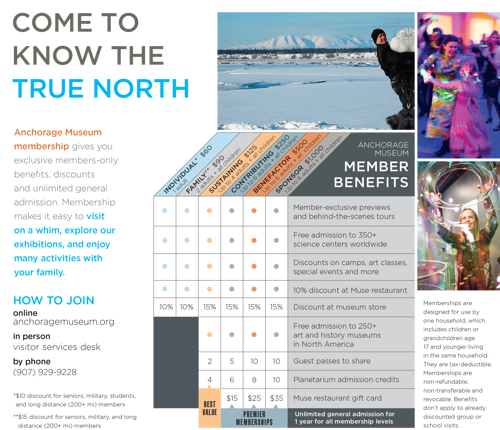 SOUNDS GOOD! TELL ME MORE.
DINE AND SHOP FOR LESS
Increase your purchasing power by shopping and dining at the museum: 10% off in the Anchorage Museum Shop and Muse restaurant. Upgrade to the Sustaining level or higher for 15% off in the shop.
REDUCED PLANETARIUM PRICES
$2 discounts on planetarium show tickets. Sustaining (and higher) level memberships receive complimentary planetarium tickets to use during their membership term.
SAVINGS ON CAMPS AND CLASSES
Members receive $20 off each summer camp for kids, as well as discounts on art classes.
Freebies for Members:
Association of Science-Technology Centers (ASTC) Passport Program: Members at all levels have an ASTC emblem printed on their membership cards, which entitles them to free admission at 350+ participating science museums. Includes: Pacific Science Center in Seattle, Lied Discovery Children's Museum in Las Vegas and San Diego Natural History Museum.
Reciprocal Organization of Associated Museums (ROAM) program: Sustaining level members (and higher) receive admission to 250+ art and history museums through the ROAM program. Qualifying members receive a ROAM emblem on their membership cards. Includes: Asian Art Museum in San Francisco, Walker Art Center in Minneapolis, and Georgia O'Keeffe Museum in Santa Fe.
When traveling, remember to bring your Anchorage Museum membership card. You must present your card at participating museums for free access to the selected exhibits. Since every participating museum offers slightly different opportunities to ASTC and ROAM members, we recommend you call the museums before your visit for more information.
Please note the Anchorage Museum is no longer affiliated with the North American Reciprocal Museum program.