CONTACT
Phone: (907) 929-9228
Anchorage Museum
Attn: Member Services
625 C Street
Anchorage, Alaska 99501
Membership
As a member, you get unlimited free admission and exclusive members-only invitations discounts!
---
Featured Membership Exclusives
Upcoming
Recent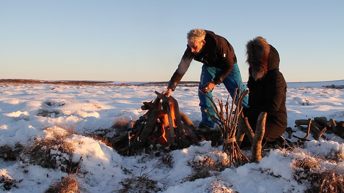 May 6
Come celebrate the North with us at the opening night of View from Up Here! Members will get VIP treatment, including a free exhibit poster and button.
Near the Bear Member Night
March 18, 2016
Kids enjoyed storytelling in a geodesic dome, creating their own snow goggles, feeling a variety of fur textiles, drawing animals, and hopping onto a snowmobile for a picture. Adults awaited the drawing at the end…The grand prize included a signed Fred Machetanz!
---
"Our daughter seeks new knowledge every day and the museum is the perfect place to experience things through all the senses." — Marlene Dodge, member since 2013
"I get free general admission any time I want it — that alone pays for it. Plus the 10 percent discount at the restaurant and the museum shop. It's a no-brainer." — Ted Herlinger, member since 1993
"How else will future generations see what we did?" — Herminia Din, member since 2003
---
That is one extra month of exhibits, playtime in the Discovery Center, discounts in the Muse Café and gift shop, and free admission to many other museums in North America!
---
Craving even more?
If you are looking for social opportunities combined with arts patronage, consider joining 40-Below.
A membership affinity group, 40 Below members benefit from museum insider access, exclusive programming and tours, social gatherings, and the opportunity to deepen your connection with the museum.
You must be a member to join 40 Below.