Toby Sullivan
OFF THE MAP
​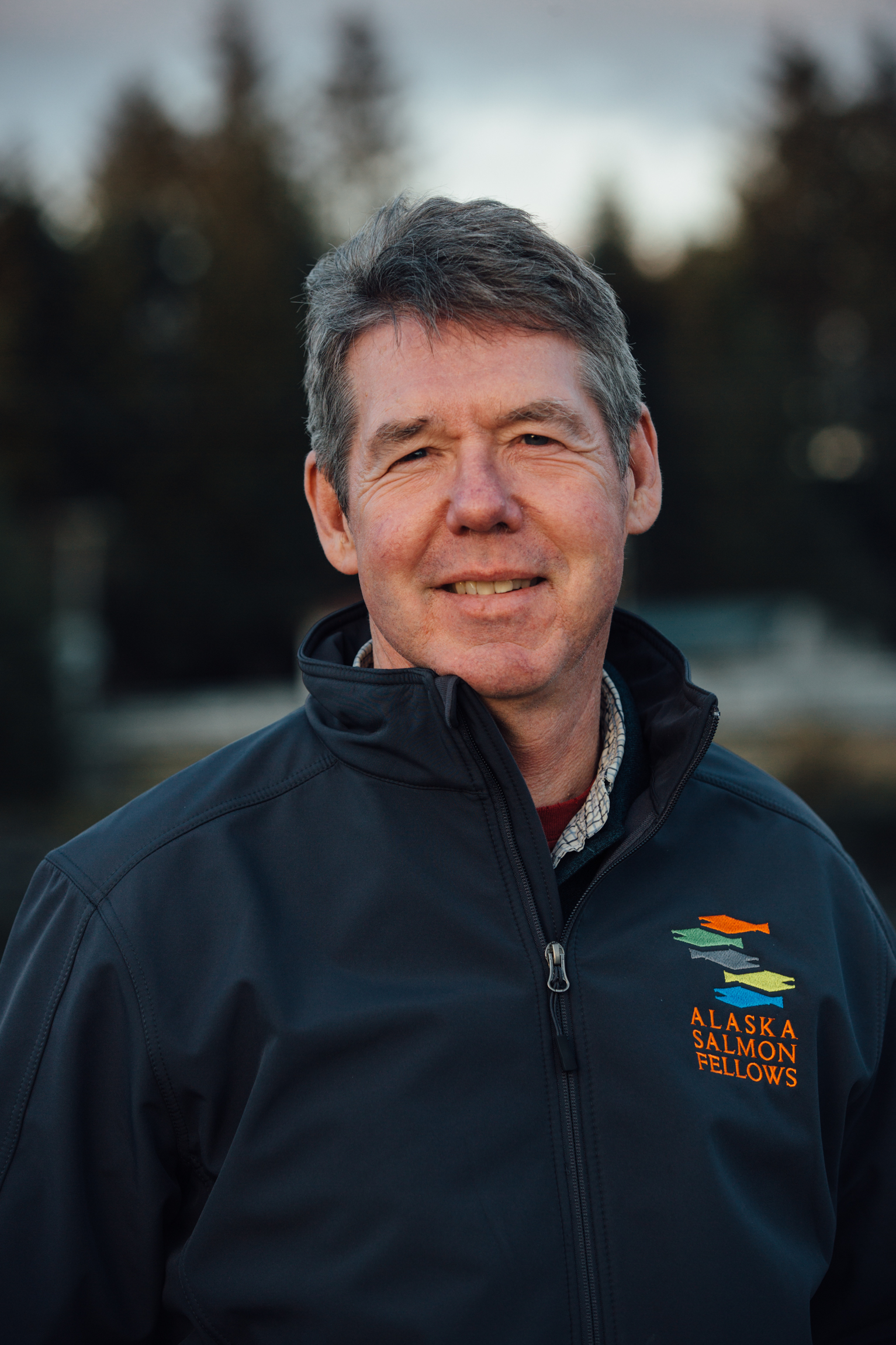 Kodiak fisherman, museum director and writer Toby Sullivan. (Photo courtesy Alaska Salmon Fellows program.)
A few days after the Barbarossa, a 98-foot crab boat based out of Kodiak with a crew of six, disappeared in 15-foot seas and 40-knot winds in the Bering Sea in February 1991, fisherman Toby Sullivan had a visitor.
He was on wheel watch on another crab boat, late at night, driving into a snowstorm.
"And I looked out the wheelhouse window, this is on the starboard side of the boat, and flying right next to the boat -- and it's like 2 in the morning, and it's like (February) out there and it's snowing -- and I look out the window and there was a king eider flying right next to the boat, about 10 feet up, flying and looking in the window at me," Sullivan recalls.
Sullivan's friend George Brandenburg had skippered the Barbarossa, which was presumed to have capsized and sank. Despite an intensive search, no sign was ever found of either the boat or crew. To Sullivan, the sudden appearance of the large duck, in a snowstorm, pacing the boat and staring through the window at him, was a sign.
"Tell me that wasn't George Brandenburg, right?" Sullivan says.
He guesses the bird stayed alongside the boat's cabin for 10, maybe 15 minutes.
"And I never got anybody up, I just sat there and looked… you know, kept my eye on the radar, making sure we're in the right place and all that. And then he just disappeared."
After 44 years living in Kodiak, most of them as a fisherman, "I have lots of stories," Sullivan says. "Not all of them are good, but I do have some stories."
For example, there's what he calls his "origin story," the explanation of how a 19-year-old who grew up in Connecticut somehow found himself living and working on what he describes as the "far edge of the universe," while fishing in the Bering Sea in the 1970s and '80s.
Now 63, Sullivan recalls first trying to get to Alaska by bike three weeks after graduating from high school in 1973, but being turned back by weather and lack of funds in the Canadian plains. He went home and regrouped, saving enough money to get to Fairbanks the following summer, where he hoped to find work on the then-bustling Alaska Pipeline.
After he made it, though, sitting in a Fairbanks union hall waiting for a job, Sullivan noticed a perfect Interior Alaska summer day underway outside the building.
"I remember it was really nice weather outside, summer in Fairbanks, and I just couldn't sit in the union hall waiting for my number to be called. So I took off."
Sullivan headed south, eventually taking a ferry to Kodiak. He remembers feeling at home there from the first, of somehow knowing this place was for him.
"As soon as I got here, I knew that it was going to be an important place for me, I just had a very strong sense of that … I remember that first morning waking up in Kodiak and going holy moly, look at this place! This is cool," he says.
"I was attracted to – as a teenager, and sort of still am – I was attracted to places that were a little bit off the map, and a little bit not in the center of things. And Kodiak is definitely a little bit off the map and not in the center…."
Sullivan immediately found a job in a cannery.
"I didn't have any money when I got to Kodiak," he says. "I know I had less than $20, and so there was lots of work in the canneries, king crab season was going on, good money. The town was really hopping and there was a lot going on. It was great to be 19 years old here, … a happening place."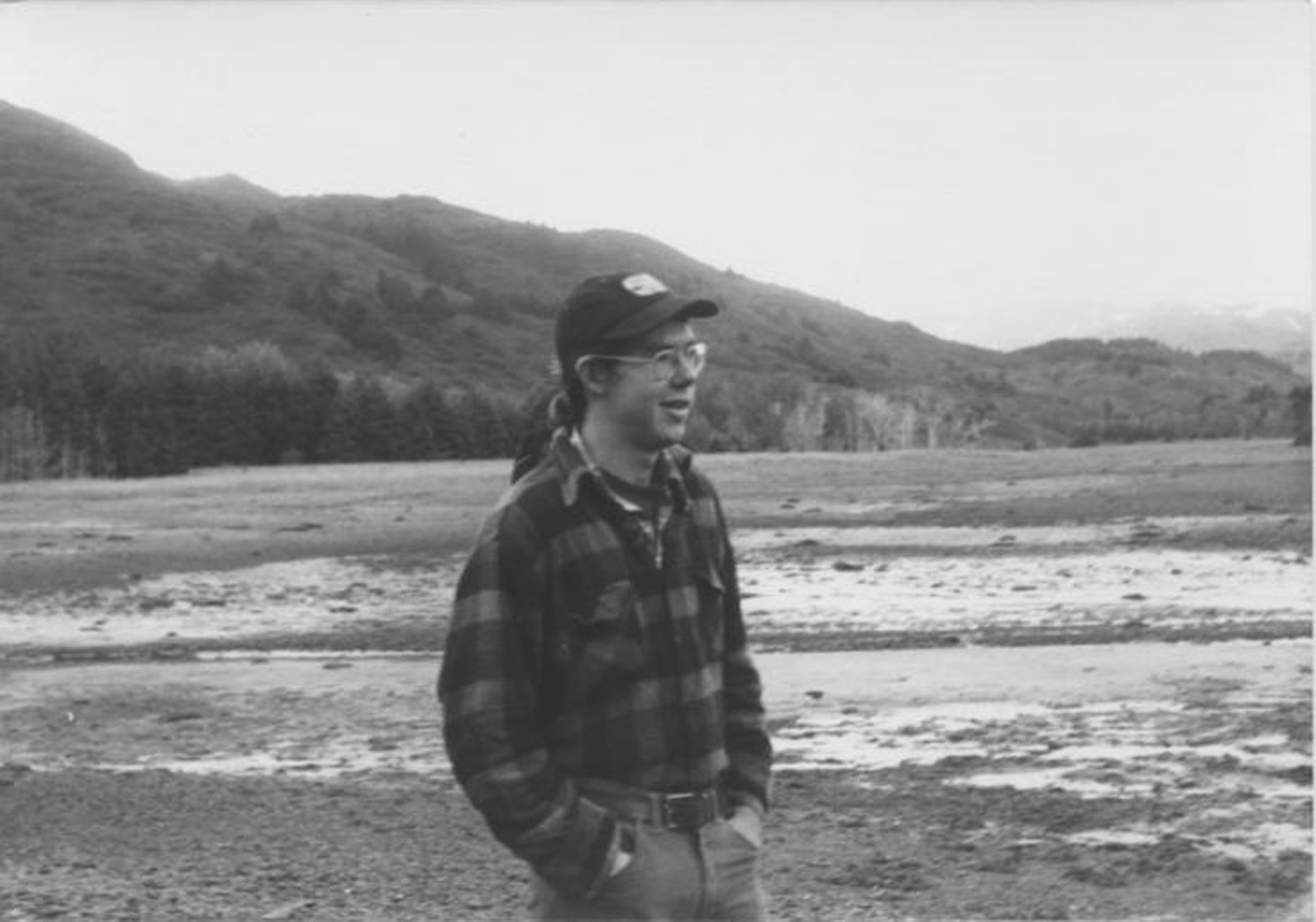 Toby Sullivan, 1975. (Photo courtesy Toby Sullivan.)
Eventually Sullivan became a fisherman, acquiring adventures from a life spent on some of the most dangerous waters on earth. Today he fishes commercially for salmon in the summer, is director of Kodiak's Maritime Museum in the winter, and is a writer "all the time."
He describes life in Uganik Bay, where he lives during fishing season, as very remote. His fish camp is 80 miles by ocean or 40 miles by air from the town of Kodiak. Sullivan guesses there are 50 or 60 people in the bay during the summertime; his nearest neighbors live about three miles away.
"It doesn't feel like an empty place to me, because I been there so long," he says. "But it's far away compared to the way people everywhere else in the world live."
"There's no question about it, but it's great to live out there in the summer," he adds. "We have everything we need and we don't have any of the hassles of civilization. We get to do whatever we want."
Sullivan's two children are grown and also live and work in Alaska. His son, in fact, is a commercial fisherman, more "talented and ambitious than I was ever was," his dad says.
For Sullivan, it's always been more about having an experience than getting big money or moving up some kind of ladder.
"The money didn't hurt, but you know … I had some good years, I had lots of bad years. In the end I made a living. I just was not very business savvy. I didn't always aim for the money, I aimed for the experience or something else," he says.
"People who wanted to get rich, they got rich. I did not particularly have that drive. But there was money to be had. If you were motivated to make it and get it, you could get it."
More importantly to him, Sullivan had found a place where he fully belonged – in Kodiak, on a boat, on the ocean.
"I've always identified as an Alaskan -- as soon as I got here. There's parts of things where it hasn't gone my way up here, but I've always thought, well, it isn't going to go any better anywhere else. This is where my life is and this is where I'm making it, so I'm staying," he explains.
"I consider Kodiak to be my home, and I have a very strong sense of place, I always have. And Kodiak is that place for me," he says. "I have always just felt very strongly that I was an Alaskan -- even though I was born in a Connecticut body."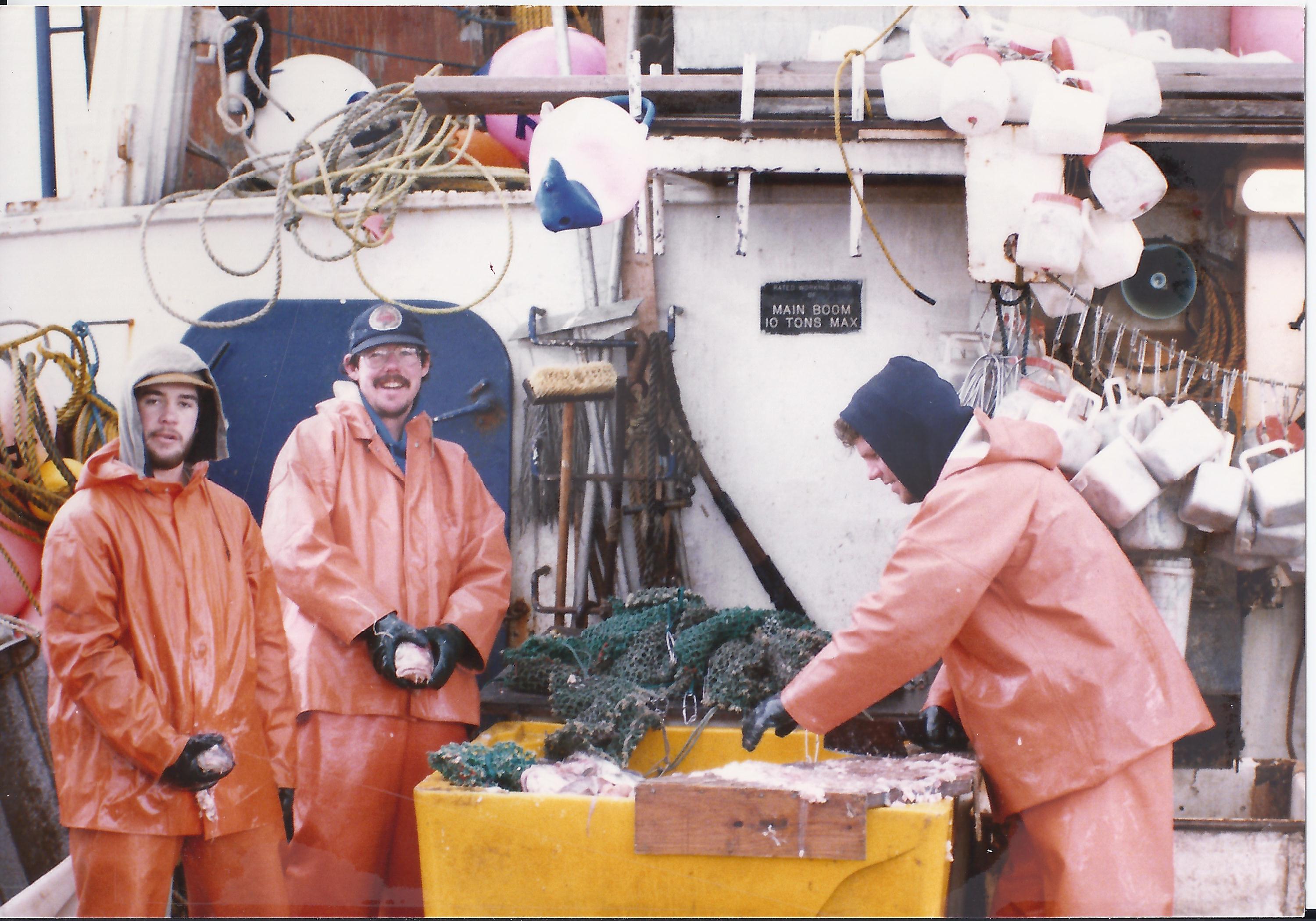 Sullivan, center, fishing for tanner crab, 1986. (Photo courtesy Toby Sullivan.)
There's also the sheer beauty of the place.
"The scenery just knocks people out. It still does that to me, 45 years later," he says.
Not to say he hasn't seen changes. People who come to Alaska now see it as a very special place, and Sullivan agrees, but to him it doesn't seem quite as different as it once was.
"Kodiak isn't as remote and faraway as it used to be," Sullivan says. "I miss that. … remember there were those signs and bars that said, 'we don't care how they do it outside'? All that's kind of gone now. … Alaska was a remote faraway place with its own set of rules and understandings, and now it's much more part of the lower 48 world.
"It felt like a place apart 40 years ago … but to me it feels much more generic than it used to be."
How it used to be -- and why it was so memorable -- is something Sullivan ponders. Was it special just because he and his friends were all 18, 19, 20 – years when any place might have seemed adventurous and new? He doesn't think that's the whole story about Kodiak in the '70s and '80s.
"The people that I came up with, … we thought of ourselves as arriving in the West in 1860 as cowboys or something. The land was still ready to happen and then we could be part of that," he says. "And I think there's still some of that. I mean my son is definitely having a career fishing and he's having a hell of time ….
"But at the time it felt like we were in a special wild place. Definitely Kodiak in the '70s was a wild place, and we were part of that. It was history. It was very cool."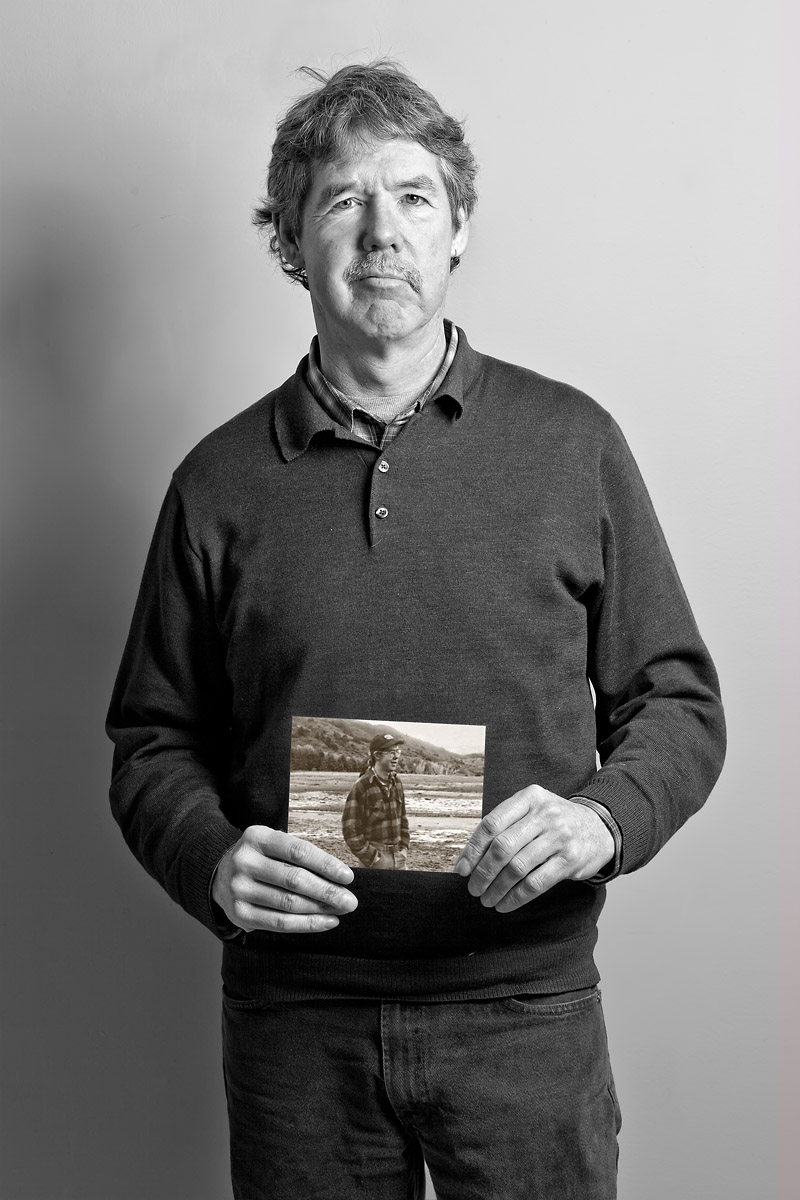 Sullivan, holding a photo of himself when he first came to Kodiak. (Photo courtesy Kodiak Maritime Museum, "Faces of the Kodiak King Crab Fishery" exhibit.)
As a young man, leaving his Connecticut home, Sullivan remembers thinking that finally he was out on his own, he could do what he wanted, live a life he chose. More than four decades later, that decision he made as a teenager -- to move to Alaska, sight unseen, and create a life here -- has shaped everything, he's sure of that.
"Well, I certainly wouldn't be the person I am if I hadn't come to Alaska when I was 19 years old and made my life here," Sullivan says. "I don't know what my life would've been, but it wouldn't have been this. So it has definitely defined my life…"
"There've been a few good moves in my life and many bad ones, but the best move I ever made was to come to Alaska when I was 19. That was the best thing I ever did in my whole life."