Matt Schultz
Adventurous
​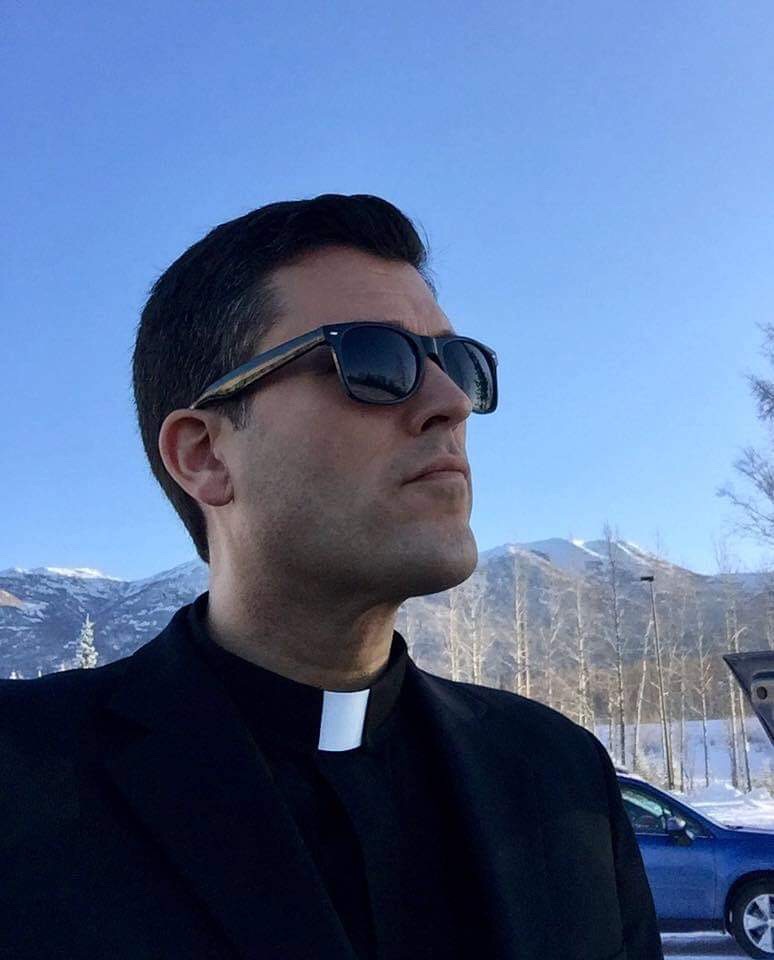 Rev. Matthew Schultz
Alaskans tend to grudgingly tolerate mosquitoes, so ubiquitous some have dubbed them the unofficial state bird. But Rev. Matthew Schultz, a pastor at a church in downtown Anchorage, credits one for saving his life.
It happened in 2001, the very night his family was moving from Anchorage so he and his wife could attend seminary.
"We were just all tears, so sad, we didn't want to leave," he says.
To run off some of their dog's energy before the trip, Schultz headed out on a quick bike ride on a nearby trail.
"I was going real fast down the hill around a corner in the park and a mosquito flew right into my eyeball. So I closed my eyes and hit the brakes and slowed down as best I could, and by the time I fished the mosquito out of my eye, I open up my eyes and there was a mama moose in full protection mode of her calf mad at me for being so close. But I didn't know I was so close because I had my eyes closed because of the mosquito.
"So thank goodness my dog, he was a husky, was well behaved and we backed away carefully and the mom stomped on the ground a few times and did a bluff charge but then left us alone.
"And so I told my friends back home, Alaska has too many mosquitoes, but thank God it does because a mosquito saved my life. I would've gone around the corner and rammed right into this mother and with the calf there, she probably would have been unhappy with me. A mosquito saved my life."
Born and raised on the East Coast, from the time he met his wife Elizabeth and began dating her, Schultz knew Alaska might be in his future.
"When I met Elizabeth, she had just come back from a summer program where she went around to smaller towns and villages in Southeast (Alaska) and put on different educational and church programs for the kids there. And so when I first met her she was still flying high on Alaska excitement.
"Independently of one another, she grew up in Maryland, I grew up in New York, we each were assigned school projects to study Alaska and do a thing on them in our schools, and each thought, wow, some day, that's a bucket list item, maybe I'll go there one day.
"We both had wanderlust and the travel bug and so when I met her, when I started hoping to date her, that was on the list of things you had to know, that if someday we got married, you have to be willing to go to Alaska. So it was a requirement for marriage on my part. Fortunately, I already really wanted to come see it so, this job opportunity opened up and we were like, we've got to go now, let's jump."
The newlywed couple jumped, spending a few years in Anchorage as youth pastors at First Presbyterian Church in Anchorage, leaving behind both their families.
"So when we had the opportunity to move here in '97, it was saying goodbye to everybody. And setting out on this new adventure together. My wife and I had been married only six months so we were still figuring out what that means, you know, and how to live into this new identity as a married couple and to do it then without our support system was a big step."
A few years later, they decided to move back east to attend seminary. The church supported them all the way and they found it hard to leave it, and the state, behind.
"And then kind of every other home we bounced around to for the next decade or so, we always looked at it in comparison to here. This place is nice but it's not as nice as Anchorage, … you know it was always kind of comparing (it) to that first home we had."
Eventually they came back, to Anchorage and to the same church. Schultz, also an artist who says he constantly finds himself sketching the silhouette of the Chugach Range, has office walls filled with all the reasons why.
"I'm very visual, I'm a painter, as well, in fact there's a painting of Flattop right behind you, that's my family hiking Flattop that I did, it doesn't look like Flattop because it's kind of abstract, it's a certain very particular turn where every time I'm there I feel like the horizon is crooked, but it turns out I am.
"And this whole wall over here is paintings that I've done as well for my church Christmas cards, and they're all Alaska themed as well. So I'm always looking around and just amazed by the richness of the color here. The color is just rich and deep and there's always something interesting on the horizon.
"Again, not to throw New Jersey under the bus, but where we lived in New Jersey you could never see the horizon, it was always buildings up close. And the nearest thing you get to a horizon is the city skyline maybe, but there was no sense that you were in the natural world.
"And even though Anchorage is a city it's also kind of not. You can always either see the ocean or the mountains. And you know that nature is right nearby."
Now, although they deeply miss relatives who live thousands of miles away, Schultz and his family feel Anchorage is their home.
"I consider this home. I consider Anchorage home definitely. What connects me to a place is harder to describe. A lot of it is an emotion, a feeling, that is a connection. I've felt the opposite of it in some places I've lived where I knew, I do not belong here.
"And Anchorage, from the very first weekend that my wife and I came here to look at it, we knew this is home. And we moved away and when we came back again we knew this place is exactly where we belong.
"I don't 100 percent know what it is other than a feeling, or a sense. We just felt it. It's not comfort because honestly I dislike the cold. So you'd think I'd end up in Hawaii right?
"There's something about it. There's a uniqueness to it, there's an openness and, not to be rude, but a lot of people here are just plain weird and I feel that's very welcoming and loving to me, you know? The people, … also the geography of it, it just very much feels like home."
He also enjoys showing visiting relatives why they love this place so much.
"I just love hiking Flattop with my family. And Flattop matters because it's so accessible that we could start doing it with our kids when they were … infants, you can put them in the backpack and just take them on up, you know? And then pretty much as soon as they can walk they can do a good portion of that one… And so for our daughter Anna, at age 5 she was doing the whole mountain without being carried.
"And so to have something as nearby and accessible as that with such a wonderful payoff at the top, you get there and the view is just fantastic. And then when our families fly in to visit us once in a while -- it's usually on their bucket list too to see Alaska -- and so when they come in that were able to give them that experience and then hit Moose's Tooth on the way home and that's kind of like our first package day with our visitors.
"A lot of our East Coast families, they're not avid outdoorsmen, they're not going to go hit the top of Denali any more than I am. And so we can give them this experience that shows them why we left home and they can look at it and say OK, we get it, we understand why you would come to a place that's 4000 miles away from your mom and your brothers… it's better that they have the visceral reaction too. And they can really get it."
Schultz and his family have looked at living other places, he says, but found so many of them to be "dull and cookie-cutter." That's not the case here.
"…Alaska absolutely has its own unique culture and sense of being here, it's almost like its own country in some ways, you feel like you belong to a place. So that really made us feel like we wanted to stay.
"So any individual stroke of the paintbrush that paints that picture of Alaska sense… whether that's the wildlife or the natural beauty or the strange people or the sunlight or lack thereof, given the time of year, all those different little elements of uniqueness just felt like one more check in the plus column of things that we love about this place. Because it's so different."
Not that it's always easy. Given the extremes of the seasons, Schultz and his wife are careful to take care of themselves.
"We are both very proactive in being sure not to allow ourselves to succumb to depression in the wintertime, so we get those happy lights and we take vitamin D and we make sure that we're outdoors every single day and very active and we do the same for our kids. So we know that's something we have to watch or else we are susceptible to depression, both of us are, so we see counselors if we feel like that the smart thing to do at that time.
"In the summertime the opposite is the case. We have to remind ourselves to slow down once in a while, because you know we will just hike and be outdoors every single moment of every single day in the summertime regardless of rain or not, we just want to be out in the sunlight."
There's also an extra level of danger in the landscape here, Schultz has found, especially worrisome where his children are concerned.
"And with kids the age of our kids, they like to find the danger. And that can be terrifying. Our son is in Juneau now and he just texted us photos yesterday that he was out exploring ice caves in the Mendenhall (Glacier).
"And on one hand we're like, hooray, our boy is adventurous, … and on the other hand we're like, they can kill you if you don't know where you're stepping. So be careful…
"So it effects our anxiety level keeping our kids safe… Elizabeth and the kids were out at the park and they encountered a bear. Obviously they got away safely, but it's scary. There's a certain level of parenting anxiety up here."
But Schultz has also found a wonderful depth of caring in this community. A large earthquake on Nov. 30, 2018, drove that home.
"… earthquakes are also one of those unique elements of living here that we never had on the east coast. But it did illustrate a lot of what we love here in so far as people helping one another. Within minutes online there was a lot of social network outreach of hey, we are okay, how can we help you? From everybody that I know…
"And then in my work here at the church over the next few days and weeks it was a constant stream of people offering help. Very few coming in and asking for help, I think that's a testimony to our architects and structural engineers, but so many people coming in and saying hey, we have everything that we need, does anybody need a home, does anybody need food? That just speaks volumes about the kind of community we have."
Schultz says he's always wanted to live in a community that he loved and where he could give back. He says Anchorage and the church have allowed him to explore the things he most cares about in his life, while continuing to learn and help others.
"… the definition by some people of theology is faith seeking understanding and I would say that's been my life's pursuit and goal in a lot of ways.
"Faith I like to describe as very much like any other sense, a sense of sight, a sense of taste, a sense of faith. I don't claim to have earned it and I don't claim that it's an ability I have that others ought to get. It's just like I can see you sitting there, I can faith that God is there.
"So with that, I just seek to understand it as best I can and if I can see the sky but someone else can't, I would never judge them for that. Just maybe they don't have the sense of sight. So I seek to understand that and the way that I've learned to understand it is by serving others, loving others, listening to others, learning from every other person and treating every person with love and respect and care. And then a ton of reading.
"And so through all that I've found my way to this work here, which really puts me in a position where I not only can walk with people through those times in their lives that shine the spotlight on their faith and their experience with God, so I can guide them through it to the best of my ability, and I can learn from that as well."
Schultz knows eventually he and his family may move somewhere else. But he doesn't expect that to happen for at least seven more years, if ever. In the meantime, he and his family feel lucky to live in a place they love so much and where they can continue to be a part of the community and find ways to give back to it.
"There may come a day when the call to the warm beaches becomes too powerful to ignore and we move out of here, but for now we want to live here and keep on working to make it a better place."