DONNA GRANT
HOPSCOTCHING TO ALASKA
There's no one left who remembers exactly when my grandfather, Herman Cotter, first heard about Alaska. Was it when he was a boy in Arkansas, being raised by the "old aunts" he credited with keeping him and his baby sister alive after his mother's early death from diphtheria? Was it in a book or a magazine about his two great loves, hunting and fishing?
All we know is that once he heard about the then territory, getting there became his single-minded goal.
He married my grandmother, Cora Stephens, in Iowa in 1927 – he was 20 and she 18 -- and the young couple began a slow, deliberate trek across the country, first west and then north, always with Alaska in sight. Their first child, Joyce, was born in Iowa; their second, Herman Jr., in Nebraska; their third and last, my mother Donna, was born in Denver.
My mother says the family would land somewhere, get jobs and start school, and then it would begin all over. Her father would leave once again, traveling ahead of the family to a spot further west, get a job, and then send for them.
"It was rough, it was awfully rough on Mother," my mom says. "She'd fix a place up and then we'd do it again."
In that way, hopscotching across the states, the family made it to California and then Washington state. But World War II began, and plans to make the final push to Alaska were put on hold.
"We were on our way to Alaska -- we were going to take a steamship up in '41 or '42 -- when war broke out," Mom says. "And they were shipping civilians out of Alaska."
Leaving his family behind once more, my grandfather traveled north during the war, helping build the brand-new Alcan Highway, connecting Alaska to the Lower 48 via Canada.
In June 1946, after the war ended, my mom's family, along with Herman's sister's family, left their most recent home in Renton, Washington, defied Canadian Mounties who ordered them to turn around, and became the first civilians to drive the new highway into Alaska.
Once here, my grandfather – having found his place at last – would never leave.
***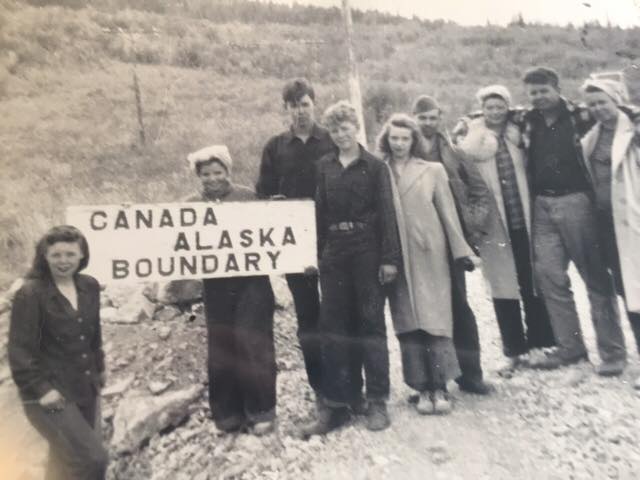 My mom, second from left, and her family celebrate arriving in Alaska in June 1946.
Almost 72 years to the day she, her parents and two older siblings crossed the Canadian border and arrived in the then territory of Alaska, my mother sits at her kitchen table in south Anchorage – a home she's lived in for more than 55 years -- intently studying a photograph.
It's in black and white, and shows nine people lined up on what looks like a rocky, gravel, decidedly inhospitable roadway. Second from the left, a young dark-eyed girl in a white kerchief – my then 11-year-old mother -- smiles broadly as she holds a large sign with block lettering declaring: "Canada Alaska Boundary."
Despite the passage of more than seven decades, my mother says she remembers the excitement of that moment.
"Yeah, that was a big event," she says with a smile.
My grandfather, the instigator of this adventure, is second from the right in the photo. A handsome, sturdy man, his left arm is draped around his younger sister Dicy Hayes's shoulders, and his right around his wife, my grandmother. My mom's cousin Joe Hayes stands to her left, and two of Joe's father's relatives stand in the middle.
My grandmother Cora looks fabulous. Over her traveling clothes, she's wearing a stylish coat with what seems to be a big fur collar. She and her sister-in-law are both wearing scarves artfully tied to look like turbans.
My mother's kerchief, she says, was covering up her "stiff as a board" hair, dirty from days on the dusty, gravel road. By contrast, her 15-year-old sister, Joyce, standing beside her, looks like she just walked out of a hair salon.
"Joyce must have just washed her hair in a creek," Mom says, laughing. "She looked great. She worked at it."
The group traveled in two cars, my mom, her parents and siblings in a Chevy sedan towing a trailer loaded with all the necessities of starting a new life in the far north.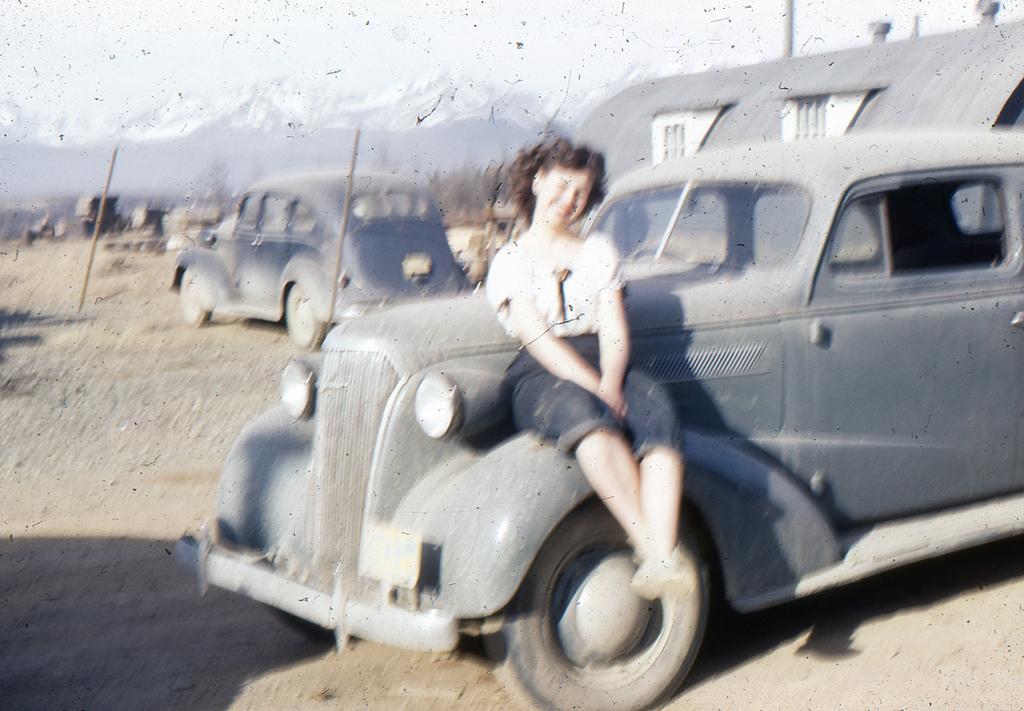 My mom, sitting on the Chevy two years after it brought them to Alaska.
"It was a pretty good size trailer for a car to haul," Mom says. "It was packed, as you can imagine. They had everything that they needed, gas and tires and repair things. They were real practical. They had traveled a lot getting there, so they knew what they could come up against. They were pretty well-prepared."
Dicy's family followed in a Willy's Jeep, which had a lot more trouble than the Chevy navigating the rough highway.
"They couldn't get up the hills," Mom remembers. "It was good on gas, but it was feeble. If the hills were steep enough it had to back up" to get up them.
Mom remembers having to sit between her older siblings in the Chevy's back seat.
"I'm sure I was in the middle, where else would I be?" she says with a laugh. "I think I was resentful because I had to sit in the middle all of the time, but I don't remember any fistfights."
In fact, that position might have protected her – since no one wore seatbelts -- when something broke on the Chevy's steering mechanism one day and the car suddenly rolled off a road in Canada.
"It seemed like it was slow motion, rolling over and over and over," Mom remembers.
When the car finally stopped rolling – luckily landing on its wheels, the trailer disengaged but also upright – Mom says her 13-year-old brother Herman Jr. had a blanket over his head. Their father jerked the blanket off to make sure he was OK, and he was. Everyone was shaken up.
"Considering that the car rolled over and over and over, it wasn't bad," Mom says. "Those old cars, they were steel. Built like a brick outhouse!"
Still, waiting for repairs meant they were stuck alongside the highway for a few extra days. They never went hungry, though.
"Mostly we fished and we had beans and stuff like that," Mom says.
As she recalls, the group slept outside every night of the trip, under tarps rather than tents. "We had sleeping bags and mosquito dope, such as it was, but it was like camping."
On or off the road, there was no question who was boss in the back seat of the Chevy. That would be Mom's sister, Joyce, who'd grown accustomed to -- and rather fond of -- her powerful position as the eldest.
During the war years, spent in Washington state, Mom says my grandfather was mostly gone, working as a civilian building the Alcan. She guesses he only came home for visits maybe four times over five years. And my grandmother also worked full-time. That put Joyce in full charge of her younger siblings.
"Joyce had been pretty much our boss all those years in Renton, so we pretty much did whatever she said," Mom recalls.
In retrospect, Mom realizes that while it seemed her older sister had it made – being able to boss the others around – the burden was huge, too. From a young age, Joyce cooked, cleaned, and kept track of her younger, occasionally rebellious siblings.
"She told me she made a turkey dinner when she was 12, which seems impossible," Mom says. "The difference between her life and my life was profound. The older child, you get all of the chores and none of the free ride."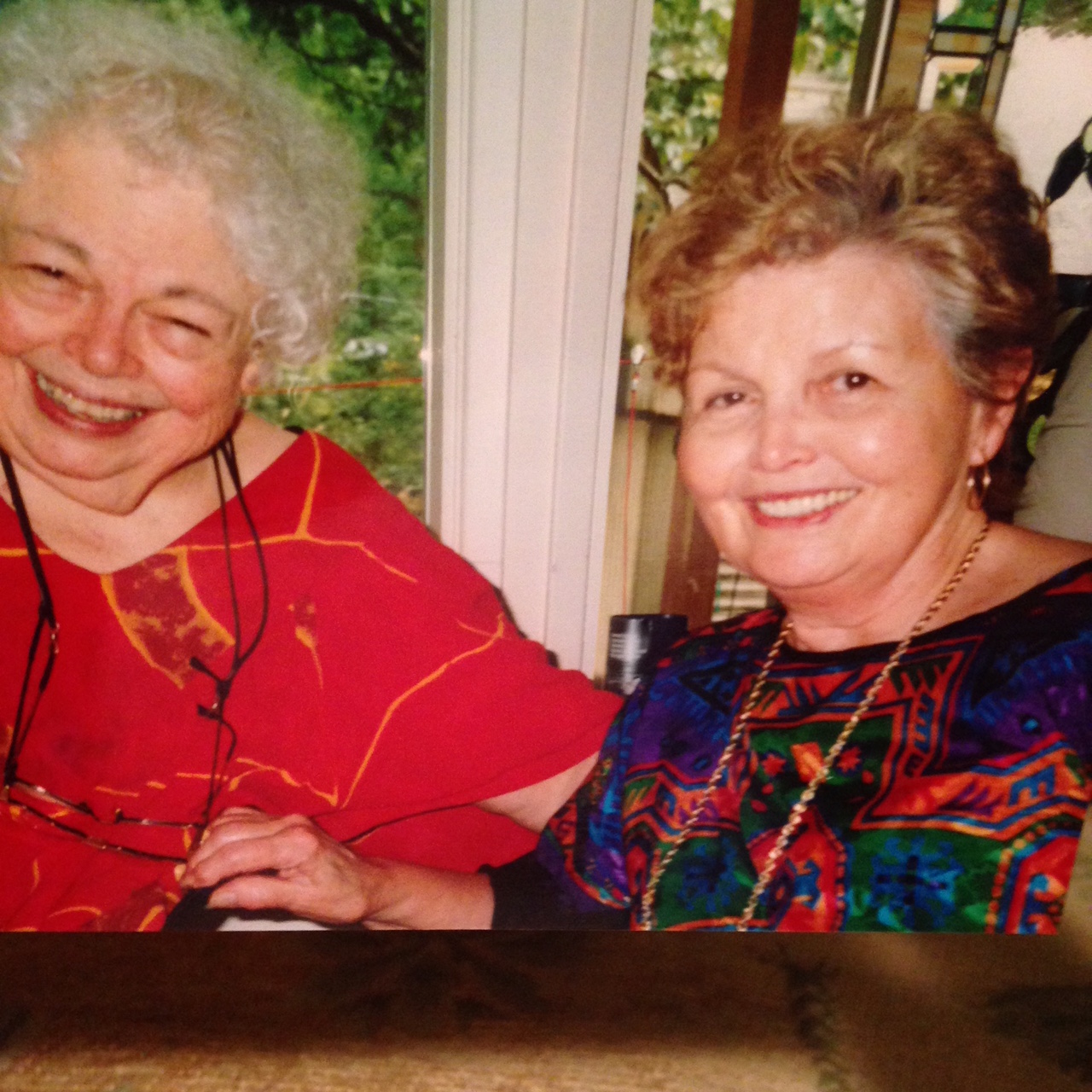 My mom (on the right) and her older sister Joyce.
In addition to the rollover, Mom remembers two other dangerous moments on their journey. In one instance, Joyce stepped onto what she thought was a sand bar. It turned out to be quicksand and she started to sink down into the muck. Their cousin Joe Hayes, riding with his parents and two other relatives in the Jeep, quickly jerked her out.
"That was hair-raising enough that I remember that," Mom says.
Then there was the time somewhere in Canada when Mom, excited at the sight of dogs, opened a gate and walked innocently into a sled dog lot.
"They were huskies, a dog team," Mom recalls. "The owner was terrified, he thought they'd rip me apart, but they didn't."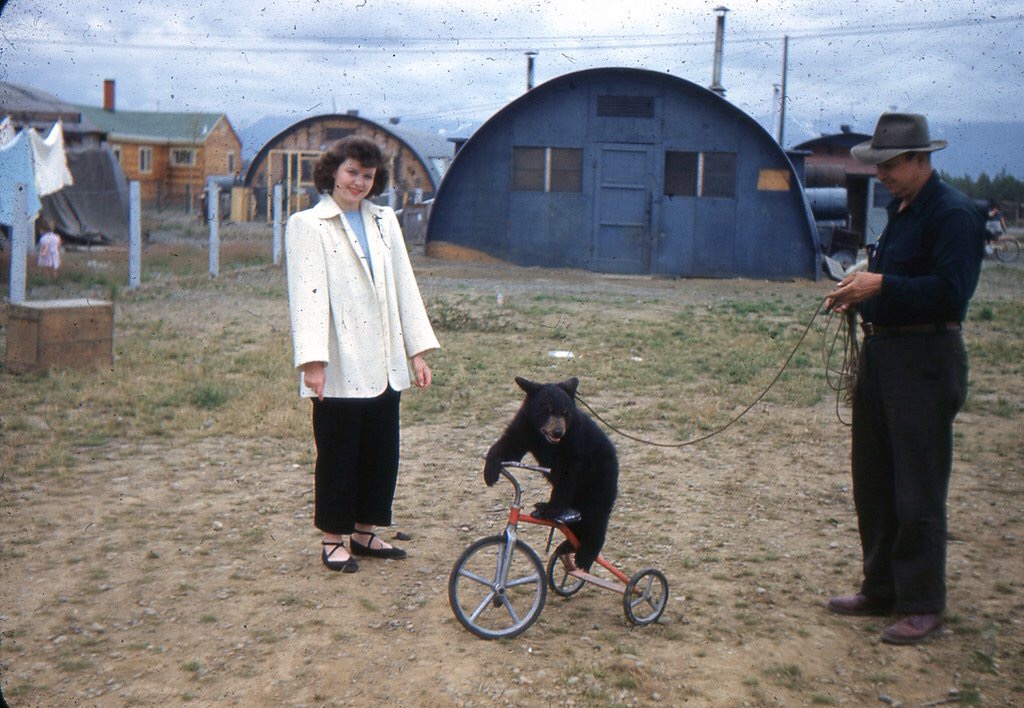 My mom with her "pet" bear cub, on Government Hill in the late 1940s. My grandfather is to the right.
(A few years later, settled in Anchorage, my mother would even have a short and memorable tenure as the owner of a small black bear cub. Her father – then working for the Alaska Railroad -- brought the orphaned cub home for her to care for after its mother was killed. Mom remembers trying to teach the bear to ride a tricycle and feeding him molasses from a bottle. The cub got cranky pretty quickly, though, and couldn't be kept safely any longer. My grandfather told Mom he took the cub to a zoo. It was years before she made the sad realization there were no zoos in Alaska then. She suspects the cub was set free far out of town.)
***
Eventually, the small caravan made it out of Canada and into Alaska. They paused for photos, then pressed on.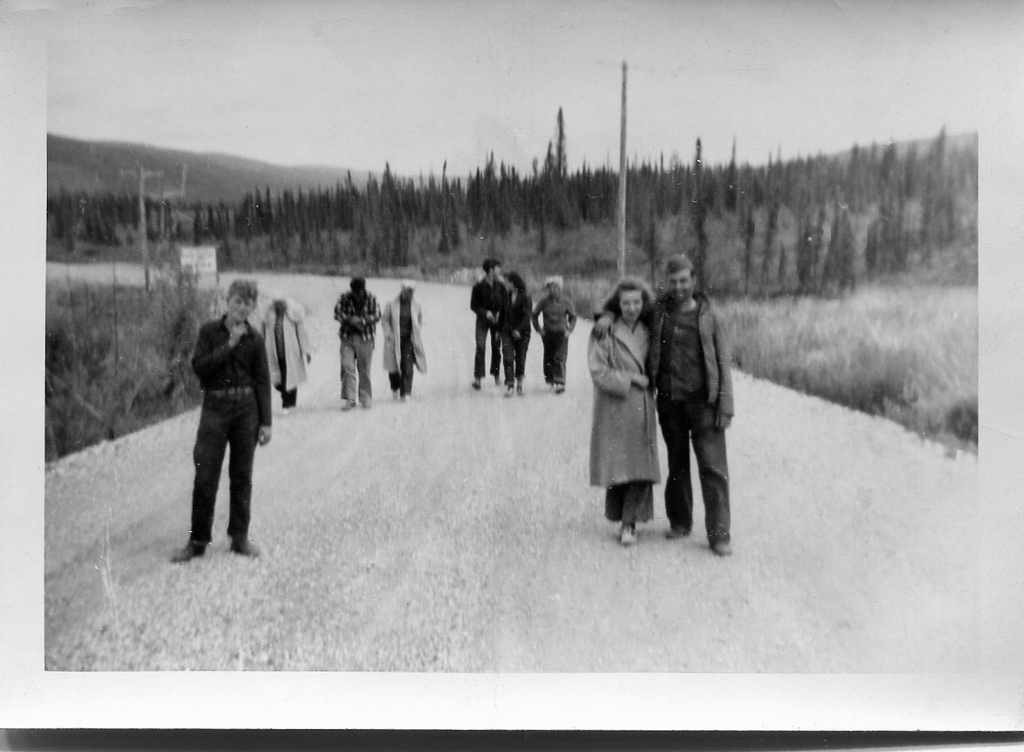 After crossing the border into Alaska, the group stops for photos.
The first place they settled was Eska, a small community about 50 miles as the crow flies northeast of Anchorage. The family thought it was beautiful, Mom recalls.
"It was rural, and we had a creek to fish in and a pool hall to hang around (in), and an old mine to get ice for making ice cream out of, so that was really nice. We spent the summer there of '46," Mom says. "I turned 12 just about the time we got there."
After a few months in Eska, they hit the road again, this time to Healy, on the railbelt.
"That was where Nana cooked for the (railroad) crew and it was miserable. When it got cold it was 70 below," Mom says. "The only warm place was the cookhouse because the stove was roaring all the time."
There, she and her brother Herman Jr. enrolled in school, checking out the frigid temperatures on the roundhouse thermometer every morning through the icicles forming on their eyelashes. Their sister Joyce didn't stay with them in Healy, instead heading to high school in Anchorage, where Dicy and her family had already moved.
Mom still shivers recalling that miserable winter in Healy. The family lived in barely insulated railroad cars and didn't have clothing suitable for the extreme weather. The only fun she recalls was a weekly movie at Lignite, Alaska entrepreneur and legend Cap Lathrop's mine a few miles to the north.
"That was the only good thing about that experience," Mom says. "We only spent one winter there but that was plenty. I didn't even realize Mount McKinley was anywhere around. It was nothing but survival there."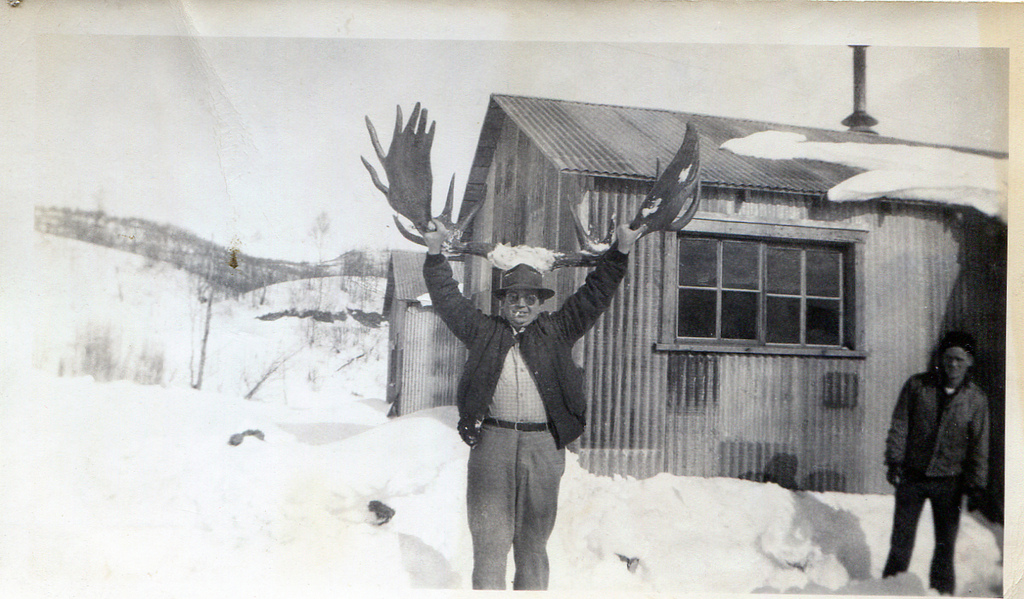 My grandfather in Healy in 1947.
After that cold winter, the family made the move to Anchorage in 1947. My grandparents would live there until their deaths – keeping the same small house they bought "for a song" on Government Hill.
As Mom tells it, Anchorage life was a far cry from the daily struggles of Healy.
"I loved it, wonderful little stores and ice cream parlors," she recalls. "After the places we'd been, it seemed like it had everything. And then I was noticing boys and there were plenty of them around!"
She remembers "beautiful" dress stores with "lovely stuff" like Lorene Harrison's Hat Box (which Harrison opened downtown in 1948, selling out her entire inventory in the first day) and others.
"If you were going to ship stuff up, it might as well be high-end because it was going to cost a lot," Mom says.
Mom's Aunt Dicy eventually would open her own shop in the city, Dicy's Tailor Shop, in the building where Cyrano's Theater would be, carrying high-end fabrics. It closed after the 1964 earthquake devastated downtown businesses.
It helped during those early days, my mom adds, that many people had disposable incomes – including, for the first time in their lives, her parents, who were making "good money" at their jobs.
"They were the first generation of their families that had anything like extra money, and they weren't tight with it at all," Mom says. "They spent it on clothes and mostly on us …"
"They could've gone either way," she adds. "They could've gone really stingy because of the want of their childhoods. Nana only had one pair of shoes and that was for school and church growing up. Think of that! And that wasn't unusual."
For fun, Mom says she and her siblings went to movies fairly frequently in Anchorage. She remembers two theaters downtown, the fancy 4th Avenue Theatre, and the Denali Theatre, also on 4th Avenue. (The latter was destroyed in the 1964 earthquake.) But what she really remembers are the ice cream parlors.
"The ice cream parlors, as I remember them, were really something," she says. "They'd make the most beautiful banana splits and there were a lot of them. Hewitt's Drug Store had a big bar for sundaes and ice cream. They were really popular."
My grandmother worked as a cook at the Oyster Loaf, which Mom calls "the happening place," on a corner downtown across from the Anchorage courthouse. Joyce became a waitress there, too, making "tons of money," Mom says.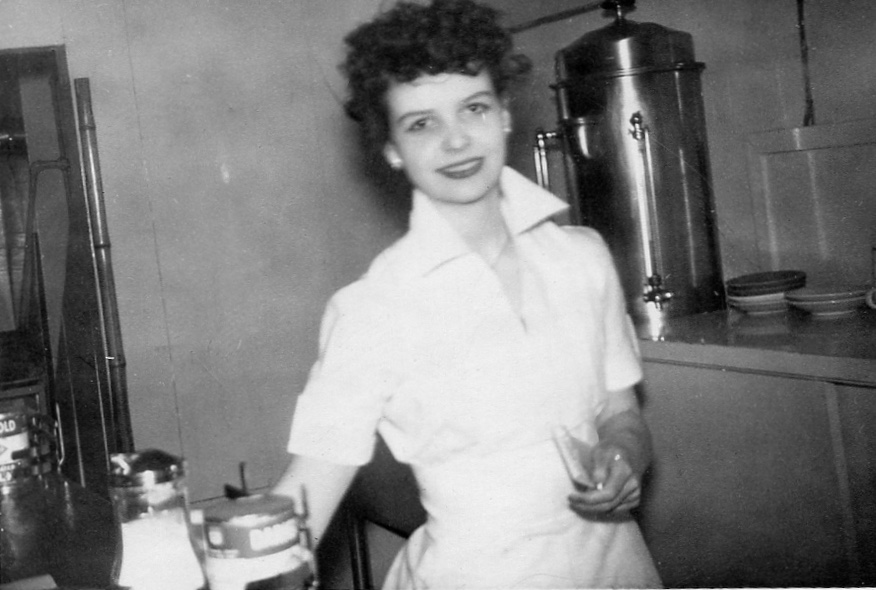 My mother working at Hewitt's Drug Store, probably 1953.
Mom herself would eventually work in many of the downtown restaurants, including Hewitt's Drug Store where she met my father, Wayne Morgan, whom she married when she was 18 -- and where she became renowned for her ice cream sundaes -- and Lou's Café, at the end of the alley next to the 4th Avenue Theatre. She also did a memorable stint as a car hop at Jim Dandy's drive-in.
"Jobs were easy come, easy go," she says. "I really was a good waitress. (As a car hop), I'd put the tray on the window and hold my hand out. I had a tip jar about that high!"
By the time she was 22, Mom had married three times. Her final marriage, to my bush pilot stepfather, George Grant, lasted 44 years until his death in 2001.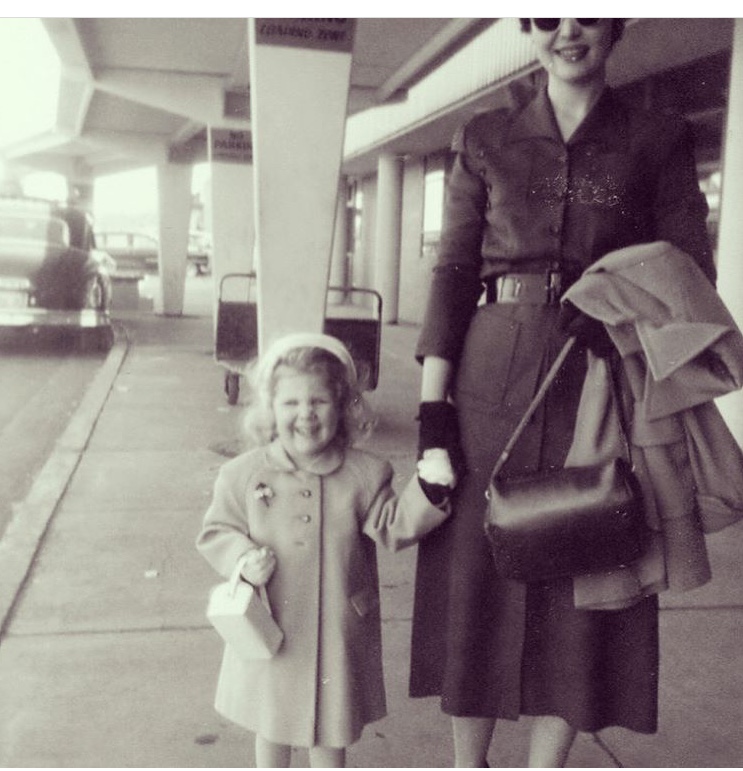 My mom and I at the Anchorage Airport, heading out to Washington state to marry my stepfather George Grant in May 1957.
Today, my mother lives alone in the same south Anchorage house they bought in 1964 and burnished together over the years.
Despite a lifetime of cold and icy winters, increasingly difficult to endure because of arthritis, she plans to stay in the house forever.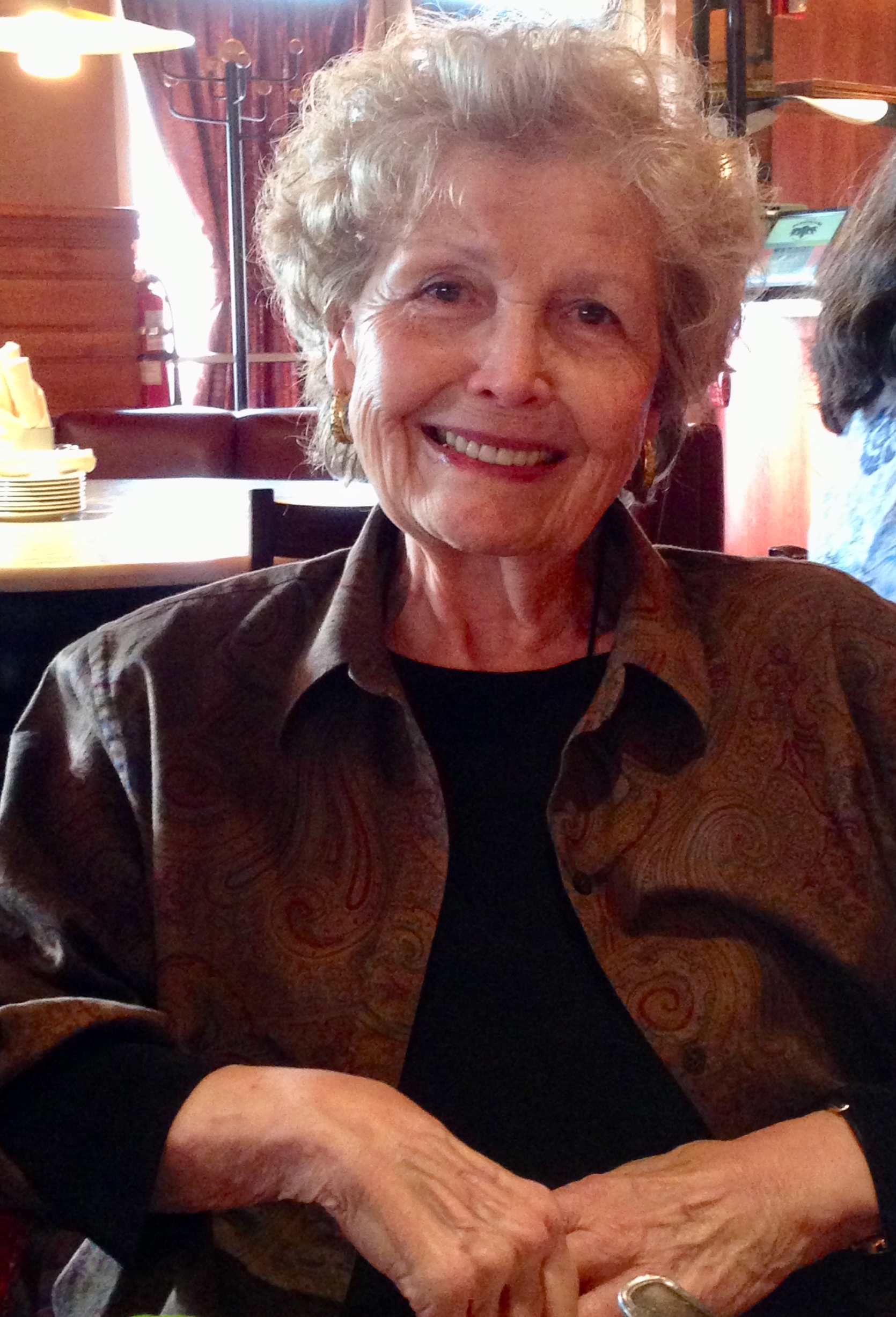 My mom, Donna Jean Cotter Grant, in Anchorage in 2013.
"I just feel at home here, this is where I live, this house," she says. "And it's getting impractical, but … I think I'm going to stay here as long as I can."
She's never liked moving, for one thing. Perhaps the traveling her parents did got it out of her system, she figures. Plus, she loves the spaciousness in Alaska.
"Well, there's the feeling of not being crowded, you don't find that in many places…, and the beauty," she says. "I think Alaska is really beautiful. Even when it's winter, it's really gorgeous. Joyce used to say we live in a postcard and that's about right. It's just gorgeous. So to live where you look at beauty all the time, that's nothing to sneeze at."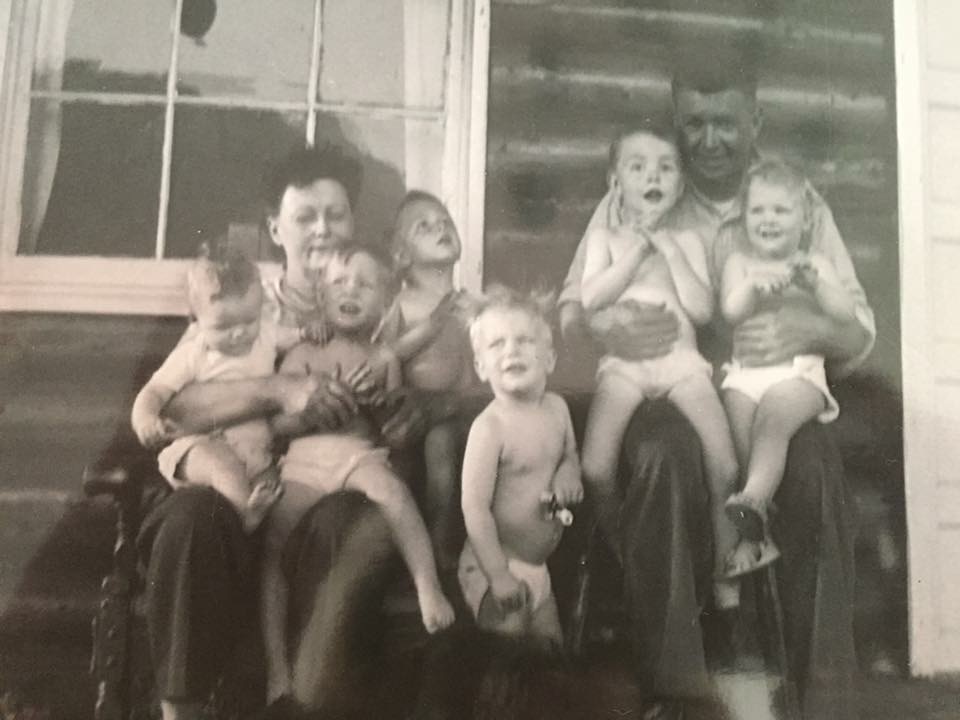 As to all that traveling her parents did, my mom says my grandmother -- who died in 1989, seven years after her husband -- would have followed my grandfather "to the gates of hell, I think."
Like all of her ever-expanding family, my grandmother came to love Alaska, too, and the home and life they built here.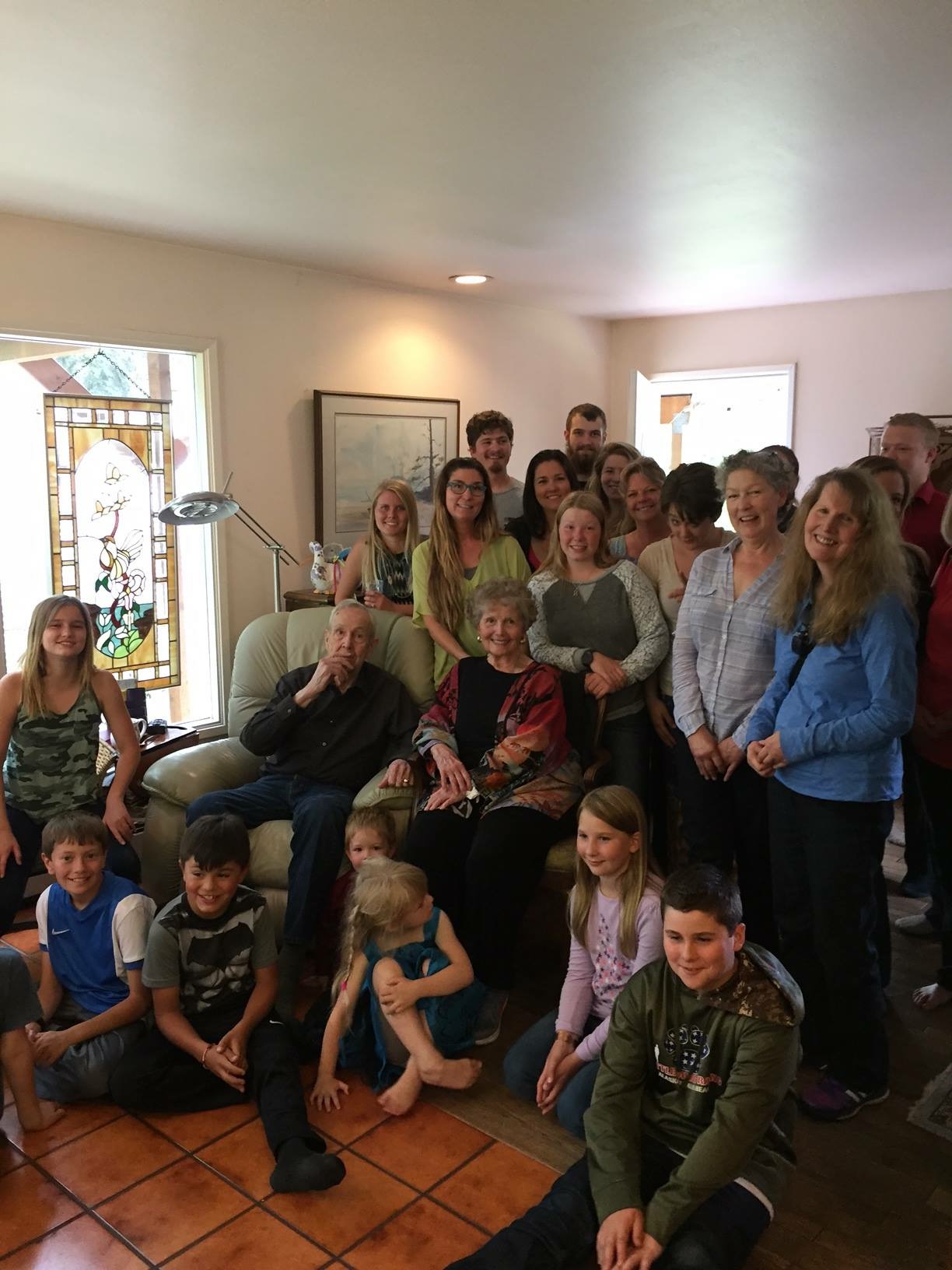 Some of the family gathered in June 2016 to celebrate the 70th anniversary of the day the family first came into Alaska in 1946. Two of those in the original cars, my mother and her cousin Joe Hayes, are center left.
What lured my grandfather across the country to Alaska was the promise of plenty he first heard about when he was just a hungry, motherless boy in Arkansas. He and his baby sister were the only ones of their relatives who left home, looking for a better life, Mom adds.
They found that – and much more.
"That was Daddy," my mom says. "He was always looking for something a little bit better up the road. He liked to travel, he liked to move. But once he got here, he was home."