Catherine Stadem
Glorious
​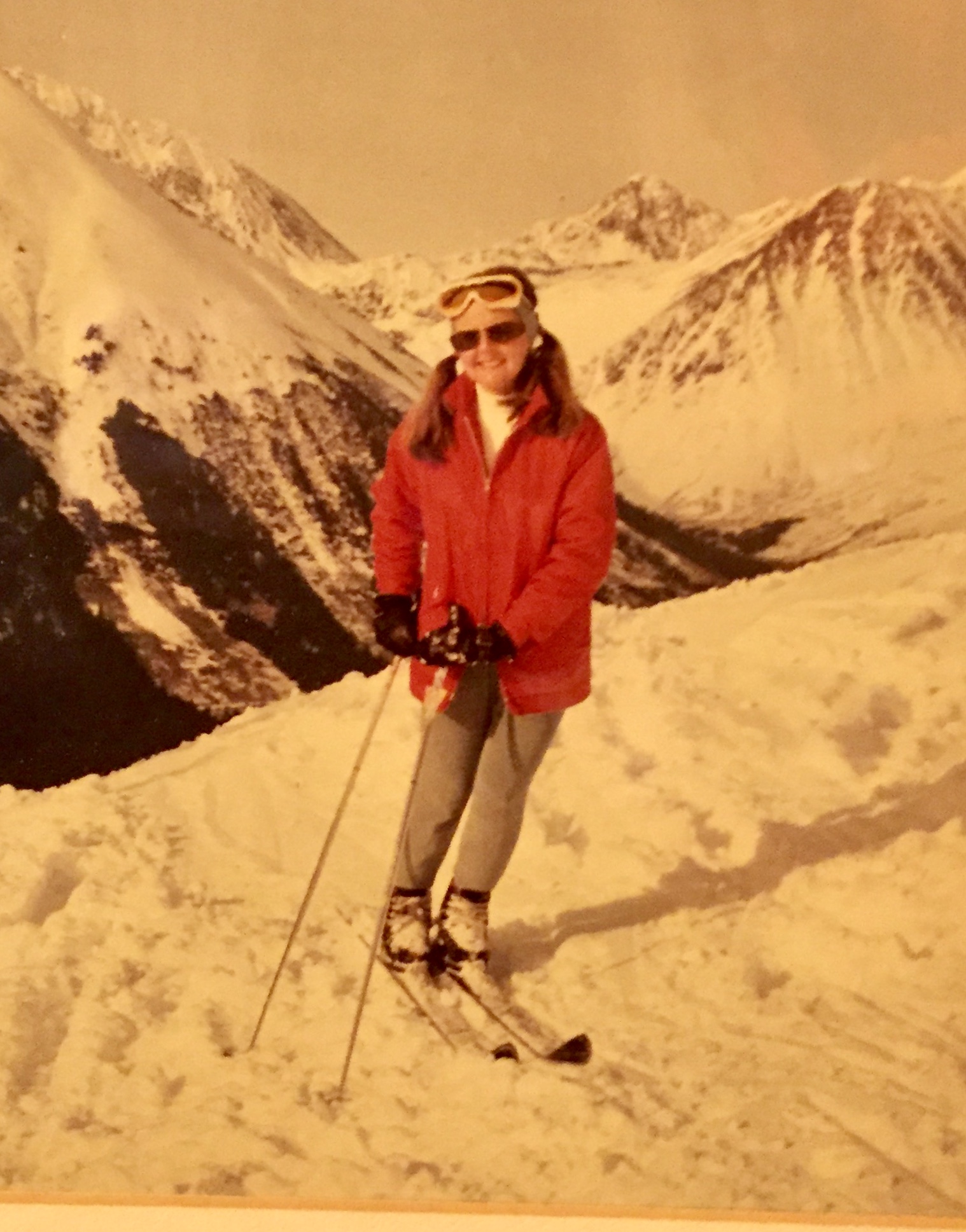 Catherine Stadem, top of Alyeska, around 1968-70. Stadem was on the Denali Ski Patrol for years. That was where she met her husband, Norm Stadem. (Photo by Lu Liston)
Ask Catherine Stadem what brought her to Alaska more than six decades ago, and she has a ready answer.
"A sense of adventure," she says. "Simple as that."
In 1956, around Christmas, the family Stadem lived with in Long Beach decided to call a relative in Alaska. Stadem got on the phone.
"I remember just spontaneously saying, 'Are there any jobs available up there?'
"I was working for an insurance company, I was a couple of years out of high school, and hadn't decided yet if I wanted to go to college or not. … but I had dreams about being a stewardess someday or working for an airline.
"Anyway, I said 'are there any jobs?' And she said, 'oh, there's always a job… if you can do it!' And I said, 'well, I think I'll come up there.' And she said 'great.' So I sold my little Volkswagen Beetle, my first car, a '54 Beetle, I sold it and packed and in two weeks I was here."
Stadem stayed with the woman and her husband in Anchorage for a couple of weeks, and he helped her find a job as a ground hostess with Scandinavian Airlines, which had just inaugurated over-the-pole flights. In those days, the crews laid over in Anchorage for a week, so Stadem took care of the passengers during that time, fed them, answered questions, etc. To get her familiar with the area they served, the airline even flew Stadem to Scandinavia. She loved it all.
"So it was a perfect job for me. And I was too young to be a stewardess, but this was awfully close."
A couple years later, when she turned 21, Stadem fulfilled her dream, becoming a flight attendant for Northwest Airlines. Unfortunately, that meant she was based in Minneapolis, far from the Alaska she'd come to love.
"I would call my friends up here and say, what do the Chugach mountains look like today?"
So she resolved to come back to Alaska, and had a job lined up, but instead her mother suggested she stay in California and attend UCLA to become an x-ray and nuclear medicine technician.
Still, the opportunities Stadem had found in Alaska beckoned. It was unlike anything she'd experienced before, and unusual, she feels, for the time.
"Oh, it's given me opportunities to do things I probably never would've been able to do had I stayed in Long Beach, California. I became a pilot, I was able to have great adventures in the outdoors, I was on ski patrol for years, I've hiked and climbed and enjoyed the outdoors. But I've also had an opportunity to get an education at the University, and watch all of the cultural activities grow and flower in the city -- in my time here.
"I was only 19 or 18 when I came up here, so I had a very narrow view, at that age, of the world. It was southern California, beaches, palm trees, Catholic Church, kids I went to high school with, that was my world.
"And when I came here, all of a sudden I was working for an international airline, after that I was a stewardess, I got to fly and see the world, and my world in two or three or four years just exploded. That may be typical of all young women that age but I don't think so.
"I think being in Alaska just gave me more opportunities. There's an old saying… no matter whether you're a man or woman, Black or white, if you can do the job and you're willing to do it, it's yours. And I believe there is less gender discrimination on a frontier, always. And there was (less) here, certainly during the '50s and '60s."
Stadem came back to Alaska in 1962, working in medical facilities around Anchorage. The future journalist and playwright loved to write, but didn't see that as a career possibility.
"(At that time) how many women writers were there professionally? And I didn't have a college degree yet and so I was kind of in limbo, so I got married.
"Because I was the last of all my girlfriends to not be married and that weighed on me. In those days if you weren't married, what was really wrong with you? And so somebody proposed and it was a disastrous marriage because … I was too young and he was too old.
"But he had an aircraft repair service and so he arranged for me to get my flying lessons. He … actually needed me to help him, so I got my pilot's license, and flew cover for him when he was flying wrecks back from the Bush."
For several years, Stadem flew both with her husband and alone, accruing many hours ferrying airplanes from Wichita to Anchorage, until the couple divorced. She even competed in a famous cross-country air race.
"I flew the Powder Puff Derby in 1971 with Ruth O'Buck, it was the international one from Calgary to Baton Rouge. We were in a King Air and I flew copilot on that with Ruth, who had actually been the inspector who got me my commercial pilot's license and my seaplane rating."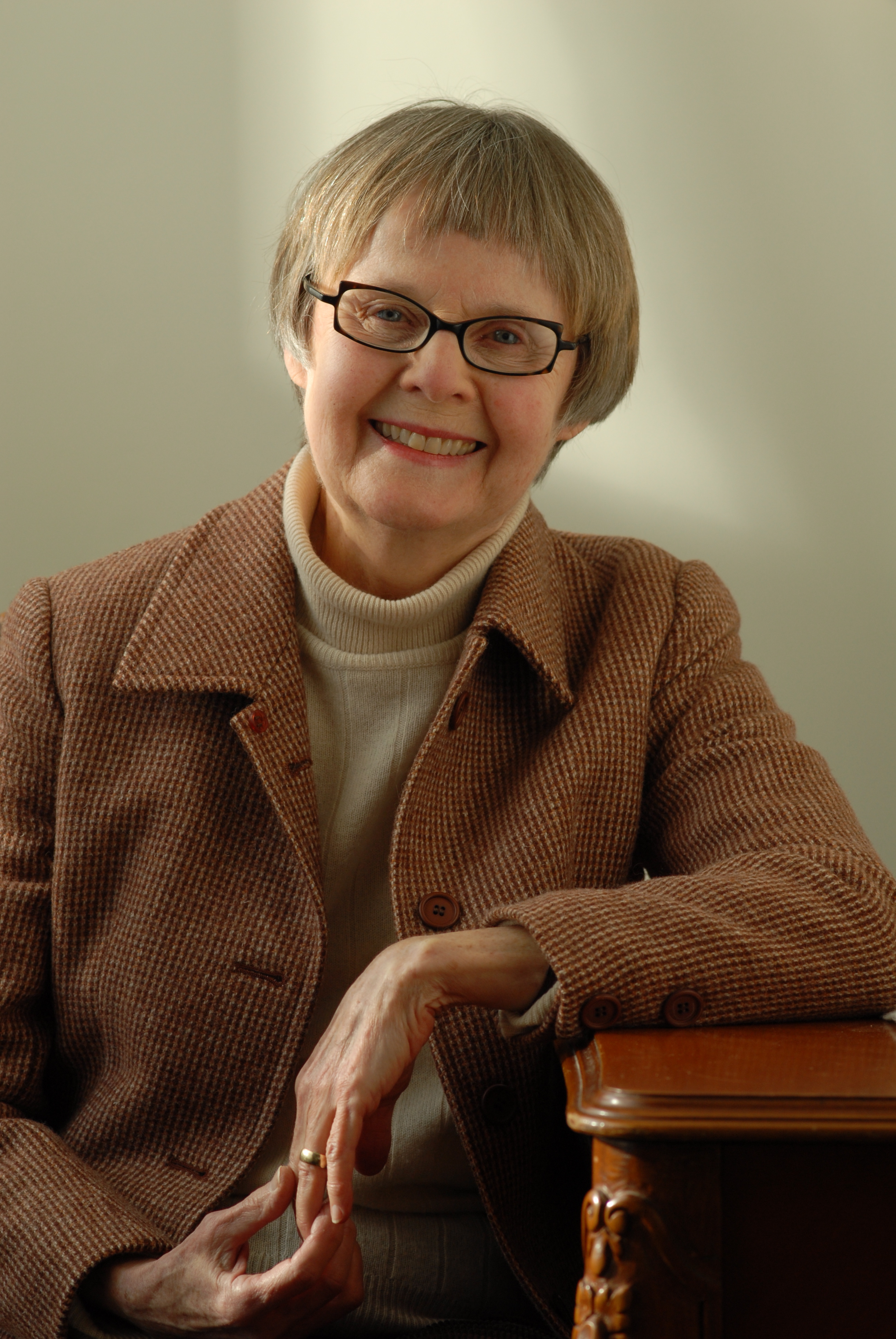 In the years that followed, Stadem happily married her husband Norm, got her college degrees, and became a professional writer. She was on the Denali Ski Patrol, worked for the Anchorage Times, reviewed hundreds of theatrical events for the Anchorage Daily News, became a playwright, and wrote a painstakingly researched book chronicling the history of theater in the city.
The Alaska she knew afforded wonderful opportunities for women in the 20th century, she says.
"Education, jobs, everything was here and nobody ever… that I was conscious of, denied me anything because I was a woman. That's my sense, I mean I'm sure there have been times.
"I could go back to one of the happiest times or one of the most memorable times for me, and oddly enough I think it's the day that I got my first job as a reporter. Because I was in my late 40s and … suddenly I could say that I was a professional.
"I had worked so many years, little by little, to try to get a college degree and it just opened up for me and I really felt validated that I no longer had to be a clerk or a word processor or a go-fer in an office."
On her first day as a reporter for the Anchorage Times in 1983, "I remember walking into the building through the back door, that alley, and thinking that I'd finally… I finally don't feel subservient. I feel like a totally independent person who can chart her own course. And I was middle-aged at that point."
Now, at 80, she looks back on a rich life, full of vivid memories of scenic vistas all over the state.
"When I was flying, seeing the glorious landscape -- or the terrifying landscape, depending on if I was making good or bad decisions. And … the many hours I spent at Alyeska or at Arctic Valley on skis watching the fog roll from in below, or watching the sunrise, fabulous snow days and horrible snow days, and all of those things together just enrich my life so much, I think, and they're very visual. I can close my eyes and see all of those scenes."
Over all these years, Stadem still can't quite put her finger on why she never left Alaska. She loves it, and has never found anywhere else that compares.
"It was my home, and every time I went Outside, which was fairly frequently, I didn't ever find any place or see any place else that I felt at home in and it was as simple as that.
"I loved the mountains, I love the outdoors, I loved the recreation, I loved … the very specialness of being an Alaskan. And I think there is a little ego thing going on there with a lot of the early Alaskans. Especially when you're traveling, it's like where are you from? Alaska. Alaska?
"You know it put you in a special category, like you must be something different. And maybe that still goes on, I suppose it does a little bit. But it was certainly true in the early years pre-and just post statehood.
"It just put us in a different category. And frankly, I think we still are. I really think that living here makes us different, and for years, especially as a writer, as a professional writer, I have pondered and pondered and pondered is there something that unites all of us, the ones who come, fall in love and stay? What is that thing that essence? And I thought about it so long for so many years and I've never had an epiphany."
She's even found Alaska benefits her physically.
"This is a place where I'm healthier, where I'm more alive," she says.
It shows. Stadem could literally run – or ski -- circles around most people a decade or more her junior. She credits an extremely accessible outdoors, plus ready access to all the cultural things she loves to do in Anchorage.
"I think at 80 now I'm much more active then maybe a lot of 80-year-olds in Long Beach, California, are. Probably, maybe not.
"But two weeks ago when we had a really good snow and perfect temperatures, I just pulled out my skis and skied out the front door and skied two blocks down to the Chester Creek Trail and skied over to Goose Lake Park and that was the first time out in many many many months and I felt so good and so strong and came back.
"And I think the next day we went to the opera… it was to the Bolshoi, the satellite direct Bolshoi ballet that we get at Century Theater, so that's 10 minutes from here, from our house, and out my door is 100 miles of ski trails!"
It's all perfect, from Stadem's viewpoint. She's seen lots of change in her years here, but what's important, she believes, has remained mostly the same.
"The Chugach don't change. And the trees that we have left don't change very much, they grow. That's about it. The view across the Inlet to Fire Island doesn't change.
"We have a better access now, I mean I used to have to tramp through the bushes to get to where Kincaid Park now is, it wasn't anything then except a military preserve. And we'd go out there and berry pick and thrash through the wilderness, essentially. So lots of change, growth, a lack of trees, more pavement, faster cars, more people.
"And good people I think, and by good people I mean in the sense that I feel a kinship with other people who love Alaska. I do feel that very strongly.
So much so that Stadem tells relatives who want her to move to more comfortable climates that she won't. She's an Alaskan. To the end.
"I say, you know, I want to die here, I don't want to die in Reno!"
What is it that draws some people, like her, like those who came before her heading west, hiking the Klondike Trail, enduring hardships to migrate to life on a frontier like Alaska? It's a question she asks herself.
"We know why they're migrating right now in the Middle East, climate change is probably a lot of it, but why, what is this Westward ho thing? I think that's the big question. What is it? And I don't know if, I don't think there is one answer but, there will be PhD students trying to answer it and looking at archives at the University and at the Museum and trying to figure out what is it in the human spirit, in the North American human spirit, that makes us want to go West?"
Maybe, she thinks, it might be as simple as the beauty of the landscape.
"… if you boil it down, it's how beautiful it is, or can be, not old Seward Highway, I'm not talking about that, I'm not talking about our industrial area.
"But being able to look over the rooftops at the mountains or being able to see McKinley if you're hiking at Kincaid Park… being able to look across the Inlet at the Alaska Range, there is no one story. It's just that the natural beauty, I think, brings out the best in people. I think it does. I hope.
"People who are drawn to beauty, to natural beauty, I think they're different. Maybe that's the thing that we all have in common."