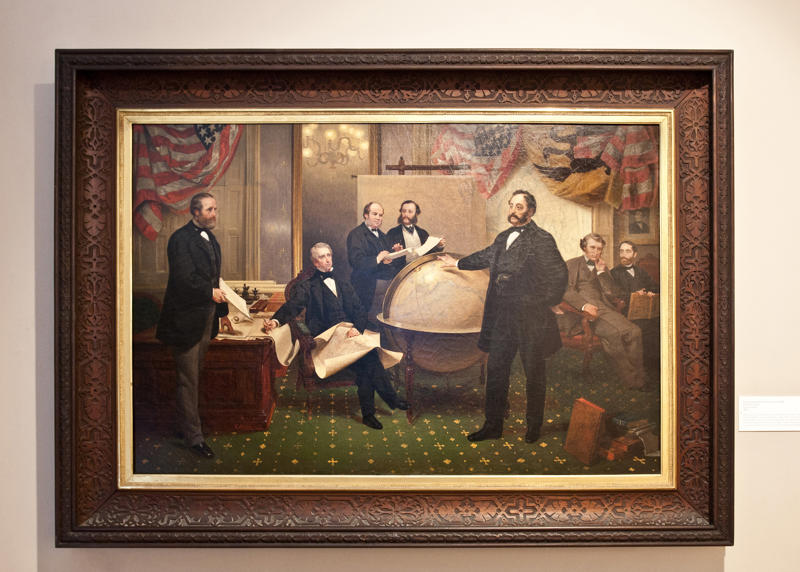 Signing of the Alaska Treaty, 1868
Emanuel Leutze
Oil on canvas
From the collections of the Seward House Museum, Auburn NY
---
Emanuel Leutze, Signing of the Alaska Treaty
1868
Oil on canvas, from the collections of the Seward House Museum, Auburn NY
At the end of his life, William Henry Seward was asked which of his public acts would live longest in the memory of the American people. Seward's answer was the purchase of Alaska, but he recognized that it would take another generation to find it out.
The historic home of William H. Seward is now a museum in New York. The collection includes gifts that Seward received during his 1869 Alaska visit, including a kayak, slat armor, carvings and a scrapbook of pressed Alaska flowers and plants. Seward also brought back a bald eagle that lived in his Auburn house garden for a few years as well as an "Alaska dog."
Seward had served as governor of New York for four years, a U.S. Senator from New York for 12 years, and the Secretary of State under President Lincoln. An ardent expansionist and fervent proponent of Manifest Destiny, Seward believed, "Our population is destined to roll its resistless waves to the icy barriers of the North."
Illustrated are (left to right): American diplomat Robert Smith Chew (1811 - 1873); American Secretary of State William Henry Seward (1801 - 1872); American diplomat William Hunter Jr. (1805 - 1886); secretary of the Russian mission Waldemar de Bodisco (d. 1878); Russian ambassador Eduard de Stoeckl (1804 - 1892); American senator Charles Sumner (1811 - 1874); American Assistant Secretary of State and son of the Secretary of State, Frederick William Seward (1835 - 1915).