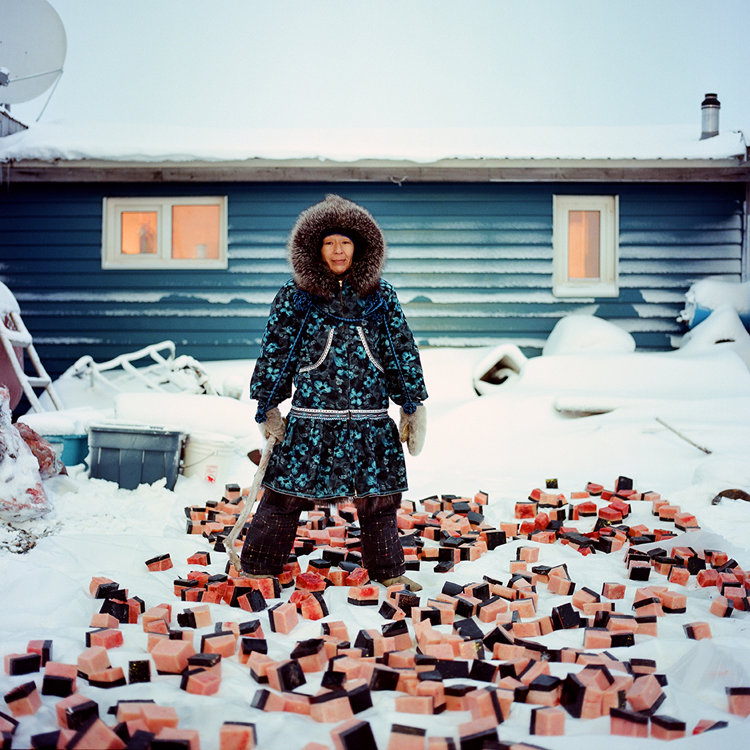 Credit: Brian Adams
Marie Rexford
Brian Adams

---
"We are getting the muktuk ready to serve during Thanksgiving. We caught this whale on September 23. It is a bowhead whale. We are allowed three—our quota. We had lost one, so we had asked one of the villages if it was okay to have one of their whales, and we are thankful to Kivalina for giving up one of their whales. In the past we did that with them. We knew we would be short on muktuk if we had only two, so we asked one of the captains to ask them. Ours was 44.6 feet long.

I am the captain's wife, second in authority—actually, first from what I was told. When I found out, I said, you all know what to do, do your thing. My first crew I went on was my dad's crew. I was 16. Then I married Eddie. I used to go out with his uncle's crew, then he passed the crew down to Eddie, and that's when we found out how it really works... Eddie's uncle showed us how the authority works, how to do this and that. How to talk to new crew members, what not to do out there and what to expect from them. Sometimes you don't know about first timers—one of our first timers went out and he hollered out there, and that's not a good thing. We went right over the whale and he was like "AAH!" You're not supposed to holler when you're hunting! You keep quiet; you keep your eyes out for the blows. All eyes are always looking out because there is a whale out there somewhere. You will find it, and sometimes there is a bunch of them, all at once, one strike—we go for that one strike. We never caught two whales at a time before. I never want to see that happen because it will drain out everybody, trying to cut them up and get them put away before the polar bears get to them. There is 24-hour Nanuk patrol during whaling, because we've got polar bears waiting. You can see one of our pictures over there, one of our guys is bringing blubber to a polar bear that didn't want to go away, so they brought him some blubber to keep him away from the cutting."

— Marie Rexford is Iñupiaq from Kaktovik, Alaska.