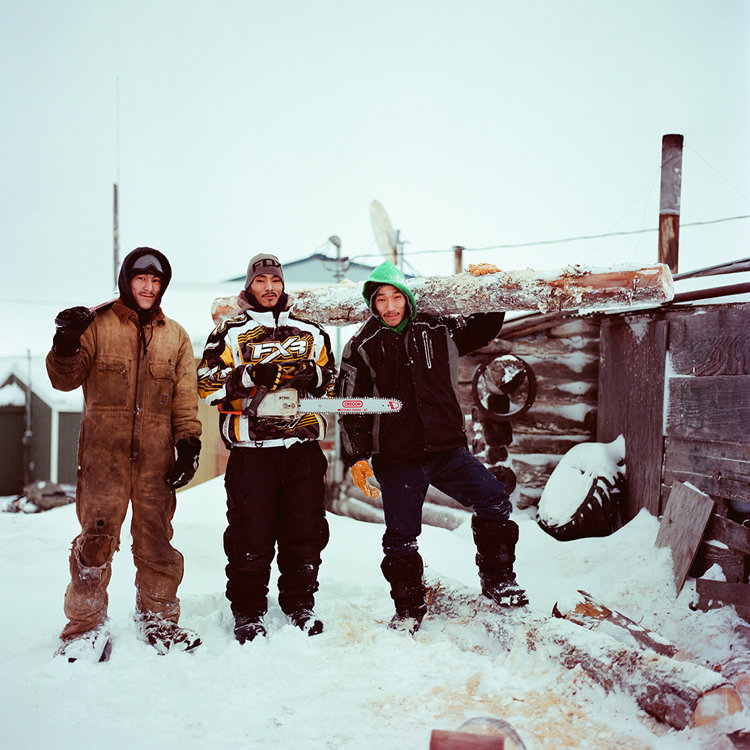 Credit: Brian Adams
Fred Vestal, Edwin Vestal and Lester Vestal
Brian Adams

---
"We are all brothers; they call us "the lumberjacks." We are cutting this wood for our uncle. He lives in there, in one of the oldest homes in Noatak [Alaska]. We call this an odd job. We charge $120-150 per load, and $20 to chop, and it's daily, too—people are always asking for wood to burn. We have to go 2-3 miles out of town to get the wood, you have to find it."
–Fred Vestal, Edwin Vestal and Lester Vestal are Iñupiaq and live in Noatak, Alaska.

While photographing "the lumberjacks" a passerby said, "These are the go-to guys. They are good guys—if anybody ever needs something, or help, they know they can go to these guys."

Noatak is one of the many Alaskan Inuit villages suffering from some of the highest costs of living anywhere in the United States. Today, they are paying $9.99 per gallon for both heating oil and gas. In 2014, one in five rural households in Alaska was spending almost half their annual income on home energy. This is three times what they were spending ten years earlier and has been driven by the enormous increase in the world price of petroleum. Despite world oil prices having fallen, costs in rural Alaska have not shown much improvement.