Can design help combat homelessness?
With evictions a serious issue nationally and extreme weather events displacing thousands, houselessness is one of society's biggest challenges. Through the project Houseless, the Anchorage Museum invites visitors to considers ways design can contribute to solutions.
Design thinking helps break down complex problems and integrate new information and opinions, while acknowledging there is no one right answer. The Houseless project provides a space for awareness, education and creative problem-solving around housing security in our own community. It supports individuals and communities in problem-solving together.
Houseless brings together the National Building Museum's exhibition Evicted, a presentation of the micro-dwelling housing initiative from Portland State University's Center for Public Interest Design, and WE ARE ALL HOMELESS, a long-term project by designer Willie Baronet. It also offers space for responses by local designers and discussion space for community dialogue.
EXHIBITIONS, INSTALLATIONS AND ACTIVATED SPACES
EVICTED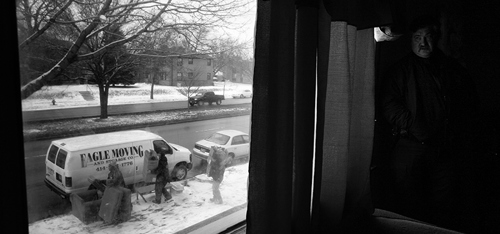 Eviction has become an issue that affects every community across the country. The National Building Museum worked with sociologist and author Matthew Desmond to create an exhibition based on his book, Evicted: Poverty and Profit in the American City, sharing his research and the scale of the problem of eviction. Through an array of images and audio interviews, infographics and forward-thinking design, Evicted offers an immersive experience for understanding the crisis of low-income renter eviction, how it developed and how communities may respond.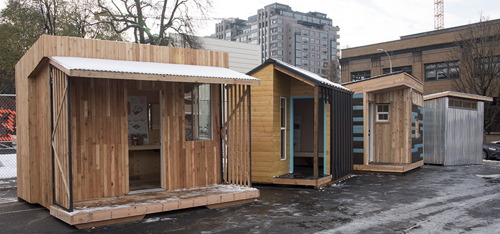 PARTNERS ON DWELLING (POD): Micro-Dwelling and Village-making with Portland's Houseless Community through Portland State University's Center for Public Interest Design
The Center for Public Interest Design (CPID) is a research and action center at Portland State University that investigates, promotes and engages in inclusive design practices that address the growing needs of underserved communities worldwide. Through research and design, fieldwork and public outreach, CPID promotes design practice that is socially conscious, environmentally sustainable and economically accessible to all.
In the fall of 2015, the city of Portland declared a state of emergency on housing due to the high number of homeless living on the streets. The POD initiative began with brainstorming session among 100 architects, designers and community members to generate design solutions. They listened to the needs of homeless individuals and housing advocates, and spent the day generating designs for 8-by-12-foot prototype sleeping pods that would be safe, warm and structurally sound and that would help change the prevailing public perception of homeless populations, shifting the image of a homeless person to that of a valued, competent, human being deserving of comfort and dignity.
Fourteen teams manifested their designs into built pods with financial support from the Portland Mayor's Office and The Larson Legacy. Other pods were designed and built by: SERA Architects, Holst Architecture, Mackenzie, SRG Partnership, Scott Edwards Architecture, Communitecture, City Repair, LRS Architects, MoMaMa, Mods PDX + Shelter Wise, and Architects Without Borders-OR. These pods were displayed in downtown Portland at the Pacific Northwest College of Art in the North Park Blocks between Dec. 9, 2015, and Jan. 1, 2016.
Houseless includes an overview of the POD initiative, including components of a micro-dwelling prototype.

WE ARE ALL HOMELESS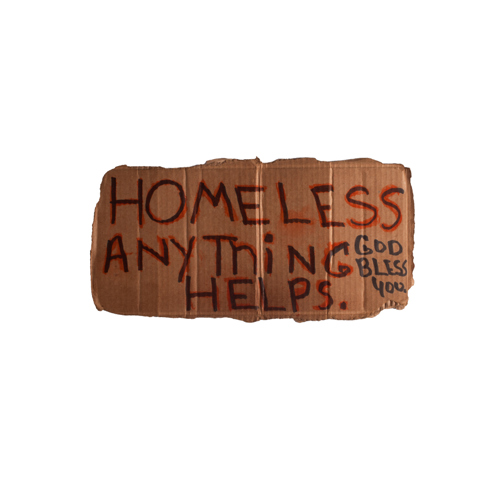 Art is a medium for action, according to Dallas-based designer Willie Baronet, whose installation of signs bought from individuals experiencing homelessness to encourage us to examine our responses to houselessness.
Says Baronet: WE ARE ALL HOMELESS began in 1993 due to the awkwardness I felt when I'd pull up to an intersection and encounter a person holding a sign, asking for help. Like many, I wrestled with whether or not I was doing good by giving them money. Mostly I struggled with my moral obligations, and how my own choices contributed in conscious or unconscious ways to the poverty I was witnessing. I struggled with the unfairness of the lives people are born into, the physical, mental and psychological handicaps. In my struggle, I avoided eye contact with those on the street, unwilling to really see them, and in doing so avoided seeing parts of myself. That began to change once I began asking them if they would sell their signs. My relationship to the homeless has been powerfully and permanently altered. The conversations and connections have left an indelible mark on my heart. I still wrestle with personal questions regarding generosity, goodness, compassion, and guilt. And what it means to be homeless: practically, spiritually, emotionally? Is home a physical place, a building, a structure, a house? Or is it a state of being, a sense of safety, of being provided for, of identity? I see these signs as signposts of my own journey, inward and outward, of reconciling my own life with my judgments about those experiencing homelessness.
Houseless includes an installation of several of the signs Baronet has purchased over the past two decades.

WHAT IF
This active space for creative problem-solving within the Houseless galleries space hosts conversations, programs and presentations, and showcases ideas from local design firms Stantec, KPB Architects, nVision Architecture, Cold Climate Research Center and Portland State University architecture students. What If showcases how the design process and design thinking helps visualize possible solutions for the future. To address houselessness in our society, local designers and Portland State University architecture students present various perspectives, from healing to emergency response, by incorporating the realities of today with the aspirations of tomorrow. Visitors are encouraged to input their own versions of "What if…" solutions, which are collected and added to a growing wall of community solutions.
Houseless is an Anchorage Museum project.