Organized and designed by the National Building Museum, Evicted grew out of a book by the same title by Matthew Desmond that explores the causes and impacts of eviction. The exhibition asks viewers to consider how each year more than 2.3 million Americans, most of them low-income renters, face eviction. This phenomenon exposes not only income inequality in America, but also the growing separation between the built environments of the rich and the poor. Through an array of images and audio interviews, infographics and forward-thinking design, Evicted offers an immersive experience for understanding the crisis of low-income renter eviction, how it developed and how communities may respond. Working together, these elements amplify the stories of tenant families, as they explain in their own words and images the impact eviction has on them and their loved ones.
Related Installations
Houseless also presents research led by Todd Ferry and students from the Center for Public Interest Design of Portland State University and an installation by artist and professor Willie Baronet. Ferry's current work investigates how social needs can be addressed by architecture in underserved communities and seeks to develop new tools and models of engagement to aid in this effort. Baronet has been collecting homeless signs since 1993 as part of a long-term art project titled "We Are All Homeless."
Other Houseless components, including a series of public programs with community organizations, will take place throughout the run of the exhibitions.
Evicted is supported by a generous grant from the Avangrid Foundation. The exhibition is organized by the National Building Museum, where it was made possible by gifts from Amy Falls, Ford Foundation, and the Wells Fargo Housing Foundation.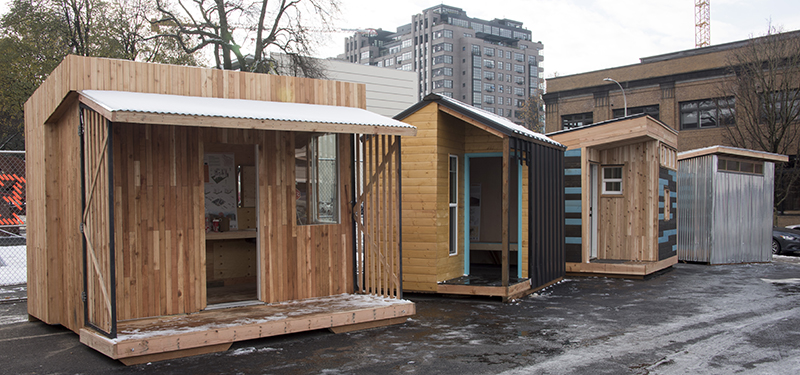 Houseless considers the potential for addressing housing lack and homelessness through design. It brings the Evicted exhibition together with research from the Center for Public Interest Design at Portland State University, and includes and installation by artist artist and professor Willie Baronet.