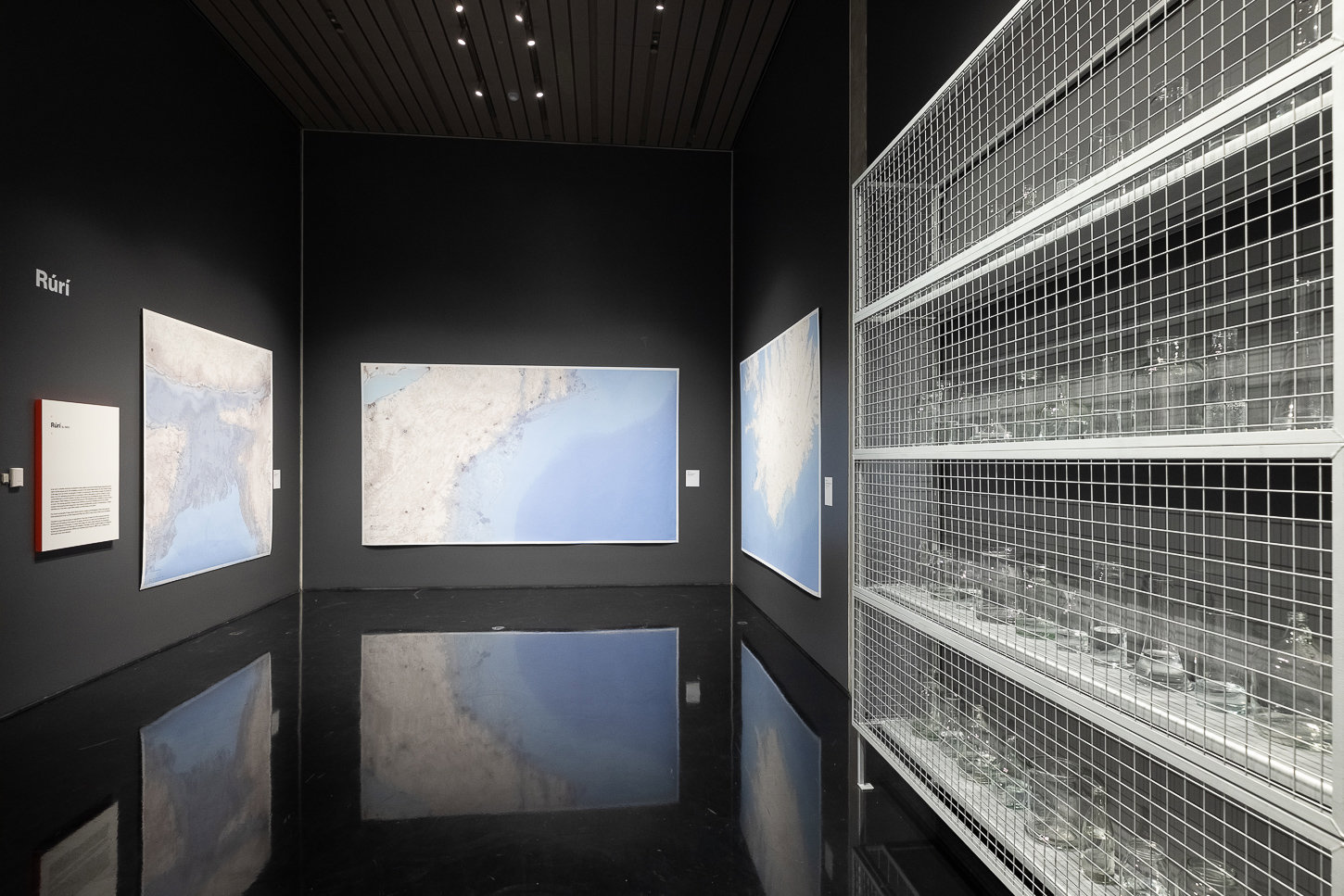 Rúrí
---
In her work, Icelandic artist Rúrí investigates social, political, and environmental issues impacting human rights and the natural world. Her installation consists of two works: Water Balance III, and a series of large-scale maps from her Future Cartography XI project. In conversation, these works consider the element of water from two opposing perspectives: as a sustainer of life on this planet, as well as a threat to coastal communities due to extreme weather, flooding, and sea level rise precipitated by climate change. Each glass vessel in Water Balance III represents the amount of life-sustaining water available for human beings on earth. The varying quantities of water draw attention to economic inequality and the way climate change is exacerbating these disparities. Each vessel is labeled with a number corresponding to a single individual out of the nearly eight billion people currently living on the planet.
The Future Cartography XI maps depict North America, Iceland, and Bangladesh. Rather than showing these landmasses as we currently understand them, Rúrí offers a visual study of their future shorelines.
Changes in ocean level are based on calculations of the mass of water that will be released during the decline and total melting of the Antarctic ice sheets, the Arctic ice sheet, the Greenland glacier, and all mountain glaciers of the globe. To create these maps, the artist collaborated with the geographer Gunnlaugur M. Einarsson and used data sets available in the public domain. Satellite imagery from National Aviation and Space Administration (NASA) and Japanese Space Authority (METI) were combined with information from other datasets.