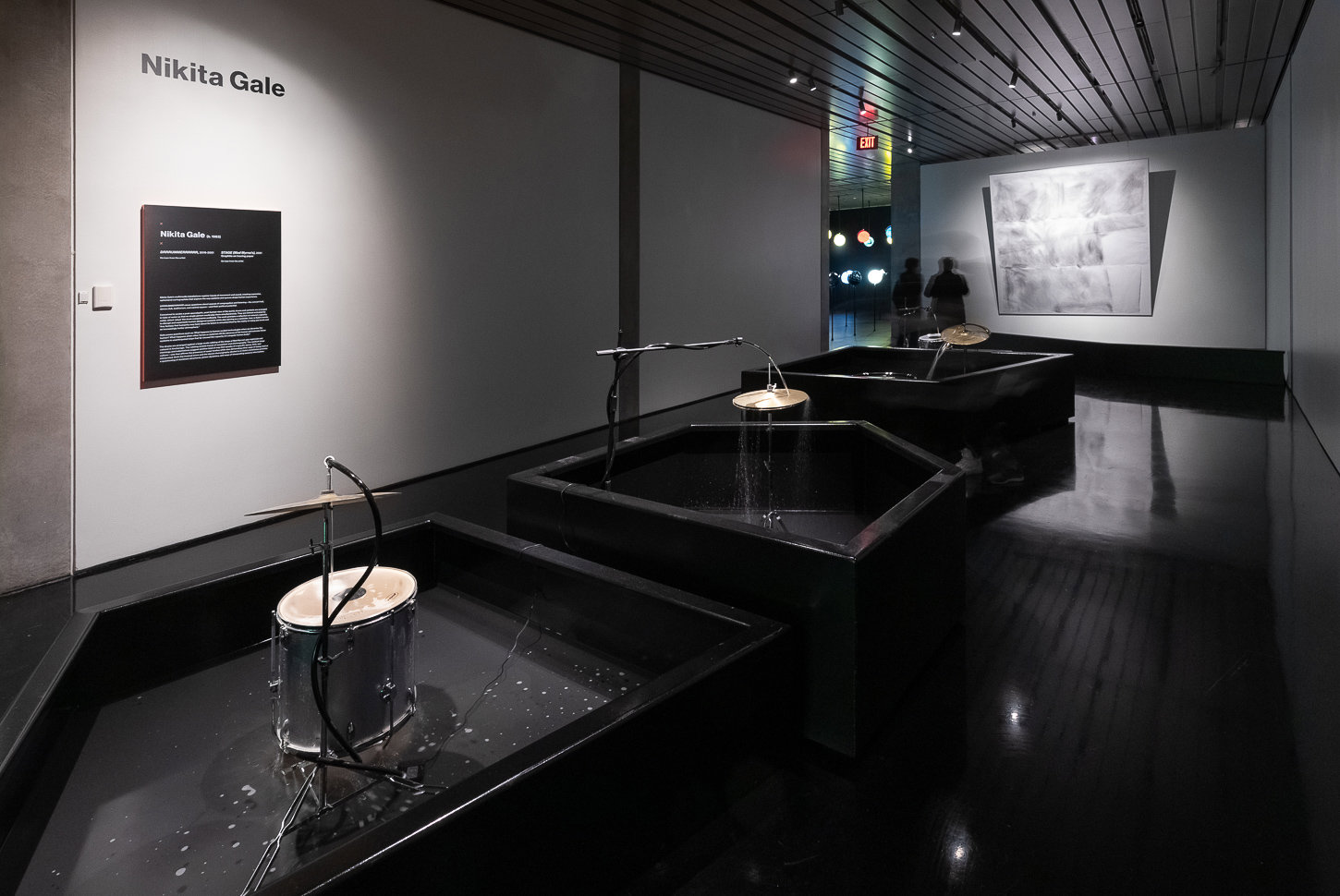 Nikita Gale
---
Nikita Gale's multimedia installations register traces of movement and sound, creating expansive, ephemeral cartographies that explore the way systems and spaces shape human experience.
DRRRUMMERRRRRR raises questions about spaces of congregation and listening—the concert hall, dance club, auditorium, and central square—and their political potential.   
Conceived to evoke a post-apocalyptic, post-human view of the world, drums and cymbals are arranged in tubs of water so that no single person could play them simultaneously. They are instead activated by water, which 'plays' the drum components endlessly. The work prompts a reflection on nature's capacity to disrupt and supersede human-designed systems while also serving as a reminder, that, in Gale's words: "Any fantasy that humanity may have about its future is circumscribed by the reality of rising sea levels and an increasingly hotter atmosphere."  
Gale poses questions such as: What happens to human-scaled technologies when we decenter the human? What happens when other forces or materials fill the absence of the human and animate these systems in unanticipated ways that far exceed the capacity of a singular human body? 
The drums are arranged against a large-scale rubbing of the stage at Mad Myrna's gay nightclub and cabaret in Anchorage. The rubbing reveals traces of movement and choreography. The residual stage markings and indentations suggest another kind of map that speaks of a specific space, time, and culture – one that affirms the presence of queer bodies while also demanding other ways of being read or interpreted. Both the musical score and the dance choreography alluded to in Gale's installation provoke a questioning of dominant structures, power dynamics, and ways of interpreting sensory information.