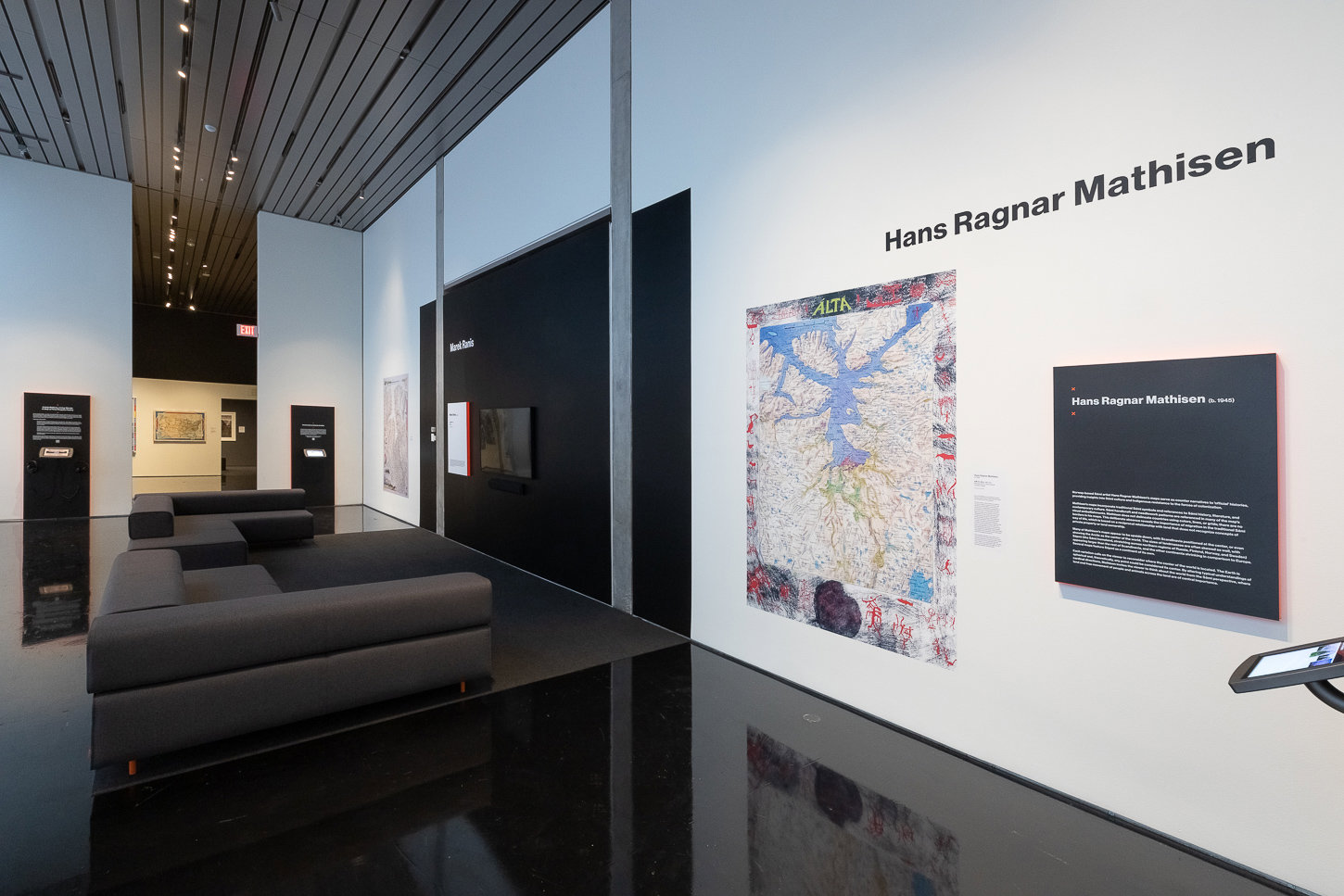 Hans Ragnar Mathisen
---
Norway-based Sámi artist Hans Ragnar Mathisen's maps serve as counter narratives to 'official' histories, providing insights into Sámi culture and Indigenous resistance to the forces of colonization.
Mathisen's maps incorporate traditional Sámi symbols and references to Sámi history, literature, and contemporary culture. Sámi handicraft and needlework patterns are referenced in many of the map's visual embellishments. Mathisen does not delineate countries using colors, lines, or grids; there are no borders in his maps. This deliberate absence reveals the importance of migration in the traditional Sámi way of life, which is based on a reciprocal relationship with land that does not recognize concepts of private property or land ownership.
Many of Mathisen's maps appear to be upside down, with Scandinavia positioned at the center, or even showing the Arctic as the center of the world. The sizes of landmasses are often skewed as well, with Sápmi (the Sámi homeland, stretching across northern regions of Russia, Finland, Norway, and Sweden) appearing larger than the rest of Scandinavia, and the other continents shrinking in comparison to Europe. Several maps feature Sápmi as a continent of its own.
Each variation calls on the viewer to reconsider where the center of the world is located. The earth is spherical and, theoretically, any point could be considered its center. By altering typical understandings of cardinal directions, Mathisen invites the viewer to think about the world from the Sámi perspective, where land and free movement of people and animals across the land are of central importance.