Where the heck is the art?
December 09, 2016
For many years, our first floor galleries featured Alaska landscape paintings. The selection changed every few years, but themes and genre remained fairly constant.
Earlier this year these galleries became, temporarily, a conservation lab, housing many objects from our collection, from paintings to historical objects. Museum visitors can see conservators, from the museum and around the world, working on preserving the objects so that they can go back on exhibition, or cared for before going behind the scenes, so they can last for many, many more generations. The conservation lab will remain in the first floor space until next summer.
Change always elicits questions and this passing configuration has elicited the frequent question, "Where is the art?"
We miss the landscape paintings, too, but we also believe it is important to protect and prepare them for the future. We do so for these months, so that visitors can see the paintings and objects being restored, rather than having that work done behind the scenes, where the artworks, artifacts and conservation work would be invisible. We recognize that the landscape paintings became an expectation — a permanent idea of what returning visitors see at the museum, and that change might cause a sense of disruption. But we are working towards an expanded building that will create more space for artwork. Construction is disruptive, but it also embodies looking forward and belief in an optimistic future.
Some reactions to the disruption have highlighted the many and varying personal definitions of art. Some may see art only in its traditional forms of painting and sculpture. Some may resist tradition and encourage more experimental forms. Some may not recognize actions, performance and new media as art. But we believe it is all of these things and much more.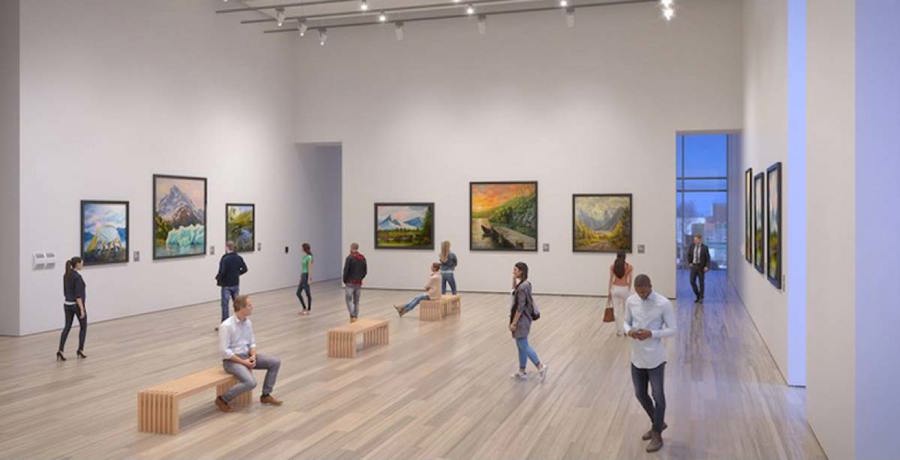 Art is around us in many ways, particularly at the museum. It may not always be in its traditional forms, but there is a rich range of objects and ideas to experience during almost any museum visit.
As a museum, our responsibility is to support art and artists in many forms — from historical paintings to the creative work of living artists. Our role is not to have a preference for one genre or era or to reject contemporary movements. Art is primarily a reflection of its time, so art changes because time changes, our world changes, and the perspectives and landscapes and politics and social aspects of our lives change.
Art has never stayed the same and the most challenging art has always been the art that is new in its time. There has always been contemporary art — it just becomes named as it moves into the past and more readily accepted as it becomes less unexpected and more familiar. In 100 years we have moved through Cubism, Surrealism, Modernism, Pop Art, Op Art, and more. Contemporary art is by definition the art of our time. It is the works of art being made today, by living artists. It covers an enormous range of forms and styles. It is constantly changing. It can be conceptual, or physical, performance, or visual. It can hang on a wall, or take place in remote places where most people never see it, or it can be actions — social action art is a form of contemporary art in which the art is about an interaction with people and a way of exploring our contemporary conditions. It can be realistic or conceptual or anything in between — it's simply now.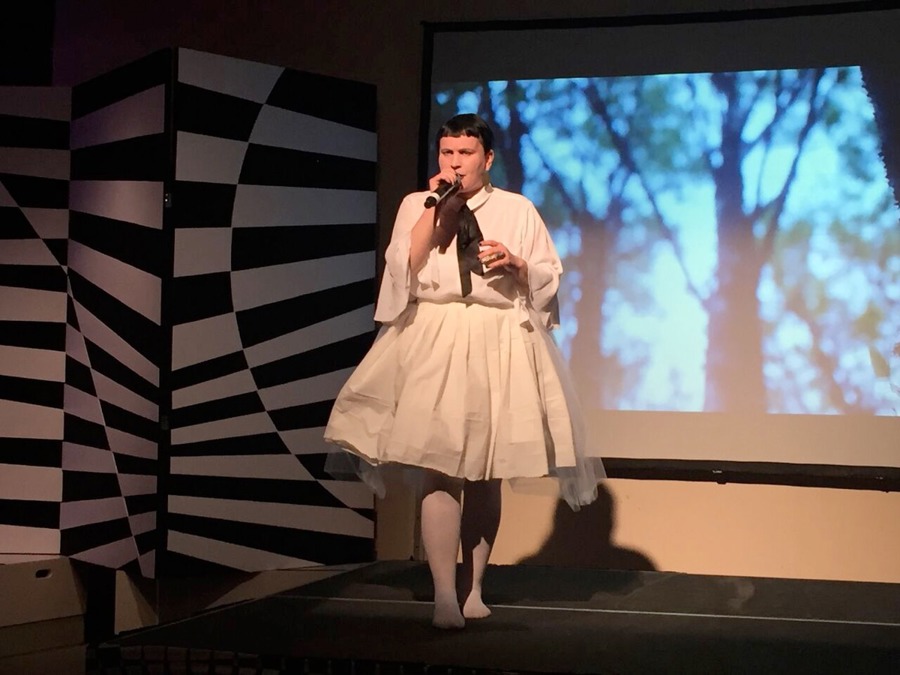 The Anchorage Museum is an encyclopedic museum, featuring the art, history, science and culture of the North. Our mission is to celebrate the North and its many perspectives and to connect the North to the world. To do this means to be open to new ideas and knowledgeable of historical context. We are a living museum that responds to change by finding ever-new ways to be relevant to the communities and the audiences we serve. Those audiences are varied, with many perspectives and expectations. We present a broad range of makers, thinkers, cultures and forms. They may not be instantly recognized, understood or valued, but museums are safe places for learning and experiencing new things, new ideas, new presentations and new art. A static art or history museum will be understood and comfortable, but it will not be relevant over time, as art, audiences and demographics continue to evolve and reflect the moment.
Artists are innovators and art can mirror our times. Art that inspires critical thinking can inspire young thinkers, shift perceptions, invite greater exploration and dialogue, and offer alternate ways of looking at the world. It's not about personal taste or preference, it's about reflecting what's being made.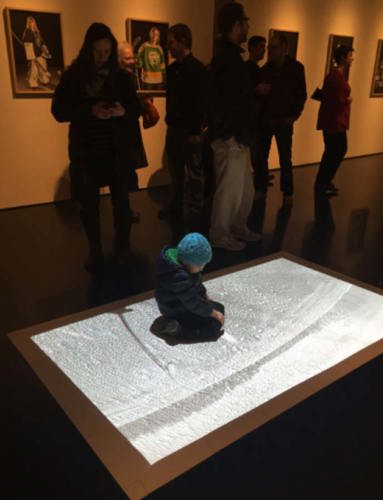 The powerful thing about the museum, and the great benefit to the new wing, is that the museum can be many things at one time. It can be a quiet place to view artwork on the walls, a place to study history, a lively classroom for kids, a place of scholarship, and a venue for new forms and new ideas.
The museum presents many changing exhibitions a year with a broad range of subject matter, features a hands-on science center and planetarium, has quiet times and First Fridays, when the museum is a social place. It does not choose between either/or, exclude, or close minds. But to cover it all means spaces might change, exhibits will come and go, and things might look different from time to time, but only because we are working on providing more, not less. It's not about replacing old with new, it's about providing context for history, evidence of continuity, and ways of contemplating our futures.
In September of 2017, we will open a new wing that will house many works from our Art of the North collection. This will put many more landscape paintings on view than were previously on exhibition in the first-floor galleries. It will provide more public access than ever before to the museum's art collection.
Visitors will again find multiple works by Sydney Laurence, Eustace Ziegler, and other painters who came North to paint the landscape. Visitors will also find similar and contrasting works that speak to lifeways in the North, including by Indigenous artists who were/are not newcomers or interlopers into the landscape. Visitors will find many forms of art, from large paintings on canvas, to drawings and watercolors on paper, to masks, sculptures, photographs and video works. They will see the story of Art of the North as it progresses through time, place, people and perspective, through turns in centuries, through multiple cultures, and via many ways of seeing and making. Because art is many things and artists see the world in ways that we recognize and in ways that make us see or think differently.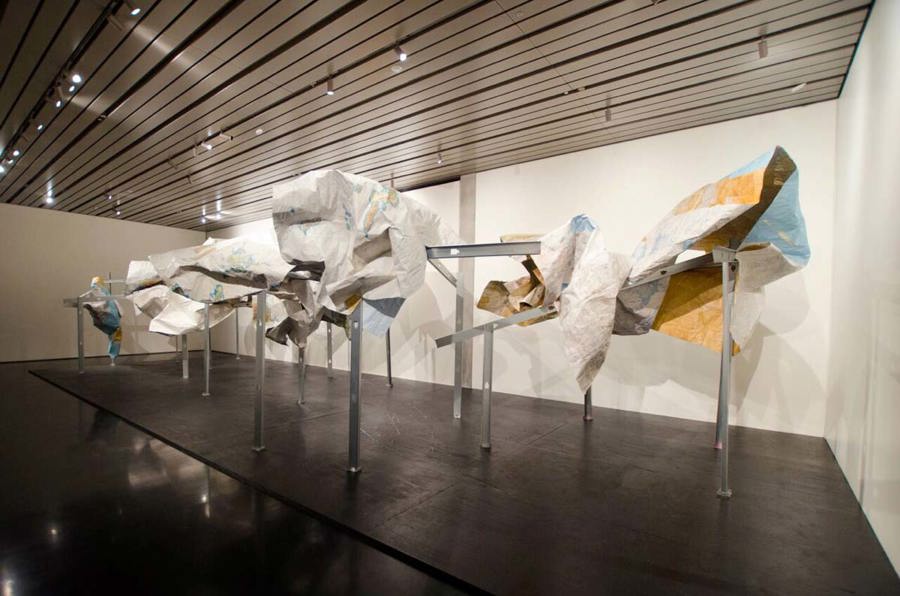 In these months when the landscape paintings are not where some expect to find them, art has been and will be in many other spaces, places and forms. This past summer, the View From Up Here exhibition featured contemporary art by artists from Alaska and around the world and examined the contemporary Arctic. Contemporary art may not be something that everyone easily responds to, but it is a distinct way of looking at our place and landscape and a way of examining the work of artists who are representing Alaska and the North today. The View From Up Here exhibition was chosen by USA Today as one of the twelve "must see" exhibitions in the US for the summer of 2016, placing Alaska and the Anchorage Museum at the center of a national and international conversation — art was an effective connector between Alaska, the nation and the world.
On the museum lawn currently is artwork that at first glance may look like simple, metal industrial signs. But the signs are part of a body of work titled Native Hosts by the artist Edgar Heap of Birds, a member of the Cheyenne and Arapaho tribes of Oklahoma. His work has appeared in numerous museums, such as the Museum of Modern Art in New York, the Smithsonian in Washington DC, and the Museum of Contemporary Art in Australia. Different versions of his Native Hosts project have appeared across the world, from Vancouver to Illinois to the US Virgin Islands. His works prompt questions about environmental justice for Native peoples and their land rights. In each iteration of the project, Heap of Birds works closely with local tribal members in order to construct works specific to each area. On our lawn we recognize each Native culture in Alaska through art.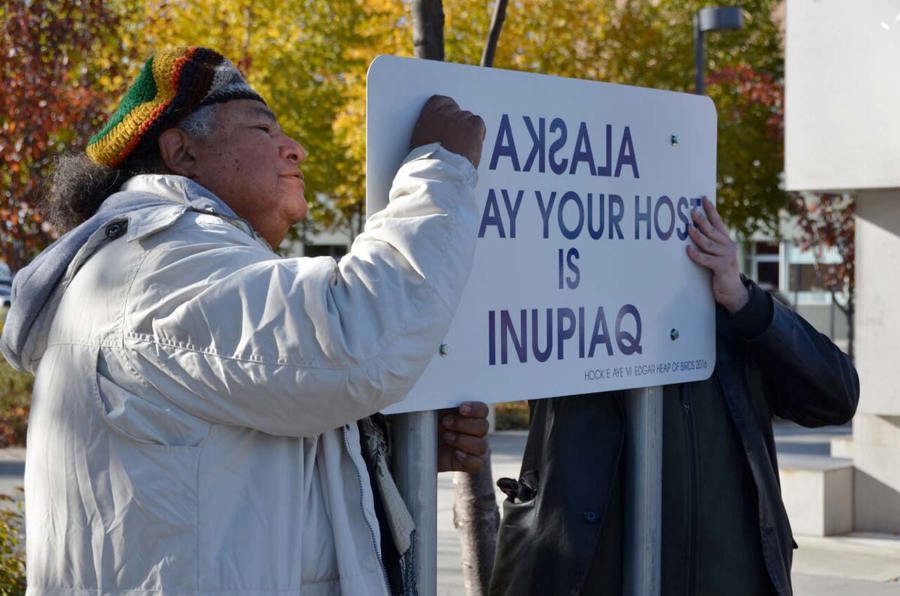 Edgar Heap of Birds was in Alaska for the opening of the museum's Without Boundaries: Visual Narratives exhibition, which was curated by Alaskan artist Sonya Kelliher-Combs. This exhibition, situated next to the Smithsonian Arctic Studies Center, is a contemporary art exhibition that presents indigenous artists who explore issues of identity and cultural change. The artists are from Alaska and around the US and the exhibition will travel to other cities outside of Alaska. As part of this exhibition, the museum brought several Indigenous artists to Alaska in addition to Edgar Heap of Birds, such as renowned Payokawichum (Luiseno) and Mexican-American performance and installation artist James Luna, and Shan Goshorn, an Eastern Band Cherokee artist from Tulsa. Goshorn's multi-media work has been exhibited extensively in the US and abroad. Her baskets belong to prestigious collections such as the National Museum of the American Indian (Smithsonian Institution, Washington DC), Denver Art Museum (CO), Gilcrease Museum (OK), and Museum of Contemporary Native Arts (NM). Next month we will welcome artist Emily Johnson as part of Without Boundaries programming. Johnson is an artist and choreographer originally from Alaska and of Yup'ik descent, who received a 2014 Doris Duke Artist Award for her work in dance. Johnson will be hosting a "sewing bee" at the museum in January, a form she uses to create a sense of community and community sharing.
Featuring Indigenous artist voices is an important part of the museum's work. With hundreds of objects on long-term loan from the Smithsonian Museum of Natural History and the Smithsonian Museum of the American Indian, we feature the lifeways of Alaska Native communities and, at the same time, we believe it is critically important to feature the continuation of these cultures and to work with contemporary culture bearers and thought leaders.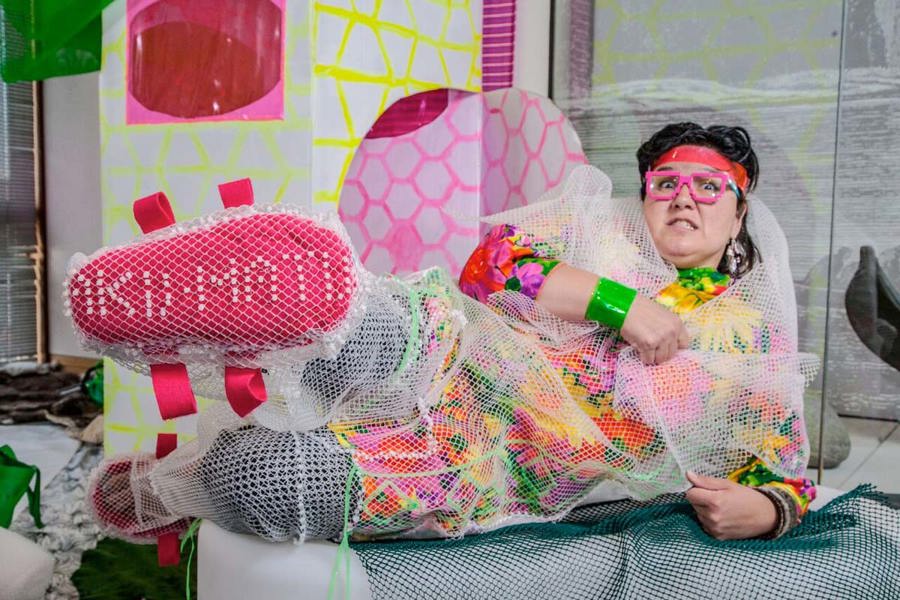 Recently we hosted Unipkaaġusiksuġuvik (the place of the future/ancient), a multimedia installation and two-month performance by Anchorage-based Iñupiaq artist Allison Akootchook Warden. Warden's installation took the form of an Iñupiat qargi (ceremonial house), constructed on the museum's fourth floor. Warden's futuristic version allowed her audience to explore long-standing cultural ideas in a contemporary context. Warden was in the space every day for more than two months and held a series of special events, including a recurring "talk show" with special guests, "men's house" and "women's house" discussion groups, Native dance sessions, readings, dance parties, rap concerts, and a discussion series called "Let's Get Uncomfortable," which created dialogue around social issues impacting Alaska Native communities. The public programs aspect of Warden's work will continue over the next year at the museum, serving as an important bridge between many voices, cultures and ways of knowing.
The Without Boundaries and Unipkaaġusiksuġuvik exhibitions are part of an emphasis we place on what we call "curated conversations," where we invite community members to create discussion around issues affecting life in the North. These have taken the form of exhibitions, panel discussions, performances, literary readings, and more. Artists can be skilled facilitators at prompting dialogue around complex issues and ideas.
Our changing exhibitions on the museum's third floor also often feature major works of art. Currently on view is Camouflage: In Plain Sight, an exhibition organized by the Anchorage Museum that looks at disguise and concealment through natural history, military history, art, fashion, the outdoors, and digital technology. Camouflage has a very distinct connection to art. The painter Abbott Thayer was known for his research into how natural camouflage could be applied to humans and warfare. Pablo Picasso claimed the disruptive patterns of military camouflage were inspired by the highly abstracted geometric forms of Cubism. Artists served in the military as camofleurs. Cubist painter Jacques Villon was one of many soldiers who, along with civilian artists, painted artillery in the camouflage section of the French army during World War I. By World War II, Surrealists like Salvador Dali were especially captivated by the aesthetics of camouflage. Futurist artists in the early 20th century, who used chaotic abstract forms to convey energy and violence, were drawn to military camouflage as a means of social commentary. By the 1960s, Pop artists like Andy Warhol began using camouflage to reflect and analyze contemporary culture, playing on ideas of concealment and disguise.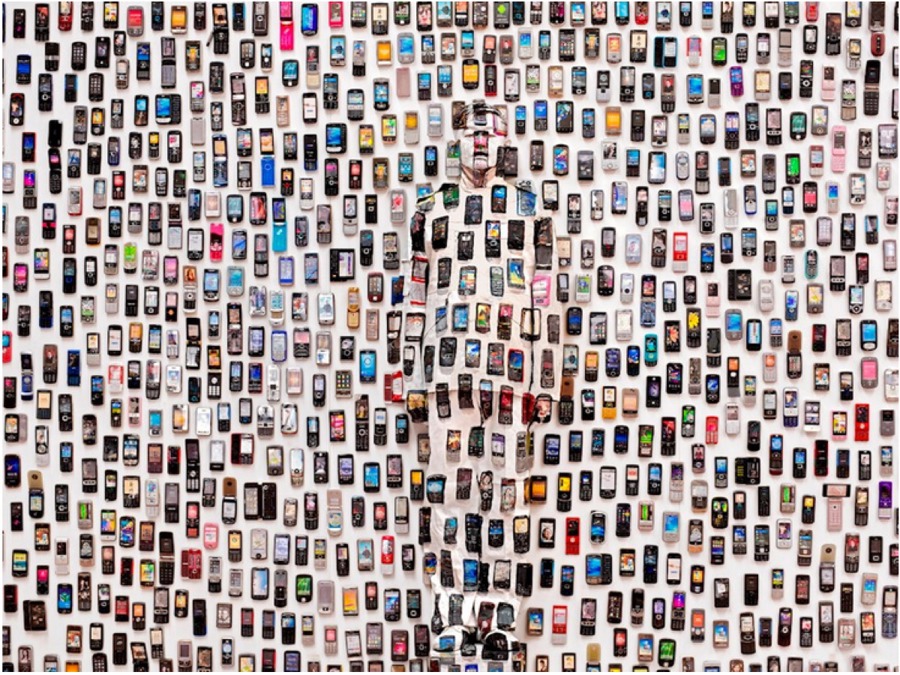 To present these ideas, our museum is lucky enough to have some major works of modern art on view for Anchorage audiences in Camouflage, including Alain Jacquet's Camouflage Botticelli (Birth of Venus) on loan from the Modern Art Museum of Fort Worth, Texas; two of Andy Warhol's camouflage works from the 1980s, on loan from the Andy Warhol Museum, Pittsburgh; Jasper Johns' Target, on loan from the National Gallery of Art; and photographer Cindy Sherman's Untitled Film Stills. Several works by contemporary artists are also on view as part of the exhibit, including a Nick Cave Soundsuit, and works by Liu Bolin, Adam Harvey, Simon Menner and Cindy Bernard.
The museum also has many artists in residence each year, from Alaska and around the world, from emerging to established. The museum hosts artist performances as part of most Polar Nights (Friday evenings at the museum) and temporary installations that explore life in the North.
In 2016 we hosted an installation by Alaska's Pulitzer-Prize winning composer John Luther Adams, performances by Marita Isobel Solberg from Norway, research work by writer Becky Fradkin, and artist Rowan Renee was part of an annual artist-in-residence program hosted by the Rasmuson Foundation. The museum supports Dutch photographer Jeroen Toirkens' project to document the boreal forest regions of eight countries, including Alaska in the US. Artist Mary Mattingly created a garden on our front lawn, and artist Buck Walsky created a large-scale kinetic sculpture outside the museum and we held a silent disco underneath. Cynthia Burlingham, from the Hammer Museum in Los Angeles, came to the Anchorage Museum this year to talk about Canadian painter Lawren Harris and his idea of the North. We had programs with Alaskan artists around the world, including Iceland and Norway.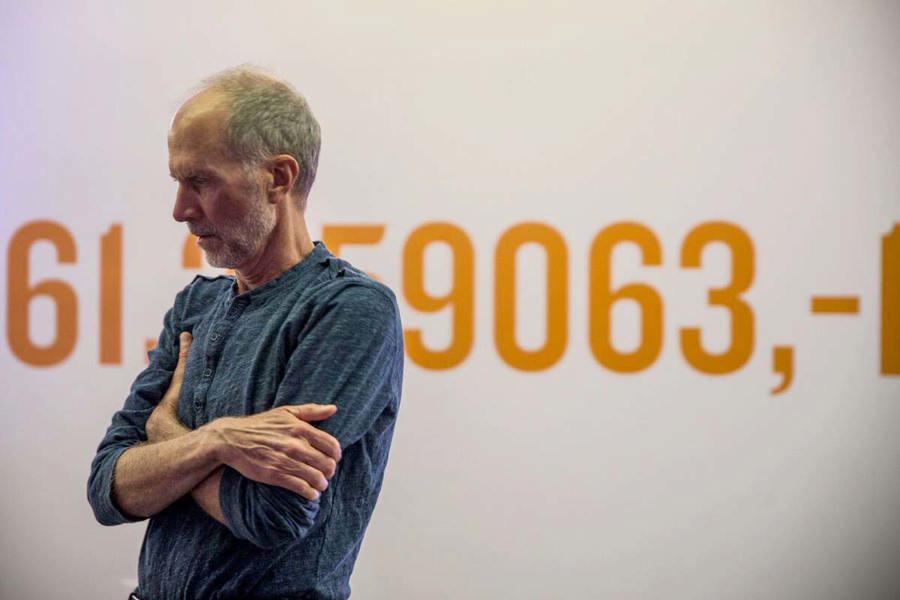 The museum also launched the first annual Design Weekend this year, which featured local designers and local materials and also brought in designers from outside Alaska, such as Eames Demetrios, grandson to the iconic modern design duo Charles and Ray Eames, and Ben Uyeda, founder of Homemade Modern.
We brought film into the museum through weekly screenings and the Cabin Fever program, which is currently in the form of an exhibition on our fourth floor, and will send films by Alaskans to an exhibition in Norway in January.
We have hosted urban interventions, working with artists and youth, in projects that use contemporary forms of expression that appeal to younger and more diverse audiences. We provide artists access to the collection to inspire new work and new connections.
We work with the Smithsonian on the Materials Traditions series, which looks at traditional Alaska Native materials and techniques and hosts workshops so that younger generations of artists can learn and find inspiration.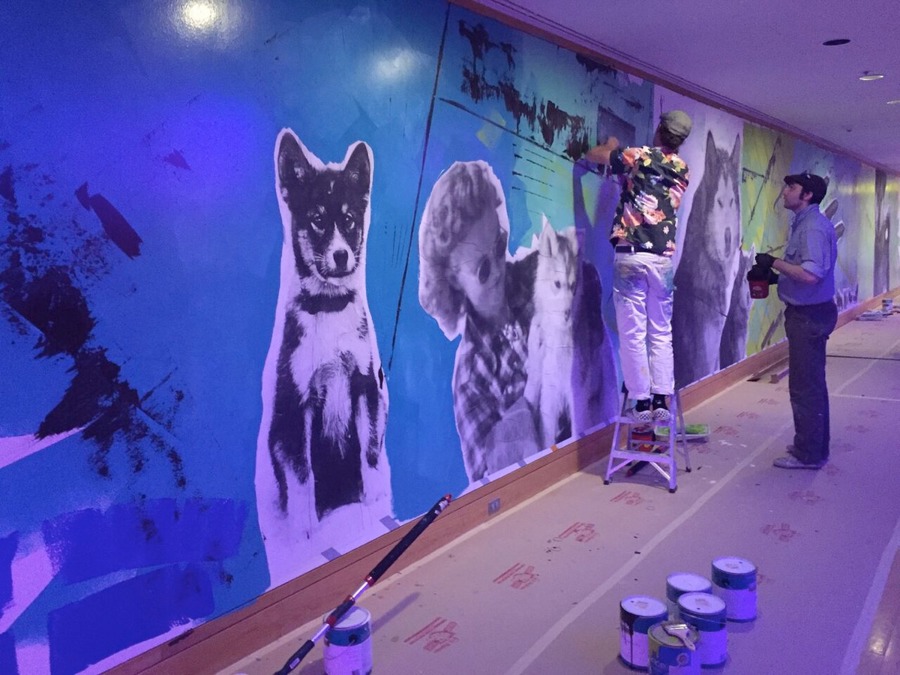 Next month James Temte and Nils Lane will create a mural in the museum's atrium based upon historical photographs in the museum's archives. We will work with artist and maskmaker Drew Michael on community action projects. In 2016 we worked with Drew as a guest curator of objects from the museum's collection and supported an event at the museum, led by Drew and fellow artist Elizabeth Ellis, to burn ten large-scale masks created by the artists as a way to talk about healing.
We featured dozens of Alaskan artists in the All-Alaska Biennial exhibition, and co-organized, Living Alaska, a traveling exhibition that features contemporary artworks by Alaskan artists in Alaska museums, which were acquired through funding from the Rasmuson Foundation. We also feature Alaskan artists through our Patricia B. Wolf solo exhibition series, and in 2016 featured the work of Nicholas Galanin from Sitka and Michael Conti from Anchorage as part of the series. We publish catalogues that feature the work of Alaskan artists, and we acquire new contemporary and historical works into our collection each year through our acquisitions program, ensuring that those works will be available for the public into perpetuity.
Artwork in the form of murals and large-scale sculptures are in our Discovery Center and sculptures are throughout the museum grounds, including public artworks, such as Habitat by Antony Gormley.
We will have artwork in Polar Bear Garden, our exhibition opening in March 2017 to mark the 150th anniversary of the purchase of Alaska from Russia. We are collaborating with the Inuit Circumpolar Council on the I AM INUIT project, which is a series of images of Arctic people and places by photographer Brian Adams.
In May of 2017, we have many artists coming to Anchorage as part of our efforts to connect Alaska with the world. We will be focusing on ideas of center/periphery and resilience this coming year, so we will have artists and designers from Cuba and Scotland and Taiwan joining artists from Alaska. We will also welcome photographer J. Raymond Mireles to Anchorage in May to begin an iteration of his Neighbors project in Anchorage.
We have dozens of professional artists from Alaska teaching classes and workshops for all ages. We host life drawing sessions on Friday nights, and we have live music in our elevator each month. We have a new writers series called Unbound. We have had dancers enliven every space in the museum, from the stairway to rappelling down the façade.
When the new wing opens in September of 2017, many works of art that people recognize and remember will be back on exhibition, in galleries bigger and better than before. These works will be part of a comprehensive approach to tell the story of art of the North, from Indigenous perspectives, to the turns of the 20th and 21st centuries. The ways landscape and human life are depicted by artists change and evolve, just as the landscape itself changes and evolves, but the role of art and the role of the museum remains the same — to look at and comment upon the world around us. We are committed to being a place where art can be found in all of its many iterations, both new and familiar.  
When the new wing opens, so too will the re-envisioned Alaska exhibition. The new wing celebrates the art of our place and of many artists and many eras. In the first-floor galleries, that were for so long home to some of the romantic landscape paintings, we will present changing exhibitions that are designed for family audiences, ranging across art, history, science and culture.
The first of these will be an exhibition titled Cruisin' the Fossil Coastline by Ketchikan artist Ray Troll. Following that will be a major exhibition featuring artworks inspired by walruses and polar bears. The Alaska Exhibition will also include dozens of paintings of the Alaska landscape, bringing even more works out of storage and onto public view. So there will be more space for works of art on the walls than ever before.
It may, at first glance, during the growing pains of construction, seem like something has been lost instead of many things being gained. But art is not missing. There is more than ever before and more on its way; it has just reached beyond the familiar walls and has become part of every space and many ideas. September 2017 will welcome back the familiar, embrace the new, and continue the conversations.
Where is the art? At the Anchorage Museum, it's all around you, and more so every day.
- Julie Decker, Director and CEO