What people can do with literacy
by Francesca DuBrock, guest curator
November 28, 2017
Increasingly, the term literacy is understood not only as reading and writing, but also as the ability to meaningfully participate in broader society and the digital world. This means that skills related to civic engagement, self-advocacy, and visual literacy will be necessary to navigate our complex and changing contemporary world.
The arts and literacy initiative at the Anchorage Museum is a platform for exploring how engagement with the arts can enhance various forms of literacy and encourage individual growth as well as collective dialog. Through this initiative the museum invites participants and audiences to explore the myriad forms of communication that shape our understanding of the world, our communities, and ourselves.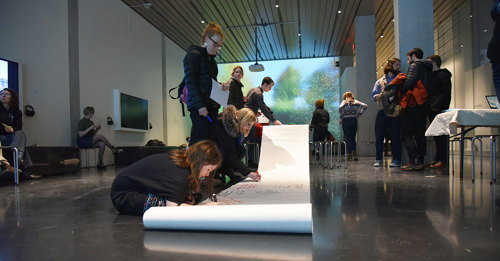 We are moving away from considering what literacy does to people and asking what people can do with literacy; how we can become aware of our roles as both spectators and participants in our own learning and in our own lives. 
We will collaborate with different organizations and individuals as we undertake this work. This winter, we partner with the Alaska Literacy Program to offer a course for newcomers to our community. In this class, students will meet local artists and produce images and writing based on their personal experiences. In coming months, we will focus on projects and programs that strive to involve more voices in the naming and framing of our city and that encourage active creation, rather than passive consumption.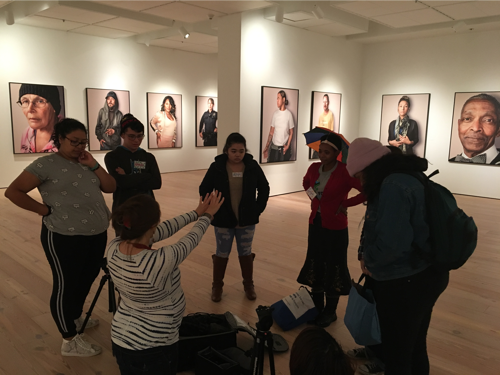 Image courtesy Marie Acema
Ultimately, this work is about fostering critical and adaptive mindsets, connecting people in the Anchorage community, and increasing dialog between institutions and the populations they serve. A vital civic life is one that includes all voices, especially those who have been marginalized. We believe that the arts have a role to play expanding literacies that will make Anchorage more inclusive, empathic, and resilient.
— Francesca DuBrock, guest curator
Interested in more literary arts?