What if museums were idea labs?
June 22, 2018
by Julie Decker, Museum Director and CEO
Art has long been part of the museum's mission. The museum's focus on art of the North includes Indigenous voices, turn of the century landscape paintings, works from Alaska and around the Circumpolar North, and contemporary works that explore the current and future landscape.
More recently, we added artist residencies to the ways we work with artists. We thought carefully about what kind of residency experience would offer something to artists that was not being offered elsewhere. With the Polar Lab program, we invited artists from Alaska and around world, asked them to work outside a traditional two-week residency, and asked them to focus on research rather than product.
Understanding the North
We invited the artists to engage with the Arctic in ways that encourage awareness and understanding and that prompt deeper relationships with communities, fellow artists and collaborators. We invited conversations around the complexity of place, people and landscape, intentionally moving away from singular or even binary approaches to discussing cross-sector, cross-cultural and holistic ideas.


By doing so, we hope to create meaningful work for the artists and transformational experiences for all participants. We think the work and relationships that have grown from these residencies reinforce the idea that iterative processes are important to the creative process and lead to better
outcomes.
 

Artists in the Museum
We also work with artists on shorter-term projects, from film screenings, poetry readings and literature programs, to performances, pop-up installations, guest curatorships and research in the collection.
Having artists in the museum creates a dynamic environment that offers artists access and scale, offers the museum a new way of thinking about space and content, and offers the public new and distinct experiences.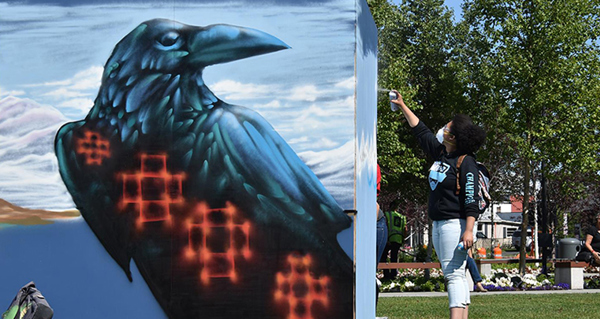 Reaching Beyond Artist Residencies
We now go beyond artist residencies to include scholars-in-residence, including writers, scientists, researchers who explore issues from food security to immigration.
Collaborations and new ideas form when people of different interests, fields and backgrounds work side-by-side exchanging ideas. In this way, the museum is a lab, a place where ideas are explored and tested and informed by multiple perspectives.