The Art of the Greater West
Culture and landscape the focus of an upcoming exhibition with the Nevada Museum of Art
August 24, 2017
The Nevada Museum of Art and the Anchorage Museum are major art museums in their respective states. The two museums share a deep commitment to the collection, preservation and interpretation of interdisciplinary knowledge in the visual arts. Both institutions collect and work actively with materials from multiple cultures across large areas, from prehistoric times to the present. With global attention urgently focused on the changing environment, the emphasis these museums place on artists and their environments is critical in developing meaningful conversations about culture and the landscape.
The two museums are partnering to organize and travel an exhibition focusing on work by artists living and/or working in the Greater West, a super-region that broadens conventional definitions of the West. It is bounded from Alaska to Patagonia and from Australia to the American West. Though ranging across thousands of miles, these comparative Wests share similar histories born of collision between indigenous and frontier cultures. They also share common concerns of land and water use, harvest and extraction, and the preservation of natural beauty and wide-open space.
The exhibition is called Unsettled.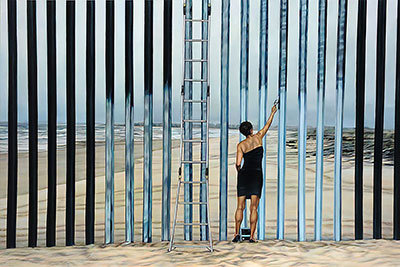 Erasing the Border (Borrando la Frontera) by Ana Teresa Fernández

The geographic focus of Unsettled begins in Alaska and continues down the west coast of North America, through Central America, concluding in Colombia. Unsettled features 200 art objects from this region, ranging from Pre-Columbian art to modern and contemporary art.
Organized by Curatorial Director and Curator of Contemporary Art JoAnne Northrup with collaborating curator, iconic Los Angeles artist Ed Ruscha, Unsettled makes connections among this super-region's diverse cultures and artistic practices. Work in the exhibition responds to the Greater West's legacies of colonialism, conflict and changing landscape. It also explores the unsettled edges of the cultural and creative production in the Greater West. Alaska artists whose work is featured in the exhibition include: Nick Galanin, Rebecca Lyon, Da-ka-xeen Mehner, Allison Warden, and the late Ken Lisbourne and Teri Rofkar.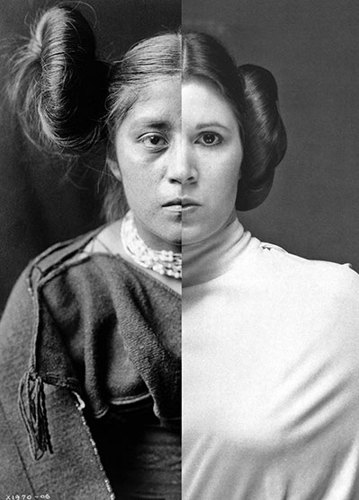 Nicholas Galanin, "Things are Looking Native, Native's Looking Whiter," giclee, 2012, Anchorage Museum.
Unsettled will originate at the Nevada Museum of Art where it will be on view Aug. 26, 2017, through Jan. 21, 2018. It travels to the Anchorage Museum in April 2018 and running through early fall. It opens at the Palm Springs Art Museum in late 2018.
Unsettled will be the centerpiece of the 2017 Art + Environment Conference, the triennial signature event of the Center for Art + Environment. Conference topics correspond with the exhibition's themes. Anchorage Museum Director Julie Decker will speak at the conference, which includes panel and casual discussions between presenters and attendees.
Banner image: Campos de Color by Sonia Falcone.