January 10, 2018
A NORTH POLE-BOUND SWEDISH AERONAUT, A JELLYFISH-OBSESSED SCIENTIST, AND A SNARKY BRUNETTE IN A HOUSEFUL OF CHIPPER REDHEADS ARE BRINGING PEOPLE TOGETHER AT THE MUSEUM.
How? As only captivating protagonists can do – through a book club.
The Anchorage Museum launches its Unbound Book Club in February. The books are a diverse selection of works featuring characters, people, locales, time periods or subjects that inspire thought and conversation around art, history, science, culture and the North.
The location of this gathering of heroes and readers varies monthly throughout the museum. All are welcome to drop in to one or more of the monthly book club meetings. No registration is required, and the selected books are available in the Anchorage Museum Store.
Here are details about the museum's new Unbound Book Club with links to monthly selections, schedule and reading guides:
Our new book club has an ulterior motive: Get you interested in exploring the North and our world through multiple perspectives and disciplines. With our Unbound series, we explore people and ideas around writing, books, poetry, literature, music and other forms of verbal expression. This book club is a way to examine art, history, science, literature, culture and the North through books and writing, and a way to bring people together one Friday each month through Spring for casual discussions around writing and literature. Book club is included with museum admission.
These are casual one-hour discussions. This is a drop-in program and there is no special membership and no advance sign-up required. Participants can join one or book/discussions.
Book selections are diverse. Books chosen for the first half of 2018 have been chosen by museum staff to appeal to all ages and to explore everything from teen fiction to the science of jellyfish and polar exploration. The next round of books will be chosen based upon some of the suggestions from Unbound Book Club participants and museum staff.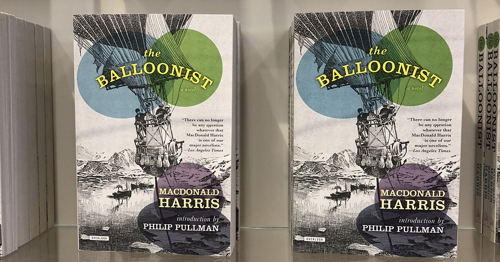 Unbound Book Club February Meeting
7 p.m. Friday, Feb. 16
Art of the North Galleries
Book selection: "The Balloonist," by MacDonald Harris
Seasonality depends on participation. The Unbound Book Club meets fall/winter/spring seasons. Summer meetings are dependent upon participant availability and interest.
What happens at the book club. A museum staff person or volunteer begins each gathering with an introduction to the book and will pose questions to get discussion started, but the rest is up to the participants. We encourage people to bring their own thoughts and questions based upon their reading and perceptions, and the format will follow the momentum of the conversation.
Unbound Book Club welcomes all ages, though we suggest participants be ages 13-18 for teen book selections and 16 years or older for adult literature. Some books may not be appropriate for all ages, so please investigate each book online ahead of time to judge its appropriateness for any minors you wish to bring with you to the discussion. We encourage open discussion and ideas. Some content may be controversial.
To connect with a live book-lover for more information, contact Cindy Burrill.
Book club meeting locations vary through the museum. Each month's meeting location will be announced via the museum's web site and social media channels (Facebook, Twitter, Instagram).
Suggested Reading Guide
Here's a good reading guide from I Love Libraries via LitLovers.com
Check the Unbound program to see upcoming Club Meetings.