Alaska artists, Anchorage policy makers join us in Norway
June 14, 2017
Arctic Arts Summit 2017 is the first policy-driven summit and conference where all eight Arctic countries (Canada, Denmark, Finland, Iceland, Norway, Russia, Sweden and the United States) will participate to highlight circumpolar arts and culture. Serving as a catalyst for new knowledge and perspectives, this event will continue biennially, rotating between Arctic countries. This year's summit happens in Harstad, Norway, June 21-22.
At the summit, policymakers and stakeholders from the cultural sector throughout the Arctic region will present, analyze and discuss the role of arts and cultures in the Arctic with the idea that those who live in the North should drive development in the Arctic.
The main objective of the Arctic Arts Summit is to strengthen the arts and culture in the North, emphasizing the role of circumpolar cooperation among all eight countries. The summit also aims to stimulate sustainable continuous collaborations and infrastructure within arts and creative industries.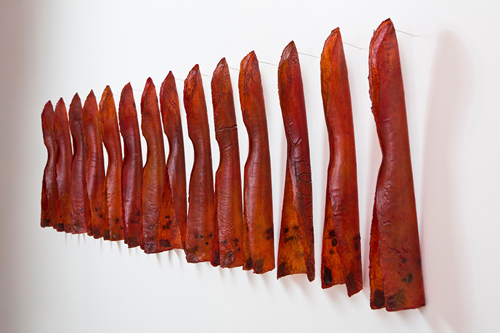 Red Curl, 2016.
Sonya Kelliher-Combs
Acrylic polymer, reindeer fur, nylon thread and fabric, steel t-pin.
During the summit, policy makers from all the Arctic countries will present thoughts on how they read the Arctic culture and the Arctic art scene today, reflecting upon the position of the Arctic in the fields of art, and the standing of culture in the Arctic. Anchorage Mayor Ethan Berkowitz will join these important discussions, along with First Lady Mara Kimmel, Anchorage Museum Director Julie Decker, and Graham Hogg from Scottish design firm Lateral North who will present on cultural connections and perspectives in the Arctic. Anchorage-based performance artist Allison Warden will help open the summit with a special performance.
The summit will present an Arctic arts program with music, performing and visual arts, representing all participating countries. Art from the circumpolar north will be essential in Arctic Arts Festival, following the summit.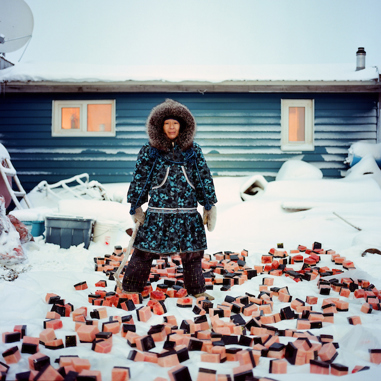 Marie Wexford, 2016.
Brian Adams
Part of the I AM INUIT exhibition by Brian Adams. Photography / medium format print.
Staff from the Anchorage Museum along with contemporary artists, designers and filmmakers from across the Circumpolar North - including Alaska artists Sonya Kelliher-Combs, Brian Adams and Polish-born artist Marek Ranis – will join the museum as we co-present, with the Northern Norway Art Museum, an exhibition called Subsistence: The Essential Arctic. The exhibition's works invite reflection around our relationships to land and resources, and understandings of self and place – essential elements of the Arctic.
Arctic Arts Festival
Following the summit is an Arctic Arts Festival sponsored by the Norwegian state, Finnmark, Troms and Nordland regional councils, as well as the local Harstad council.
Follow the museum's participation at the Arctic Arts Summit on Facebook, Twitter and Instagram.