Designers Hope Temporary Artworks Spark Conversations Around Landscape, Climate and Community
New SEED Lab installation series by local artists and designers on view throughout Anchorage
October 01, 2019
Climate change, local and upcycled materials, Indigenous values and community gathering spaces merge in a series of four temporary outdoor art and design installations, on view around Anchorage starting Oct. 3.
The goal of these installations, collectively titled in the Dena'ina language Hghu Hghazdatl (They All Gathered), is to encourage people to gather, share ideas and reflect upon Indigenous values relating to the land, according to project curator and Canadian Métis artist/architect Tiffany Shaw-Collinge.
The timing of the installations aligns with the Museum's Anchorage Design Week. Teams of Anchorage-based artists and designers will work collectively on Hghu Hghazdatl, with each installation situated outdoors at one of four locations: Ship Creek, Kincaid Park, the Anchorage Museum and Alaska Pacific University. The teams considered climate change, material lifecycles and reuse, Indigenous values and histories of the landscape, connection and re-connection to the natural world, land acknowledgement, civic spaces, and the future of the North.
The installations are part of SEED Lab, an initiative that joins creative practitioners, civic leaders, and community members to envision positive futures for the North. SEED Lab is one of five winners of the 2018 Bloomberg Philanthropies Public Art Challenge and partners the Municipality of Anchorage with the Anchorage Museum to create public art that explores responses to climate change.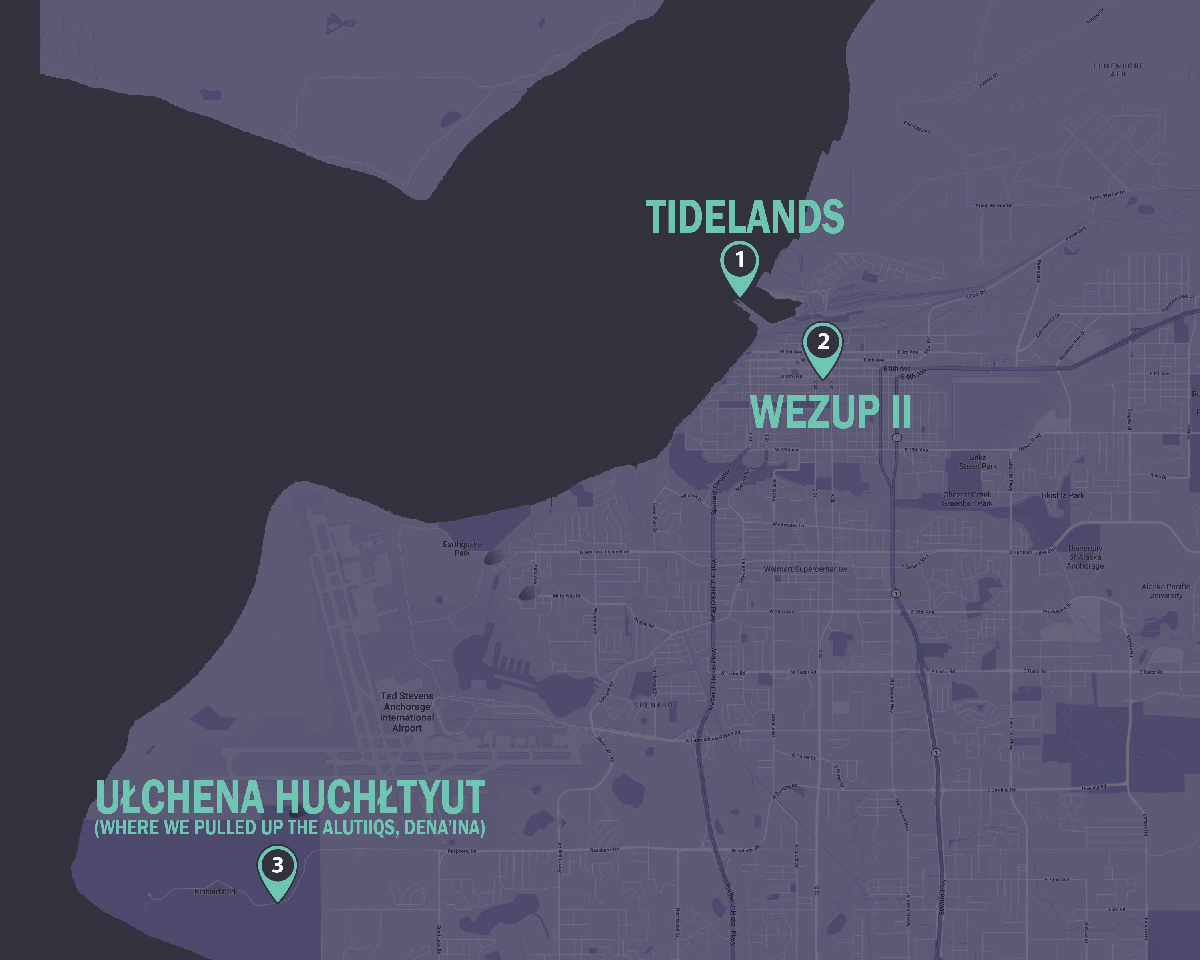 Installations and locations
Tidelands, Ship Creek Small Boat Launch
Anchorage designers Petra Sattler-Smith, Buck Walsky and Karen Larsen encourage visitors to re-examine the city's relationship, and individuals' relationships, with the ocean, its tides and the Port of Anchorage with an installation constructed from shipping containers.
Ułchena Huchłtyut (Where We Pulled up the Alutiiqs), Kincaid Park Overpass
Created by Anchorage designers Taylor Keegan and Nicholas Horn-Rollins, this interactive installation highlights Dena'ina history in the area, language and memory.
Wezup II, Anchorage Museum Lawn
Designed by multidisciplinary visual artist Marek Ranis, this installation will be assembled from locally sourced timbers, including lumber affected by spruce beetles and forest fires. It invites viewers to consider changes happening to forests, urban spaces, and links between climate change and the human relationship with the land.
Think Next Over Now, SEED Lab
Anchorage artist James Temte is creating a mural on the west side of the SEED Lab building at the corners of 6th Avenue and A Street. Temte uses wheat paste to apply a photographic image to the façade. The image chosen by Temte is by Anchorage photographer Michael Conti and suggests the hopes of the "next" generation of both people and landscapes. Temte is the founder of the Alaska Mural Project, an effort he hopes can be a model for what public art can do for a city.  
The public art installations will be in place for free public viewing Oct. 3-25 during the open hours set by each location. A ticketed guided tour of all installations is scheduled for Sunday, Oct. 6, as part of Design Week, with $15 tickets available at anchoragedesignweek.org.