Telling our collective stories through film
January 06, 2017
The museum is a place of inclusion, a safe place for many ideas and multiple perspectives. We continually work to find ways to build and strengthen community by connecting people through programs. We have increased our focus on presenting innovative storytelling to catalyze a stronger community.
We think film is one way to tell the stories of our community and the world. Through a new curatorial position in film and archives, we work with film and filmmakers, representing a range of experiences and backgrounds. We believe that storytelling through film can be a powerful tool to engage audiences. A film, and the story it tells, can create a greater awareness of complex problems and can surface possible solutions. Film connects viewers to characters who can inspire.
About Our Curator of Film and Archives
Michael Walsh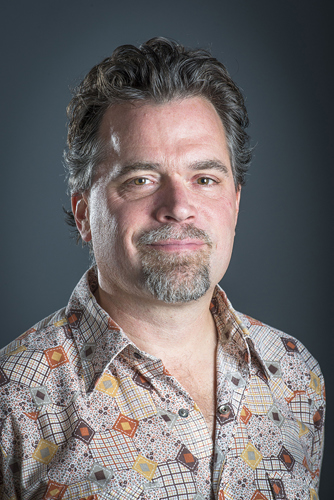 As the museum's curator of Film and Archives, Michael Walsh brings historical and experimental films to museum exhibitions and public programs, advises the museum on acquiring films for its collection, and looks for innovative ways for the public to access the museum's photo archives. Walsh comes to this role having worked as an artist, educator and experimental filmmaker. His own film work has been shown at the Milwaukee Underground Film Festival; the Crossroads Film Festival in San Francisco; Avant 2012 in Stockholm, Sweden; and the Rural Route Film Festival in New York.
"My biggest influence as a young filmmaker was Robert Nelson, who built the film department at University of Wisconsin-Milwaukee in the late 1970s. His bold avant-garde films broke every rule of narrative expectation. He and his contemporaries led the American avant-garde film movement of the 1960s and paved a way for museums to include moving image arts. His films and the films of his peers drew me to San Francisco in the mid-1990s, where I immersed myself in the new edge of moving image art and apprenticed myself to Nelson's contemporaries: George Kuchar, Bruce Connor, Ernie Gehr, Marian Wallace, Rock Ross and many others. Their non-traditional processes and methodologies sparked my desire to contribute to the new avant-garde and explore new formats of moving image media." 
Michael Walsh curates our Celluloid Wednesdays program, which celebrates the enduring influence of celluloid film. Co-sponsored by the Alaska Moving Image Preservation Association (AMIPA), this weekly series offers audience the chance to view celluloid film on the big screen through free screenings in the auditorium each Wednesday at 7 p.m.
— Julie Decker, director and CEO
These four experimental films and one sound recording stretch the boundaries of cinema and poetry through northern artists and filmmakers who delve into the varied expressions of cabin fever, ranging from melancholy to amusement.
7 p.m. Wednesdays in the museum auditorium
From Battleship Potemkin to Night of the Living Dead to early Hitchcock, this mid-week series offers free screenings of experimental and classic films on the big screen. Most of these films are projected using real celluloid film, not remastered DVDs, and are presented in partnership with the Alaska Moving Image Preservation Association.