August 24, 2015
Susan Serna's metal jewelry was a popular staple in the Anchorage Museum Shop for years. When physical demands forced her to change mediums, she transitioned to photography, a longtime hobby of hers. Cards in her raven series provide a contemporary, urban interpretation of this iconic bird. Her landscapes explore the natural beauty around Alaska.
Her favorite place to photograph and commune with nature is the Anchorage Coastal Wildlife Refuge during winter. "I can get lost there for hours," Serna says. "The ice shifts and the landscape tilts, turns, and moves around with the tide. The light is never the same from day to day, or even hour to hour."
Serna and her husband are also Anchorage Museum members and "feel fortunate to have access to the collected works here."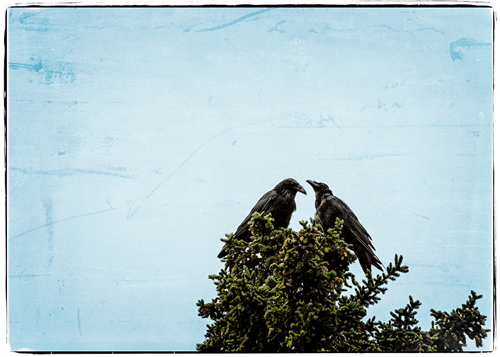 Susan Serna, Don't Want to Talk about it Anymore, digital photo, 2014, courtesy of the artist
How did you become an artist?
Looking back, I realize my interest in art started very early in my life. I remember my great aunt saving canvas roller window shades for me and my brother to use for drawing at our summer cottage. It was one of my favorite things – using pastels to create color pictures of things I saw around me. Later, as an adult in Ohio, I started working with ceramics. After we moved to Alaska in 1996, I took a few metalsmithing courses at UAA. That led to fifteen years as a full-time artist creating silver jewelry that incorporated hand-cut cabochons, freshwater pearls, and other semi-precious stones, as well as the textures that I saw around me here – braided rivers, sand and ice formations, etc. My transition to photography over the past few years happened because of some physical challenges I faced, although photography had always been a hobby of mine. Now, it seems I've always been creating something, in some type of medium. My formal work career in health care failed to meet this need!
Do you have any strong influences?
Ansel Adams, Eliot Porter, Robert Glenn Ketchum, Galen Rowell, Art Wolfe, and Edward Weston are a few of my favorite photographers, most of whom have/had a strong environmental ethic.
What do you want the viewer to take away from your work?
An appreciation for the natural beauty that surrounds us. We are so fortunate here in Alaska to have amazing scenery and wildlife that is accessible to us every day. If the viewer takes a piece of this awareness with them in one of my works, that would be great. I find that extremely fulfilling.
Tell us about your inspirations, and why you went this direction:
I love textures. I see shapes and colors and depth around me. With digital photography, I have multiple tools that allow me to take all these elements of the natural world to create nearly limitless variations. These appeal to my eyes and, hopefully, to others' eyes.
Do you have a favorite place or object to shoot?
My favorite place in which to spend time, to photograph, and to commune with nature is the Anchorage Coastal Wildlife Refuge. We are lucky to live very close to this area in South Anchorage. I can get lost there for hours in the winter when my presence there does not impact the environment – it's always different. The ice shifts and the landscape tilts, turns, and moves around with the tide. The light is never the same from day to day, or even hour to hour.  It's fantastic. After the thaw, it is off limits to people because of the fragility of the marsh and the negative impact on nesting waterfowl and other birds, but hearing the voices of the sandhill cranes, Canada geese and snow geese is inspiring enough!
I'd have to say that my favorite subject to photograph is the common raven. They keep me company during the winter in the refuge and their antics never fail to make me smile or laugh. For years, we've been fortunate to have ravens nesting either next door or nearby in the neighborhood, so I'm able to photograph them all year.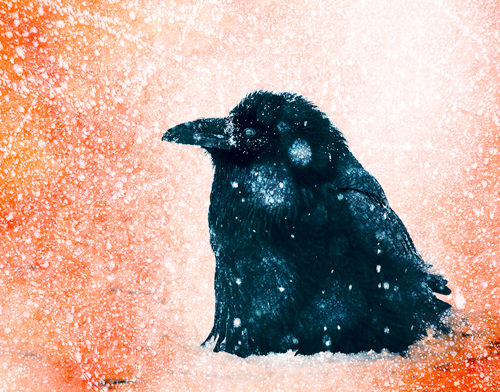 Susan Serna, Baby Trickster in the Snow, digital photos, 2015, courtesy of the artist
The Anchorage Museum's mission is to connect people, expand perspectives and encourage global dialogue about the North and its distinct environment. How do you feel your work fits into that?
I think we all have a role in educating others from around the world of the ecological importance of the Arctic region. We are feeling the effects of climate change firsthand here. If one of my images piques the interest of someone to explore and learn more about this region, that's a very good thing.