SEED Lab Project Sowing Ideas
July 19, 2019
By Francesca  Du Brock, von der Heydt Chief Curator
(first published in the July 2019 issue of Sol de Medianoche )
The Anchorage Museum's SEED Lab project at 109 W. 6th Avenue is a new space dedicated to envisioning positive futures for the North. SEED Lab uses art and creative practice to catalyze conversations and potential solutions to Anchorage's most pressing social and environmental challenges.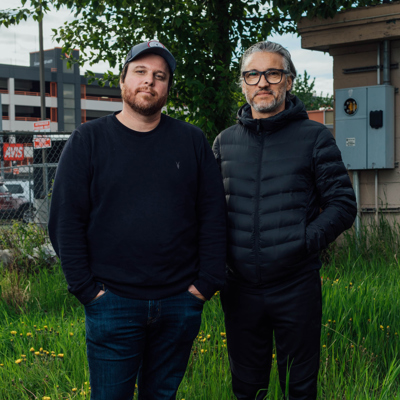 This spring, artists Sergio De la Torre and Chris Treggiari visited SEED Lab. De la Torre is originally from Tijuana, Mexico, and Treggiari hails from Boston. Both artists work with communities to address social inequities, with a special focus on topics related to migration. In their project for SEED Lab, the artists decided to work with their friends and collaborators, local farmers and entrepreneurs Manuel Bautista and Soledad Lescas, who are both originally from Oaxaca, Mexico. (You may know them from the delicious produce, tamales, pickles, and salsa that they sell at the Spenard Farmer's Market).
After spending time visiting farms and gardens, talking about the challenges of growing fresh food in Alaska, and learning a few the secrets behind Manuel's delicious Mexican pickles, Sergio and Chris decided they wanted to use food to think about migration in Alaska.
Of course, food is a vehicle for cultural exchange, but it is also a very practical way to make a living. More broadly, access to local food plays a key role in the sustainability and resiliency of sub-arctic communities like Anchorage. However, newcomers and small-scale food entrepreneurs often face barriers of access to adequate commercial kitchen space, as well as challenges to mobility and visibility for the transport and sale of goods in Anchorage's urban sprawl.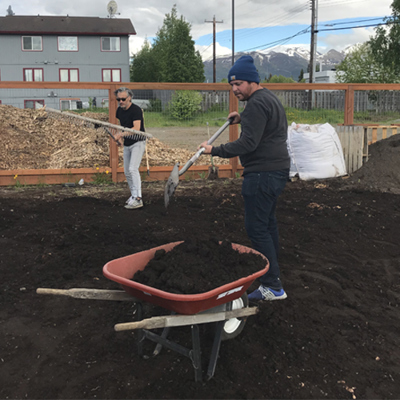 To research this topic in Anchorage, the artists talked to many different people, created maps that illustrated people's grocery shopping habits, documented abandoned and underutilized commercial spaces, and volunteered for an afternoon at Grow North Farm in Mountain View. Their goal with all this research for was to identify potential opportunities to bolster small food entrepreneurship, food accessibility, and supportive cross-sector ecosystems.
At the end of their two weeks in Anchorage, they invited a diverse group of food actors from across the city to present their research, share stories and ideas, and eat Manuel and Soledad's tamales. At this event, they compiled a list of shared resources and invited participants to envision what improved mobility/visibility for small food entrepreneurs in Anchorage might look like.
Sometimes art can be an excuse to engage people in conversation, and SEED Lab believes these conversations have the potential to germinate new possibilities and better futures.
To learn more about SEED Lab or to connect to the project, please follow us on Instagram at: @seedlabanchorage or send an e-mail to seed@anchoragemuseum.org.
​You may also send e-mails in Spanish. ​


---
el proyecto seed lab sembrando ideas
El proyecto SEED Lab del Museo de Anchorage, ubicado en el 109 w. 6th Avenue, es un nuevo espacio dedicado a imaginar futuros positivos para el Norte. SEED Lab utiliza el arte y la práctica creativa para catalizar conversaciones y posibles soluciones a los retos sociales y ambientales más apremiantes de Anchorage.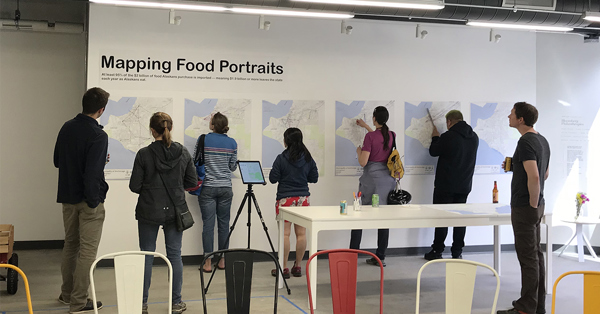 Esta primavera, los artistas Sergio De la Torre y Chris Treggiari visitaron SEED Lab. De la Torre es originario de Tijuana, México, y Treggiari es oriundo de Boston. Ambos artistas trabajan con comunidades para abordar la desigualdad social, con un enfoque específico en temas relacionados con la migración. En su proyecto para SEED Lab, los artistas decidieron trabajar con sus amigos y colaboradores, agricultores locales y empresarios Manuel Bautista y Soledad Lescas, originarios de Oaxaca, México. (Quizás los conozcas por sus deliciosos productos: tamales, pepinillos y salsas que venden en el Spenard Farmer's Market).
Después de dedicar tiempo para visitar granjas y huertos, hablar sobre los retos del cultivo de alimentos frescos en Alaska y aprender algunos de los secretos detrás de los deliciosos pepinillos mexicanos de Manuel, Sergio y Chris decidieron usar el tema de la comida para pensar acerca de la migración en Alaska. Es evidente que la comida es un vehículo para el intercambio cultural, pero también es una forma práctica para ganarse la vida. ​
En términos más generales, el acceso a los alimentos locales desempeña un papel clave en la sostenibilidad y la resiliencia de comunidades del subártico como Anchorage. Sin embargo, los recién llegados y empresarios de alimentos a pequeña escala a menudo enfrentan barreras de acceso a los espacios de cocina comercial adecuados, así como retos con la movilidad y visibilidad para el transporte y la venta de mercancías en la expansión urbana de Anchorage.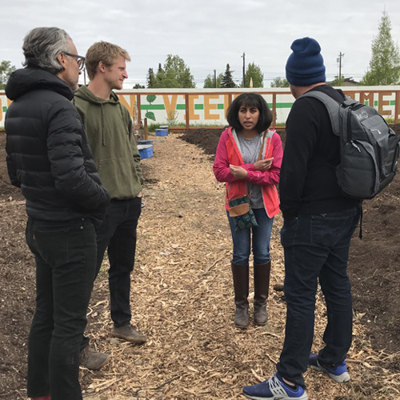 Para investigar este tema en Anchorage, los artistas hablaron con una gran variedad de personas, crearon mapas que ilustran los hábitos de compra de la gente, documentaron espacios comerciales que están en abandono y son subutilizados, y se ofrecieron como voluntarios una tarde con Grow North Farm en Mountain View. El objetivo de esta investigación fue identificar oportunidades potenciales para impulsar el emprendimiento de alimentos en pequeña escala, accesibilidad de alimentos y el apoyo de ecosistemas intersectoriales.
Al concluir dos semanas de trabajo en Anchorage, invitaron a un grupo de personas asociadas al rubro de alimentos de toda la ciudad para presentar sus investigaciones, compartir historias e ideas y comer tamales hechos por Manuel y Soledad. En este evento se compiló una lista de recursos compartidos y se invitó a los participantes a imaginar sobre qué y como serían las mejoras en movilidad/visibilidad para empresarios de alimentos a pequeña escala en Anchorage.
A veces el arte puede ser un motivo para involucrar a las personas en una conversación y SEED Lab cree que estas conversaciones tienen el potencial de germinar nuevas posibilidades y un futuro mejor.
Para más información sobre SEED Lab o para conectarse al proyecto, por favor síganos en Instagram en: @seedlabanchorage o envíe un correo electrónico a seed@anchoragemuseum.org.
​También puede enviar mensajes de correo electrónico en español.