Renewing an Ancestral Art at Quinhagak: A Smithsonian Community Collaboration
August 27, 2019
by Aron L. Crowell, Alaska Director, Arctic Studies Center, Smithsonian Institution 
Artifacts are coming to life at Quinhagak, a coastal Yup'ik village of about 700 residents just south of Kuskokwim Bay on the Bering Sea. The village has a long and storied history and is today the scene of a cultural revival inspired by discoveries from the past.
The Smithsonian Arctic Studies Center project Yup'ik Twined Grass Bags: Renewing an Ancestral Art, undertaken with assistance from the Anchorage Museum and funded by The CIRI Foundation, the Smithsonian Council for Arctic Studies and First National Bank of Alaska, is a community-partnered heritage project inspired by artifacts uncovered at the 500-year-old Nunalleq ('old village') site near Quinhagak.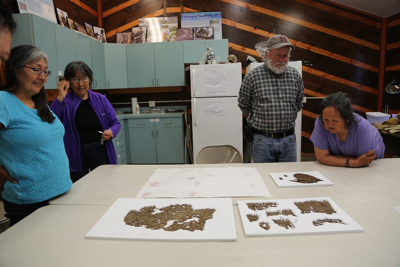 The Nunalleq site, which was excavated by archaeologists from the University of Aberdeen, yielded a fabulous abundance of well-preserved artifacts including woven grass baskets, bags and mats. The finds were recently returned from Scotland to the Nunalleq Culture and Archaeology Center, making them available for study by artists and community members.
The ancient basketry items were made by "twining", the technique of weaving strands of grass together to construct open-mesh bags and tightly-woven baskets. Twining was largely replaced in the Yup'ik region about a century ago by coiled baskets and it is rarely practiced today.
Yup'ik Twined Grass Bags: Renewing an Ancestral Art responds to strong community interest in bringing back the old style of weaving represented by the archaeological discoveries. It is the latest installment of the Arctic Studies Center's Material Traditions series, which supports Alaska Native arts and Indigenous knowledge around the state.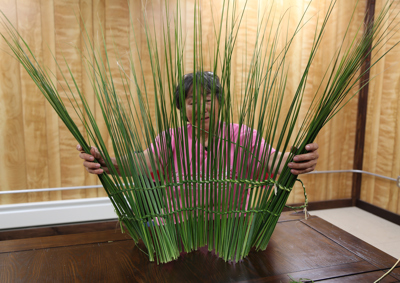 Material Traditions artists are invited to teach at museum residencies and community workshops, to study collections related to their work and to document their knowledge and techniques on video for the Smithsonian Arctic Studies Center YouTube Channel. Grant funding covers all costs including travel, artist honoraria, materials and video production.
Alaska Native art students, Anchorage School District classes and general audiences benefit from these public programs, and artists share their expertise with Smithsonian and Anchorage Museum staff to aid in the interpretation and conservation of museum collections. Past projects have focused on snowshoes, bentwood hunting hats, fish skin and seal intestine clothing, tanning and sewing moosehide, walrus ivory carving, cedar whistles and rattles, cedar bark basketry and porcupine quill embroidery.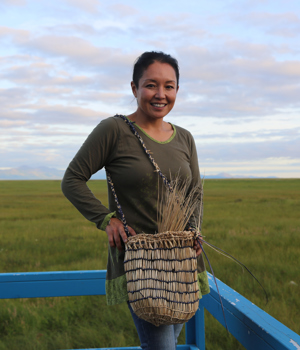 At Quinhagak this summer Grace Anaver, one of the few Yup'ik artists to still practice the twining tradition, taught local adult students during two workshops, the first (July 20-22) on gathering and preparing tundra grass, and the second (August 9-11) on weaving a small bag. Grace was assisted by her sister Sarah Brown. Nine learning weavers enthusiastically participated in the weaving class, which was held in the Nunalleq Cultural and Archaeology Center to facilitate study of the archaeological examples. One of the younger participants, Meta Williams, wrote about her experience, "It was great and fun learning how to make a grass basket…Knowing the history about it is really cool!" An older student, Grace Mark, commented that through weaving she appreciated how talented her ancestors were and that the art "should be passed down to the younger generations."
Smithsonian Arctic Studies Center Museum Specialist Dawn Biddison develops the Material Traditions programs and at Quinhagak she worked extensively with the artists and community to organize, conduct and video-document the grass-gathering and weaving events. Dawn will edit the video footage over the next several months for online and DVD release and will work with Yup'ik teacher Dora Strunk to develop a basketry-focused curriculum for schools in the Lower Kuskokwim School District. Anchorage Museum Director of Collections and Chief Conservator Monica Shah assisted with the Quinhagak workshops and participated as a student to learn the materials and techniques.
As a result of the curriculum, video publication and other planned outreach the Arctic Studies Center anticipates that the impact of the Quinhagak program will extend to the wider Yup'ik region, where students will learn about an important aspect of their heritage and artists will have access to detailed information about a tradition-rich and marketable basketry style.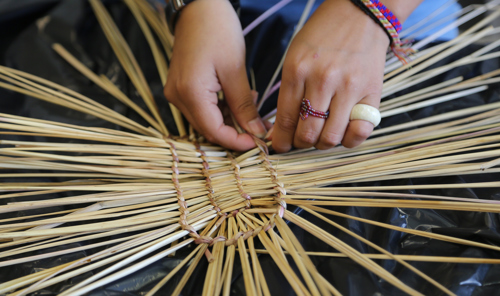 As a final component of the Yup'ik Twined Grass Bags program, Grace Anaver and Sarah Brown came to Anchorage in July to give a public talk about their work in the Living Our Cultures exhibition gallery, meet with visiting members of the Smithsonian National Board and view twined baskets in the Anchorage Museum collection with Monica Shah.
Photos by Jacki Cleveland, courtesy of the Arctic Studies Center