THE NATURE OF ART IN NATURE
Alaska artist faces moose, bears and sub-zero temps to paint four seasons of a single tree
November 21, 2017
Change is both the subject and the medium of this series of paintings by artist David Pettibone wherein a single tree becomes a constant against which change is measured. Each work was made on location; some over the course of days, some weeks and some months.
The project took the form of numerous watercolor and oil paintings which investigate, in detail, a single tree at the Eagle River Nature Center from May 11, 2016, to May 11, 2017, and how the changing of the seasons affects the tree. These works were composed in all types of weather so that the changing environment — from sunshine to wind, rain and snow — may affect the painter (and thus, the painting) as much as the tree itself. In addition to several small and medium sized works, Pettibone produced four large-scale paintings of the tree, one for each season.
We chatted with the artist to find out more about his artwork, the process and the inspiration behind the Year with a Tree exhibition.
AM: You were painting in New York City for over 10 years – what brought you to Alaska?
DP: After I finished grad school I had an instructor say you might as well stick around to try the New York art scene. I worked on group shows and always had a second job or third job: adjunct professor, coffee shop, art handler, commercial muralist. Most people in New York are in the same boat – eventually you keep getting pushed further away from Manhattan. I was squatting in my studio at one point. During that time, I was happiest when walking my dog in the park looking at trees.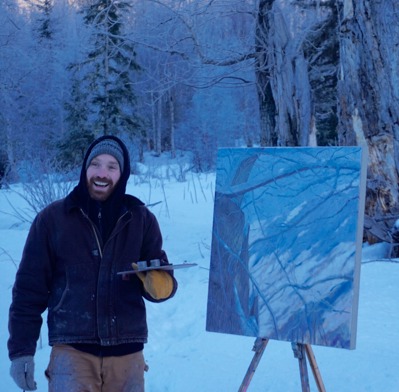 Courtesy of Robin Sorensen
Then, in 2013, I went to Barrow to work on The Whale as a Dish project. I painted and documented the subsistence whale hunting culture of the Iñupiaq people in Utqiaġvik, Alaska. That project opened my eyes to the beauty of Alaska. After my experience in Barrow I knew I wanted to be here. I also have a vivid memory of coming to Alaska in high school with my family, being in the back of the car on the road with mountains and water that kept going endlessly along the highway. It's a faint memory but I realized over time it was the Turnagain Arm. That always stuck with me — if you're going to move to a place where nature is prevalent, any place other than Alaska would have been settling.
AM: How did this project come about?
DP: There's a painting by John Constable called Study of the Trunk of an Elm Tree (1821). It's been described as a portrait that elevates the tree so it takes on living presence. I had that painting in mind as I spent two weeks painting sequoia trees in 2014 during an artist residency in Scotland. There are challenges when painting outside from observation instead of photo reference. The sun and clouds are constantly moving and changing the color palette. The shadows and hues got me thinking about how the environment is constantly evolving and changing. So, I thought what if the paintings were about that change? When I came to Anchorage in 2015, I painted a lot of trees in my first year. I created a body of work reflecting layers of changes so the end result is a conglomeration of moments. Those are some of my favorite paintings. Then, I moved to Eagle River. When (museum director) Julie Decker brought up the possibility of painting a single tree over time, it seemed perfect for me.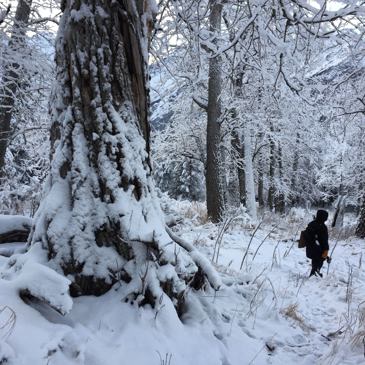 Courtesy of artist David Pettibone
Why this tree in Alaska?
DP: The cottonwood has a gnarly character to it with all of the texture and the knots. It was far enough away from the nature center that I felt I could get in the zone and block everything else out, but it wasn't so far that it was a huge pain in the ass to get to. This one tree in particular, because it's broken in half, works for the composition on the canvas.
How did the elements factor in?
DP: In winter, paint gets really thick — it takes a hell of a lot longer to paint because you can't spread it around — things go slower. And in the dead of winter, I can only be out there for three hours at a time. The temps can get as low as -20° F. I doubted [before] the effectiveness of standing on cardboard to insulate me from the cold. Cardboard became my best friend that winter. I also drank hot coffee to stay warm but I didn't want to eat anything because my blood would go to my stomach, and my fingers would get cold.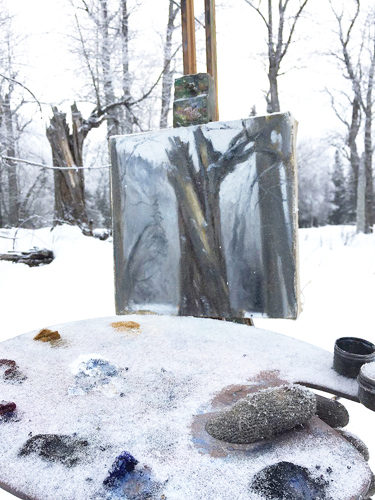 Courtesy of artist David Pettibone
Tell us more about your process
DP: I showed up every day with the same set of paint colors. The colors never changed; the environment dictated the amount and which colors I would use. Getting there was part of the ritual. It was about a 10 to 15-minute hike to the tree. All of that becomes a ritual. By the time I'm at the tree I'm pretty much in that zone. The whole point was to be able to zero-in on the tree and the environment – no music, no artificial noise.
Any unexpected guests?
DP: I had a few moose visitors. There was a black bear sow and cubs that frequented the area for a while. I could hear the brown bears in the fall. They were noisy in the water and splashed around not far from where I was painting. There were several times I had to get off the trail —often in deep snow — and head back toward the nature center to follow a different trail to the tree.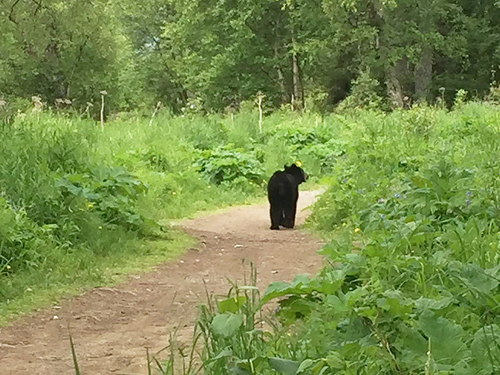 Courtesy of artist David Pettibone
What did you learn while working on the series?
DP: I don't think it was until the show was up that I was able to take it all in and see it within the context. I knew it was a project about change, and I knew the environment was going to change. The biggest surprise for me was how much change there was specifically in the colors. From summer to winter, you can see greens transition to oranges to greys to blues. Everything was in indirect light. The colors are really clean. I was surprised to see how the environment dictated the color on the tree itself.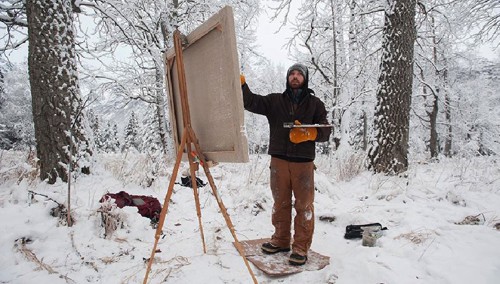 Courtesy of Colin Tyler Bugcki
Anything else?
DP: I was amazed by the varying shades, tints and color of the snow. Shadows in the snow are blue, but snow is "white." It was only while I was painting in spring that I started to take notice of the subtlety. Snow in direct light is a warm hue. It's in the shadows where you get all the color.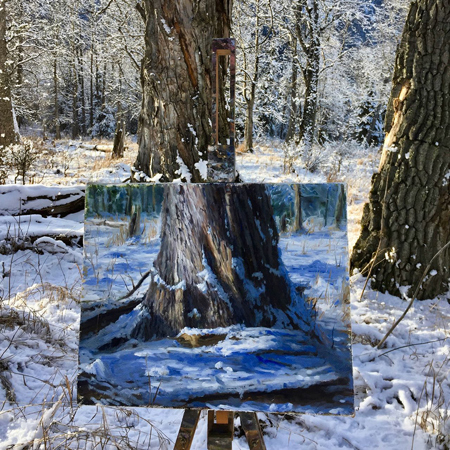 Courtesy of artist David Pettibone
How do you think people will view this exhibition?
DP: For any of my paintings in general, the first reaction I hope to get from the viewer is an appreciation for the nuances of the paint — the tactile details of the medium itself — the brush strokes and how they come together to form and capture these moments. I'm coming to all of this as a painter first and foremost. I would also like people to sense all I invested in this one tree. The breadth of the work hopefully is evidence of that. I want people to start wondering: how did this tree break in half? How old is it? What did the glaciers look like when this tree was a sapling? Everything has significance, but we also ascribe our own meaning to things. The tree doesn't need our interpretations to have its own meaning.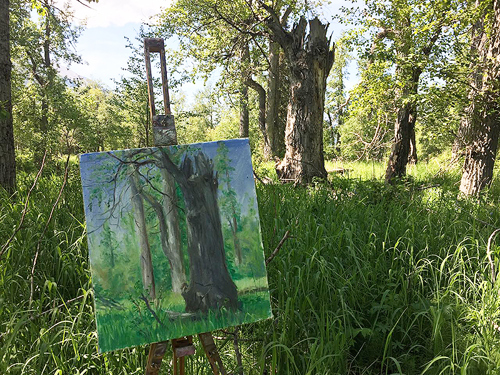 Image (above) and banner image courtesy of artist David Pettibone
—
Year with a Tree was on view through Jan. 21, 2018
Artist David Pettibone received his BFA in painting from the Rhode Island School of Design (RISD) in 2003. He pursued painting at the New York Academy of Art where he received his MFA in 2007. He spent over ten years working in New York City as an adjunct professor, freelance artist and illustrator, art handler and commercial muralist, among other jobs.