Polar Lab
Why we need big ideas and a strong investment in artistic practice
November 13, 2018
By Julie Decker, Anchorage Museum Director and CEO

Polar Lab has artist residencies as one of its core components. Artists from Alaska and around the world are supported in their research practice by Polar Lab. This takes a variety of forms, from studying the Museum's collection or spending time in archives, to working with scientists, studying landscapes, traveling to remote places, or interviewing people.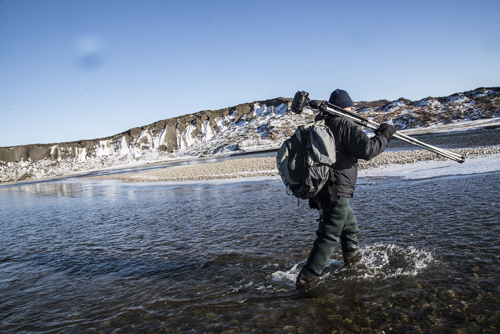 We select artists for whom research and investigation is at the heart of their process and give them time and connect them to resources to be able to explore that aspect of their work. Polar Lab artists are often "in residence" with the Museum for years; it's about developing a relationship and investing in that relationship in a variety of ways.

The emphasis of Polar Lab artists residencies is the Arctic—the contemporary and future aspects of the North—and on the idea that only through an examination of the complexities, rather than black-and-white notions, do we come to a greater understanding of place and people.
Thus, traditional and nontraditional forms of research are at the core of the program. At times, that research becomes artwork—a film, a sculpture, a performance, an exhibition—but that's not what drives the program.
Polar Lab is unusual as a residency program because it invests in that transformative process for the artist, rather than focusing on the resulting product.
Sometimes we exhibit work, or acquire it into our collection, that has grown out of this research. This is a natural evolution, as it is work that is embedded in investigation into our place, that contemplates the future of our region.

Through this multi-dimensional work, the Museum developed its capacity for working on iterative projects on a national and global scale, building a powerful narrative around the relevance of the Arctic environment to both the local community and the world.
Recently in our atrium was an installation that grew out of a Polar Lab residency. Murmur: Arctic Realities grew out of years of work with the artist John Grade. Grade began his Polar Lab residency by exploring the Arctic landscape—in Iceland and in Alaska. He traveled to Nome and developed a project titled "floats" that looked at changing water levels and climate. He studied trees in the Arctic and cast one of them, recreating it in wood and exhibiting that work at the Smithsonian Renwick gallery.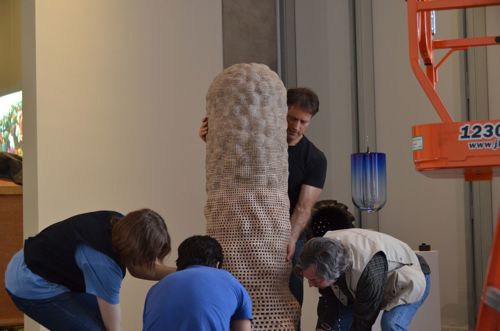 After introducing him to scientists at the permafrost lab at University of Alaska Fairbanks, he became interested in pingos and his research lead him to spend time traversing the area along the Noatak River and working with scientists to measure pingos. The sculpture in our atrium was half the size of the pingo that was measured.
Projects like this are much larger than just the idea of a sculpture in our atrium. This is a manifestation of years of working with an artist and years of their own investment.
It is multilayered, with multiple works and ideas that grow out of the experiences, from the tree at the Smithsonian' to a tree that traveled to the World Economic Summit in Davos; to floats that were part of an exhibition at the Museum; to a partnership with the Mystic Seaport Museum that began with Murmur and has led to publications, collaboration on an exhibition next year, and an organizational friendship that will last a long time; to the publication of the first major monograph of the artist's work that will have global distribution… and more.
Murmur represents a lot for this organization that has a much stronger message than the circumference of the sculpture. It represents a strong investment in artistic practice, it represents the Museum leading with the types of residencies it invests in, and it represents strong connections to science, to other institutions, to many deeply-fostered relationships, to global connections.
We can withstand four months of disruption to one of our large spaces because we are thinking big. It's important for this institution to spend some time thinking big and doing large-scale projects. It distinguishes and defines us in larger ways. Art is one of our core mission subjects. Murmur was de-installed. In just three days, it disappeared from the atrium. It will travel to other places, building more relationships and connections.
Banner image credit: Artist Ricky Tagaban studying the Smithsonian's Alaska Collection for Polar Lab Collective; image courtesy Smithsonian Arctic Studies Center
Image #1 credit: Artist Christophe Kapeller in Alaska in 2016 for Polar Lab residency; image courtesy Christophe Kapeller

Image #2 credit: Artist Ricky Tagaban studying the Smithsonian's Alaska Collection for Polar Lab Collective; image courtesy Smithsonian Arctic Studies Center