Object Is
Elders share knowledge of Ahtna material traditions
February 27, 2019
Museums have a mandate to protect and preserve their collections, but increasingly, museums understand that they must also work to decolonize, share and reach audiences through a variety of different methods.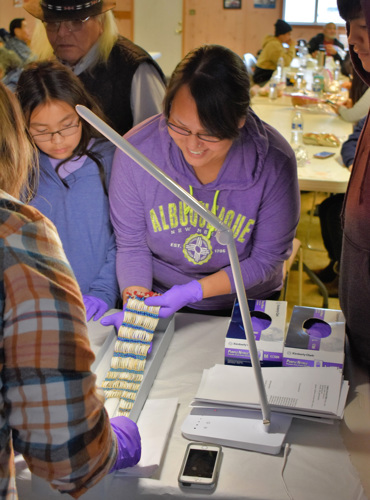 Object Is, a project led by Curator of Contemporary Indigenous Art, Melissa Shaginoff, brings objects from the museum collection back to the Ahnta people whose ancestors created them, in an extended process of exchange and knowledge sharing. Working closely with Elder Jeanie Maxim, Melissa and Museum Collections staff selected 22 resonant objects, including sewing bags, moccasins, and necklaces. These objects were brought to Glennallen, Tazlina and Gulkana, where people were able to view, handle, and share stories, connecting with each other through the vitality of Ahtna material traditions. Examining a dentalium necklace, Elder Lemmy Charley shared a story about how the old timers used to fish for dentalium in lakes and how important material culture is to Ahtna peoples. One participant was even able to see a pair of moccasins her grandmother had made.
The Object Is project recognizes the importance of language in understanding these objects and preserving the knowledge embedded in their making. This March, the Anchorage Museum will host a Language Summit where several first-language elders will be invited to discuss their selected objects with each other and share stories in their Ahtna language, and a follow-up visit is planned to travel more objects to their home communities. By traveling these objects, hosting communal meals, and facilitating the sharing of Elders' stories and expertise, the museum acknowledges the value of decolonial approaches to our work as well as the profound value of Indigenous culture and knowledge.