Mushroom mania
Three places to forage for fungi in the museum
August 30, 2017
Inspired by our Urban Homestead 101 classes,  we thought we'd make it easy for fans of fungi to pursue their passion throughout the museum. Here's a guide to three places you'll find our resident mushrooms.
1. Polar Bear Garden: The Place Between Alaska and Russia
The iconic red capped mushroom with white spots—Amanita muscaria—was originally found in Northern Scandinavia, Asia, and Siberia, as well as in North America throughout southwestern Alaska. Find out more about the biome sustaining flora and fauna throughout Arctic regions in our Polar Bear Garden exhibition, third floor.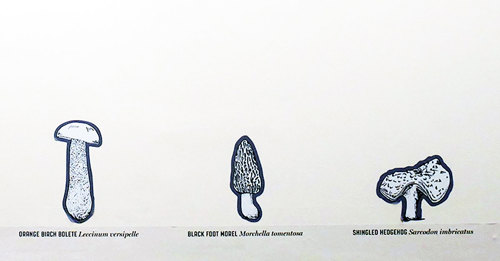 Find sautéed cremini mushrooms and truffle tarragon on the Bacon Bistro Burger and alongside other menu items this summer.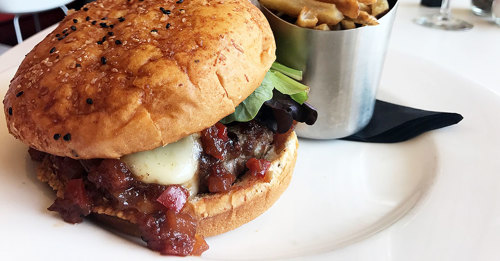 Chef Brad Harris says, the Bacon Bistro Burger has "an earthiness because the creminis have less gill structure than mushrooms such as a Portobello. We add truffle tarragon, which complements the mushrooms and produces a robust, earthy flavor. Those flavors blend well with the acidity and fat from the bacon and bacon jam. The balance of sweetness and acidity ensures that all flavor components are hitting the edge of the taste buds."
We say "yum."
Want to try your hand at cooking with mushrooms? Check out Chef Brad Harris' Muse Cream of Mushroom Soup recipe:
INGREDIENTS
8 oz.           Shitake Mushrooms
3 oz.           Yellow Onion
2 oz.           Celery                  2 oz.                  Carrots
4 ea.          Thyme Sprigs
4 tbsp.       Butter
1 tbsp.       Canola Oil
1/4 c.         Flour
1/3 c.         Sherry     
1 c.             Water or Stock
2 c.             Heavy Cream
1/4 tsp.      Lemon Juice
1 tsp.         Kosher Salt
Directions:
Slice mushrooms, onions, celery, carrots and remove thyme from stems.

On medium-high heat, sweat all ingredients in step 1 in the butter and canola oil.

3-5 minutes after sautéing ingredients, add flour and stir constantly to slightly blond the flour.

Add Sherry and 1 cup water or preferred stock.

With a whisk, stir constantly for roughly 1-2 minutes to fully cook out the flour.

Add heavy cream and bring to a simmer for 5 minutes while constantly stirring.

To finish soup, add lemon juice and salt kosher salt.

Puree in a blender or food processor for desired consistency.

Enjoy!
3. Museum Store
Show the world how you feel about our capped companions with products from our Northern design series, which includes T-shirts and tea towels featuring different Arctic region mushrooms. These mushroom graphics were provided by Anchorage-based designer Karen Larsen.
​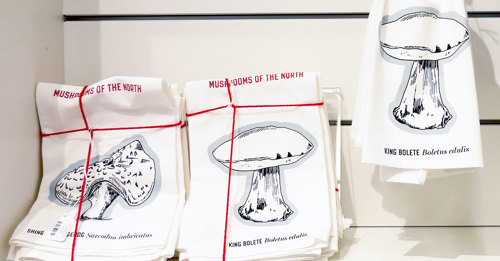 Foraging for local foods like mushrooms is just one of the topics presented in the Urban Homestead 101 series. Look for more info on this and other museum programs.