Living Our Cultures through Material Traditions
Moosehide Tanning and Sewing in the Dene Way
December 06, 2017
The Material Traditions program at the Smithsonian Arctic Studies Center in the Anchorage Museum invites accomplished artists to demonstrate and share their work in important cultural forms and materials that often combine traditional with innovative and experimental techniques. These artist residencies are documented for sharing with students, visitors, curators, conservators and the public through demonstrations and through video presented on the Arctic Studies Center's Sharing Knowledge Alaska website. Material Traditions is sponsored by the Surdna Foundation, CIRI Foundation, Smithsonian Council for Arctic Studies, and Alaska State Council on the Arts.
Older generations of Athabascan peoples hand-tanned moose hides using time-tested methods that transformed raw skins into strong, supple leather for sewing beaded or quill-embroidered tunics, jackets, mittens, bags and moccasins, as well as everyday essentials from skin toboggans to dog harnesses. Traditional moosehide tanning is time consuming, labor intensive and technically complex, and has widely declined in recent generations.
Two artists working to revitalize this important Athabascan practice – Joel Isaak (Dena'ina) and Melissa Shaginoff (Ahtna) – are gaining knowledge from elders, experimenting with techniques, reading historic publications and studying museum collections.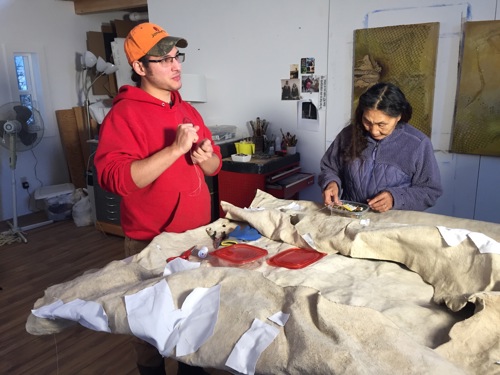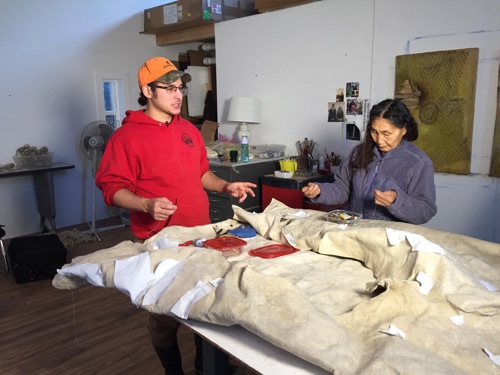 Joel and Melissa will discuss moosehide tanning techniques – documented in the field – and demonstrate sewing techniques during a December residency at the Smithsonian Arctic Studies Center, located in the Anchorage Museum. The public is welcome to meet the artists during visitor hours on Thursday December 14th and Friday December 15th from 1 p.m. to 3 p.m. (included with admission).
This program is sponsored by The CIRI Foundation, Smithsonian Council for Arctic Studies, Anchorage Museum, Alaska State Council on the Arts and First National Bank of Alaska.
Banner image (top): Gwich'in Athabascan mitten, collected 1928, National Museum of the American Indian collection. Moose hide tanning and sewing images 1-2 courtesy of Joel Isaak and Melissa Shaginoff.

Interested in more resources on Alaska Native cultures?
Exhibit and website educator guide
Exhibit and website lesson plans