Landscape, climate and community converge through Hghu Hghazdatl (They All Gathered)
October 04, 2019
By Tiffany Shaw Collinge, Curator
Lead photo by Michael Conti

Hghu Hghazdtl is a composite of site-specific installations in Anchorage, located on Dena'ina territory. The installations are intended to bring together divergent communities in relation to each other and the environment through narratives of sustainability and transformation.
Presented during Anchorage's Design Week and using design as a catalyst to engage a broader audience, this project brings activity and inquiry to the forefront through local design interventions that consider the area's past, present and future. The project is part of the Museum's SEED Lab, which connects creative practitioners to current issues facing Northern places.
Reflecting on how we gather and share
The project began with a series of meetings and workshops to discuss how design can be best reflected in Anchorage today. Some common themes surfaced during those conversations, including how we gather as a community and how we feel a responsibility to family, each other and the land. We also talked about how seasonality captivated us through a shared sense of urgency and the need to be more present in the face of unending change.
These community conversations influenced four site-specific installations intended to inspire curiosity and encourage engagement in each location. We hope these works prompt conversations around climate action and engender responses to design that consider local needs, materials and layered histories. The concepts that shaped our thinking were reuse, repair, restore, respond, re-source and reimagine.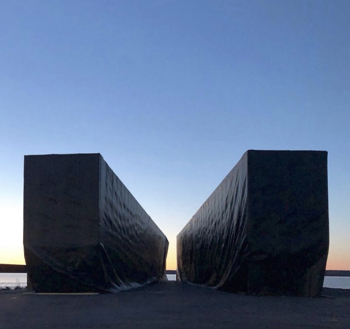 Four art installations throughout Anchorage
With Tidelands, at the Ship Creek Small Boat Launch, Anchorage designers Petra Settler-Smith, Karen Larsen and Buck Walsky explore how nature meets the urban condition. The installation site is within a place where food security and industry intersect with the Port of Anchorage, civic culture, a boat launch that has been documented for over a century and the origins of the city. Settler-Smith, Larsen and Walsky discuss tidal activity in this work, creating global touchpoints around how water impacts the environment along with our fragile existence within it individually and collectively.
Ułchena Huchłtyut (Where We Pulled up the Alutiiqs), at the Kincaid Park overpass explores Dena'ina history, specifically a battle that occurred between the Alutiiqs and the Dena'ina people. Utilizing an emblematic trestle bridge in the park, Anchorage designers Taylor Keegan and Nicholas Horn-Rollins design a reflective space that encourages personal and richly layered storytelling. By presenting oral storytelling, a well-regarded form of transferring knowledge from one generation to the next by Indigenous people, Keegan and Horn-Rollins make present events that have occurred long before the founding of Anchorage as a city. After the visitors listen to an account of the battle they are encouraged to leave their own stories, which add to the many layers of history in this gathering place.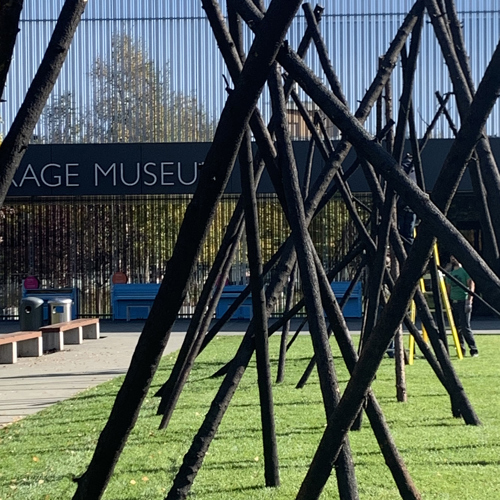 Wezup II, on the Anchorage Museum Lawn, was created by multidisciplinary visual artist Marek Ranis. Wezup is the name of a small village in northeastern Holland, which was shaped by glacial activities. This Alaska iteration utilizes lumber affected by the recent Campbell Creek wildfire. The project alludes to the damage done by spruce beetle infestations and wildfires, both of which are increasing due to recent record-breaking temperatures and extended dry conditions. It is an interactive structure where viewers may interact with the timbers. This installation prompts design initiatives that respond to climate change and climate action through reutilization and transformation.
Think Next Over Now, at SEED Lab is a mural by Anchorage artist James Temte that will be placed on the west side of the SEED Lab building at the corners of 6th Avenue and A Street. The image of a child hiking in the Alaska landscape chosen by Temte is sourced from Anchorage photographer Michael Conti. "Think Next Over Now" suggests ideas around what we need to leave for future generations where the hopes of the next generation relate to both people and landscape. Temte is the founder of the Alaska Mural Project, an effort he hopes can model what public art can do for a city.
The power of public art
Through Hghu Hghazdtl, designers and artists expand the "space of the possible" (a SEED Lab genesis). They explore ideas around climate, materiality, Indigenous values and adaptation and spark dialogue around innovation through inclusion, process and relationship – to each other and the environment. The installations of Hghu Hghazdtl invite us to examine how design may positively influence the city and its future.
The public art installations will be in place for free public viewing Oct. 3-25 during the open hours set by each location.