Brave Souls, Broken Axles and Welcoming Roadhouses Marked the Early Days of the Alaska Highway
FROM THE ARCHIVES: The James E. Cook Collection
December 12, 2017
by David Holthouse, curator of Public Engagement
Cold, stranded, and low on supplies, Betty McRae dated her journal entry February 2, 1954. "Looks like our luck will never change," she wrote. "I just hope and pray the children will stay well & that I don't run out of water. It has all been like a horrible nightmare. I suppose it will end someday."
McRae and her three children were broken down at Mile 147 of the Alaska Highway. Her husband, Frank Leslie, better known as "FL," was in the Air Force. He'd just been transferred from Lackland Air Force Base in Texas to Elmendorf AFB near Anchorage, where a major build-up of air defense forces was underway in the early years of the Cold War.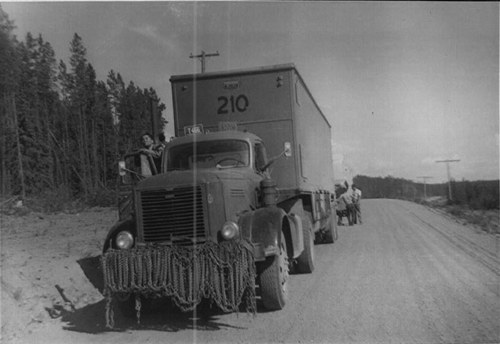 The Alaska Highway had been open to the public for only six years. It was unpaved. Services were few and far between, doubly so in winter. But money was tight for the McRaes and FL was a crackerjack mechanic and a brave soul. He traded the family's house in San Antonio for a 32-foot-long Newman travel trailer, the kind made famous on the silver screen later that year in The Long, Long Trailer, starting Lucille Ball and Desi Arnaz.
The Newman weighed three tons. FL's car was a 1946 Lincoln sedan. He installed a Ford dump truck engine in the Lincoln to give it power enough the haul the trailer. He also put dual rear tires on the souped-up sedan. Then he and his family set out for Alaska in the dead of winter.
Betty documented their epic trip in her journal. Last year, her son James donated it to the Anchorage Museum, along with a journal of a second McRae family trip up in the Alaska Highway in the summer of 1958, plus a series of accompanying black-and-white photographs. Now archives at the Bob & Evangeline Atwood Resource Center, the journals and photographs are available to view by members of the public. (See Atwood Resource Center information below.)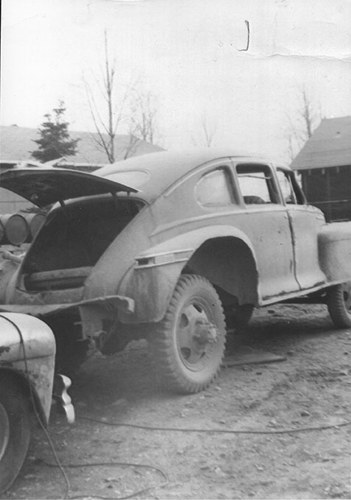 A January 21 entry in the first journal sets the tone for their harrowing adventure. Three days after crossing the Canadian border from Washington State, the family struggled to make it to McLeod Lake, British Columbia. "Only 34 miles to McLeod, took us 7 hour to make," Betty wrote. "Got stuck on two huge ice-covered mountains. Temperature 30 below & I was trying to guide FL back down the first hill we got stuck on. Have never come to near freezing in my life. I'm really scared but we must go on & hope the good Lord will look after us."
They crossed the border into Alaska late at night on January 23. "About five miles past the customs is a Lodge & Road House," Betty wrote. "You can tell you are in Alaska. The bars stay open and the whiskey flows like water. Some of the truck drivers we'd met along the way insisted on buying us a drink which turned out to be 3 or 4."
A few days later, the customized Lincoln broke down. "Our problem was, the axels weren't strong enough to handle those dual tires and big engine," Jim Cook recalled in a recent phone interview. FL's stepson was 14 years old in the winter of '58. "One axle broke, then the second one went, and it was all we could do to limp into the Beatton River Lodge."
The lodge was located about 150 miles from the start of the highway at Dawson Creek. "Their generator wasn't working, but FL was able to fix it for them, and we became friends with the people there," said Cook. "The son of the owners was Jimmy Anderson. He was a trucker at the time, and he gave FL a ride back to Dawson Creek to look for parts for the Lincoln."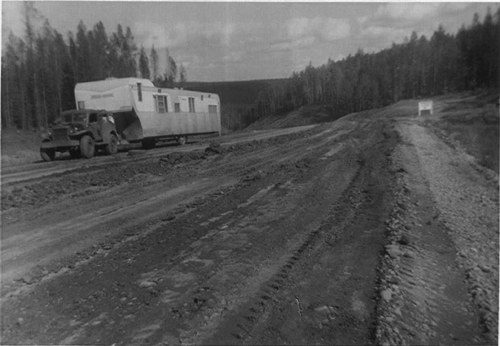 A week later, there was no sign of FL. Desperation crept into Betty's journaling. "I'm not sure if it's the [February] 4th or 5th, Thursday or Friday," began one entry. "Anyway, FL is still gone. We had to put ourselves on short rations. We split a can of soup for lunch & for supper we split another can of soup & some pudding. I found several boxes of pudding that must have been up in the cabinet for months. Sure is coming in handy."
A day or two later, FL came back, with Anderson towing behind his rig a battered two-ton truck with no engine. "FL took the body off that Lincoln, and he put the Lincoln body onto the truck, and then he put the engine from the Lincoln the truck, all in the middle of winter," said Cook. "It wasn't pretty, but it got us to Anchorage."
Four years after their first trip up the Alaska Highway, FL, Betty and the kids made a second trip, this time in June and July. "It was easier than winter, but it wasn't easy," Cook said. "I changed at last 30 tires on that trip, a lot of them in deep mud."
In her journal of the 1958 trip, Betty documented at least 28 flat tires and 10 broken wheels. She also wrote of stopping in to visit their friends at the Beatton River Lodge. Jimmy Anderson by then was on his way to becoming the legendary "outlaw" bush pilot Jimmy "Midnight" Anderson.
On July 1, she noted, "Ike signed Statehood Bill."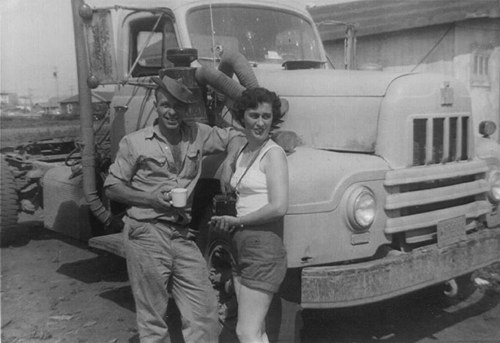 Her second journal ends, "This is my second diary of pulling a trailer up the Alaska Highway, & I do hope if ever get another bright idea, that I can read the first diary & if that doesn't convince us, we can get out the second one – that should do it."
While serving at Elmendorf, FL homesteaded land north of Wasilla, on the Little Susitna River. "I still got a bit of it left, 20 acres or so," Cook said. FL died young of cancer in 1960. He was buried in the military cemetery at what became Joint Base Elmendorf-Richardson. Jim Cook was a logger as a young man, then he joined the Air Force and was stationed at Elmendorf. He's retired now and lives in Florida. He still drives in the Alaska Highway both ways every year or two. He figures he's made at least 30 round trips.
"The highway's nothing compared to what it was," he said. "Most of the old places are closed, boarded up. The truckers used to stop, help you if they could. Today they just fly by."
The Beatton River lodge is long gone, but a while back, Cook stopped in the area to ask if Jimmy Anderson was still around. "He'd just died a week or two before," Cook said. "They'd just had his service there at Beatton River. That's all right. I can still remember him like he was in '54, '58. Like you see him in those photographs."
The James E. Cook Collection is referenced by Collection Number B2106.023
The Bob & Evangeline Atwood Resource Center is open 10 a.m. to 2 p.m., Tues. through Fri. and Sat. by appointment only.
resourcecenter@anchoragemuseum.org (907) 929-9234
Images:
McRae family posed with Jeep, trailer, and automobile in Topeka. Left to right: FL, Frankie, Betty, Jim, friend Bill Keegan, Vicki  Frank Leslie McRae, James E. Cook Collection, Anchorage Museum, B2016.023
Semi tractor-trailer rig stopped on side of highway to assist the McRaes, tire chains hanging off front bumper  Frank Leslie McRae, James E. Cook Collection, Anchorage Museum, B2016.023
Rear and side view of automobile modified by McRaes en route to Alaska  Frank Leslie McRae, James E. Cook Collection, Anchorage Museum, B2016.023
View down muddy Alaska Highway, Jeep and fifth-wheel trailer stopped on shoulder  Frank Leslie McRae, James E. Cook Collection, Anchorage Museum, B2016.023
Jimmy and Mona Anderson posed next to truck  Frank Leslie McRae, James E. Cook Collection, Anchorage Museum, B2016.023