Anchorage Printmaking Collective Finds a Niche Downtown
Q&A with Bryce Nicolasa Fredrick of Tent City Press
November 15, 2019
Tent City Press originated in 2017 as a collective of eight printmakers who were around the Anchorage Community Works scene down in Ship Creek, a part of early Anchorage known as tent city. In Summer 2018, the studio moved into the 4th Avenue Marketplace. Bryce Nicolasa Fredrick began operating the studio last October and has been focused on growing it into a comfortable creative environment primarily geared towards printmakers, while welcoming anyone who wants to use the space to learn, play, make, and collaborate. We asked Bryce to share some of her insights into Anchorage's printmaking scene in this question-and-answer session below: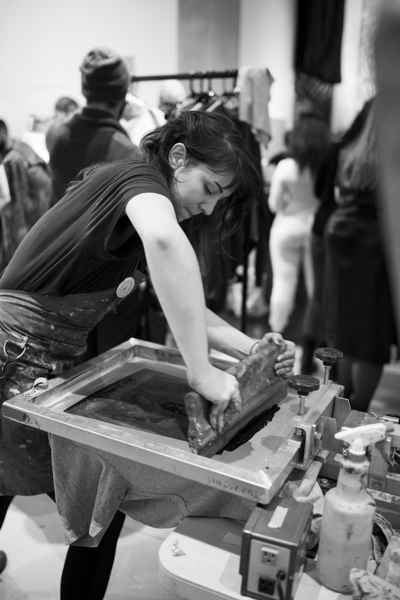 Q. How is printmaking relevant in today's digital world?
They occupy different but complementary places. The digital world not only offers practice-altering tools that make certain process preparations faster and ultimately less wasteful, it also allows artists to share their work on global or niche platforms. The concrete act of making of prints (fine art or otherwise) engages the artist's resourcefulness, their knowledge of the process, and their relationship to both equipment and materials to fully realize an idea. The challenge of the physical task and the ultimate reward of fresh stack of prints is something you can only experience by doing. And with digital media doing a lot of the legwork that printmaking historically did, that frees up the artist to use the medium to explore artistic experiments and applications.
Q. How do you see zine culture evolving in Alaska?
Anchorage has a cool history of underground zine and chapbook gems that feel like private peepholes into different lives. To me it feels like the scope of content is widening as more folks embrace DIY culture; the last few years of zine fairs and pop-ups have had an interesting mix of ambitious collaborations, heartfelt solo projects, engrossing comics, irreverent niche zines, and photo zines that make me feel like I'm gonna flip through them 10 years from now and get real sentimental. Lots of folks with exciting ideas have reached out to ask about self-publishing classes lately, so I anticipate a wave of fresh zines in the next few years from the local scene. As for the rest of Alaska, I'm super curious about what other towns have been making! Maybe a state-wide zine exchange of some kind would be fun - I can see places like Fairbanks and Ketchikan putting out some really good stuff.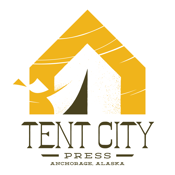 Tent City Press will participate in the museum's upcoming maker's event Polar Bazaar and ReadAlaska Book Fair Thanksgiving weekend, Nov. 29 and 30.
Q. You describe Tent City Press as a "community studio for the good." How have you seen community grow out of this self-publishing and print-making space?
Printmaking is an art form that has an inherent focus on community. On the studio practice side of things, it involves learning to share space with fellow artists, watching work evolve over time, helping and collaborating on projects, teaching skills or passing on knowledge to others, and celebrating the successes of the people in the community with them. And, the work has a whole other life outside of the studio, as well; from posters to band merch to protest signs to live printing events, the prints exist as a physical artifact of ideas in action. I love supporting other small local businesses and welcoming people who aren't necessarily printmakers to come in if they have a need for the studio - it's a pretty versatile place, and the most common thing I hear is that folks want to find more reasons to engage!
Q. What's on the horizon for Tent City Press in 2020?
Lots of fun stuff! We will be doing monthly Open Studios for the curious, continuing to hold classes, entertaining options for somewhere to put on a member showcase, doing more booths at markets, and will be out doing some live printing at Trapper Creek Blue Grass Festival again.