A closer look at local materials and 3-D design
with Anchorage Museum Senior Designer Kamu Kakizaki
September 19, 2017
Design Weekend is a festival to highlight design in Alaska and around the world and to provide inspiration for future design. Without critical mass and demand, manufacturing and fabrication of products and merchandise typically takes place outside Alaska. Anchorage Museum designers took this challenge as an opportunity to explore local fabrication methods in ways that might extend the "Made in Alaska" narrative.
Furniture was selected as a prototype. The design challenge was to create a process and system that allows for local fabrication of furniture pieces that are good quality, aesthetically desirable, and affordable enough to compete with imported mass-produced items. Investigating existing local fabrication methods led the design towards Computer Numerical Control (CNC) furniture. CNC are router bits that cut along a digital path on a flat surface, typically a sheet of plywood. They are most commonly used by custom cabinet shops for their accuracy and consistent cuts. Various grades of plywood are readily available locally and at relatively inexpensive cost. Pieces of CNC plywood with specific cuts can interlock with each other to create various 3-D objects, including furniture. Designs are available online with new designs regularly added.
The final product is a chair, stool and children's table set made of cabinet-grade maple plywood. The CNC-cut designs are from OpenDesk, an open source online platform for CNC furniture makers around the world. An accent color and texture for this year's Design Weekend identity was printed directly on the plywood at PIP Printing. This digitally-designed, locally-fabricated and one-of-a kind furniture line will launch at Design Weekend on Friday and will be available for purchase at the Product Fair's Museum Store booth on Saturday and Sunday (and beyond while supplies last).

This year's Design Weekend has a brand refresh and an edgy new color palette. The brand design is intended to be adaptable to various applications, so we thought about how to incorporate it into something three-dimensional.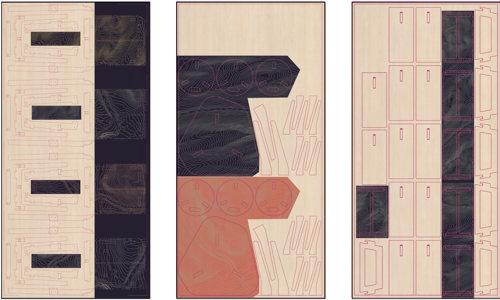 What about CNC furniture?
Plywood is structurally stable and relatively inexpensive. Better yet, it's typically readily available in Anchorage, a bonus when you're on a design deadline and have no time to waste waiting for the barge shipments. There are several CNC furniture design sources; the ones we chose were from OpenDesk. After fitting as many designs onto a 4x8' sheet of plywood, we worked with PIP Printing to print directly onto the plywood and convert the original design from metric to imperial measurement.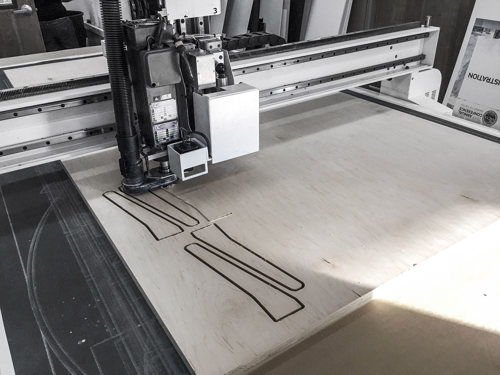 Ready for production: press a button and wait overnight for the computer generated path to finish cutting.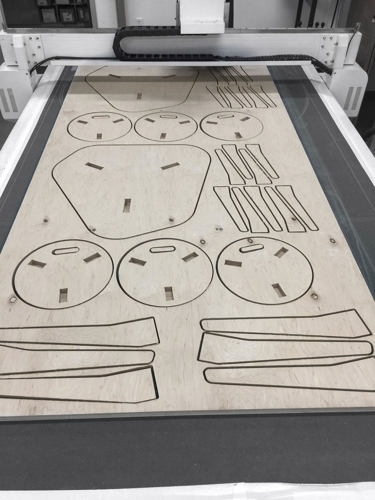 Intricate details and joints are easy when a computer does it for you.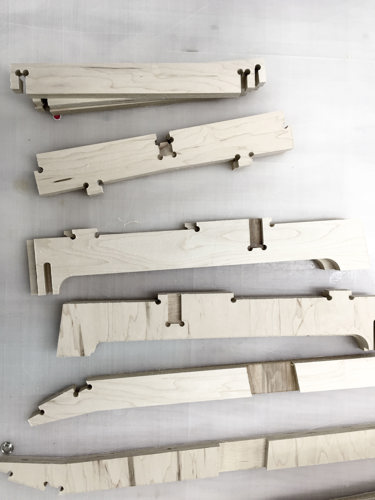 Edges are sanded lightly for a smooth finish.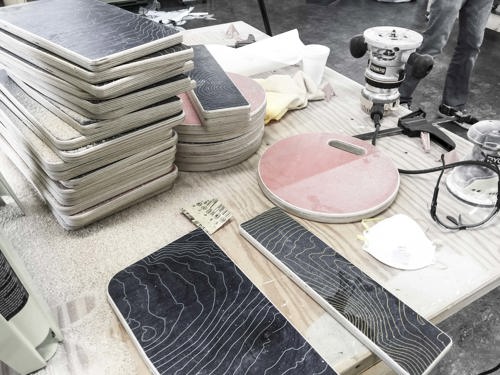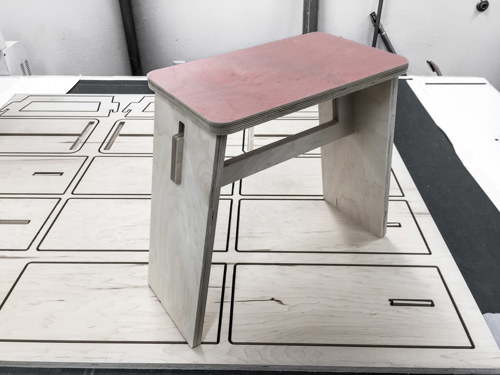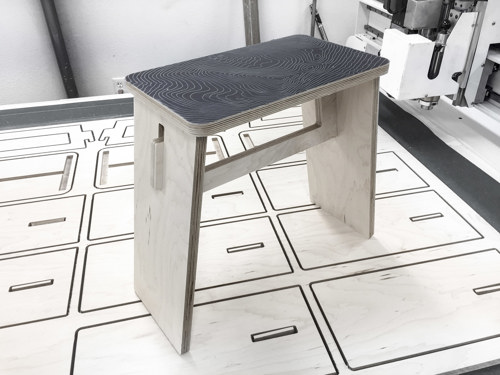 And just like that, snap together some of the pieces and we have a locally fabricated, modern stool. The accent seat top is the Anchorage Design Weekend brand colors, the pattern on each piece is easily changed because the plywood just goes through a printer.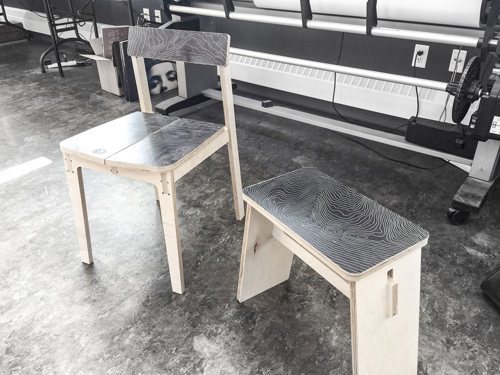 The seat looks nice too.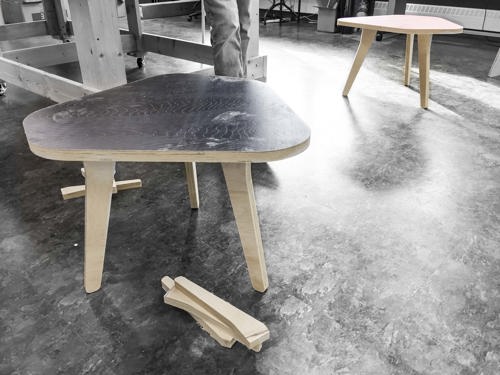 The children's table set is coming along. These will all be glued, finished with a clear coat and ready to launch for Anchorage Design Weekend. Stay tuned and come see it (or buy it) at the Museum Store booth during the Product Fair on Saturday, Sept. 23, from 9 a.m. to 6 p.m., and Sunday Sept. 24, from 9 a.m. to 5 p.m.
– Kamu Kakizaki, senior designer 
Click to view/download the 2017 Anchorage Design Weekend schedule