64,000 chopsticks, 2,000 carnations and some coffee cup stains
Unconventional portraits and the art of Red Hong Yi
October 12, 2017
I thought you might be interested to know a bit more about our visiting artist, Red Hong Yi, who has created an installation for our exhibition The Art of Fandom. She will be giving a talk in the new wing tomorrow (Friday, Oct. 13) at 6 p.m.
Red was born in Malaysia. She graduated with a bachelor's degree in planning and design in 2007 and a master's degree in architecture in 2010 from the University of Melbourne before moving to Shanghai to work for Australian architecture firm HASSELL.
Captivated by her new environment in Shanghai, Red was inspired to create artwork to document this new chapter of her life and uploaded videos of her work online went viral. She was encouraged by her boss to take a six-month sabbatical to explore her career in art before quitting to be a full-time artist in January 2013. She is still working as an artist.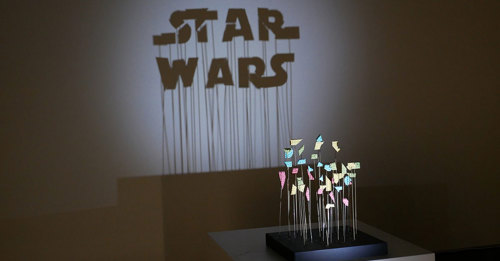 Star Wars logo, shadow art installation series by artist Red Hong Yi
Inspired by China's production power and abundance of materials found in wholesale markets, Red discovered her style of art by using materials in bulk to create portraits of well-known Chinese personalities. Her other work includes a portrait of Ai Weiwei with seven kilograms of sunflower seeds as a tribute to his porcelain Sunflower Seeds installation, Chinese filmmaker Zhang Yimou with 2000 socks, singer Jay Chou with coffee cup stains as a tribute to his song "Secret", Aung Saan Su Kyi with 2,000 dyed carnations noting the way she ties flowers in her hair, and singer Adele with thousands of melted tea light candles as a tribute to her song, "Set Fire to the Rain".
In 2014, Jackie Chan commissioned her to create a portrait of himself with 64,000 chopsticks for his 60th birthday, and video of the artwork has been watched 1.9 million times on YouTube.
We hope to have Red back next year to do another site-specific installation – a landscape made of eggshells.
— Julie Decker, Anchorage Museum Director and CEO
Learn more about The Art of Fandom exhibition